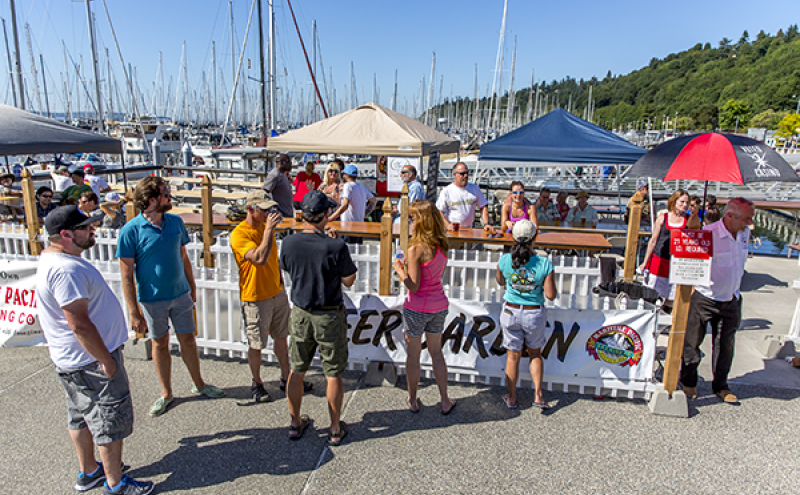 Free family fun at Shilshole Bay Marina, June 11
June 1, 2016
SEATTLE — Shilshole Bay Marina celebrates National Marina Day on June 11. The fun begins at 8:30 a.m. It's a day to celebrate boating and a day for communities to visit their local marina to learn about the important role marinas ply as family-friendly gateways, plus the environmental stewardship activities marinas promote.
Event admission and parking are free at Shilshole Bay Marina. Visitors can tour the historic schooner Adventuress by Sound Experience, or take part in sailboat rides and youth sailing lessons, kids' bouncy houses, a boaters' swap meet, plus a festival of boating-related activities including Ballard community booths, live music, food, and beverages. The Coast Guard Auxiliary will conduct vessel safety checks and provide boat safety information.
"This is an opportunity for everyone to find out what great things marinas do," said Bob Ross of Sail Northwest. "Nothing beats being on a boat in Puget Sound."
The Boater's Swap Meet kicks off at 8:30 a.m. in the parking lot just south of the administration building. All other events run 10 a.m. to 4 p.m. The Maritime Pacific Brewing Company beer and Domanico Cellars wine garden will open 11 a.m. to 5 p.m. and live music including Zeptology from 12:30 p.m. to 2 p.m. and Wet City Rockers from 2:30 p.m. and 4 p.m.
The Saturday event also features the Annual Open Boat Showcase to benefit the Leukemia Cup Regatta, which includes tours of sail and power boats, charter boats, and liveaboard "open house" boats. In addition, there will be "Sail for a Cure" sailboat rides every 30 minutes in support of the Leukemia & Lymphoma Society. These specific events have a suggested donation.
Events are supported by Shilshole Bay Marina, SeattleBoatShow.com, and the Shilshole Bay Marina Group which includes Sail Northwest, Seattle Sailing Club, Dockside Mail , Windworks Sailing & Power Boating, Seattle Yachts, Corinthian Yacht Club of Seattle, Sterling Marine Services, Seaview Boatyard & Yacht Service, and Shilshole Liveaboard Association.
For a complete schedule of activities visit the official Shilshole Bay Marina National Marina Day webpage.
For more information on Shilshole Bay Marina events visit Events & Races or visit Seattle's Best Marinas for recreational boating opportunities.
About the Port of Seattle
Founded in 1911, the Port owns and operates Seattle-Tacoma International Airport, two cruise ship terminals, one grain terminal, a public cargo terminal, four public marinas, and manages a number of real estate assets for financial return and economic advantage. The port's operations currently help create nearly 200,000 jobs and $7 billion in wages throughout the region. Over the next 25 years, the port's "Century Agenda" seeks to create an additional 100,000 jobs through economic growth while becoming the nation's leading green and energy-efficient port. Learn more at www.portseattle.org.