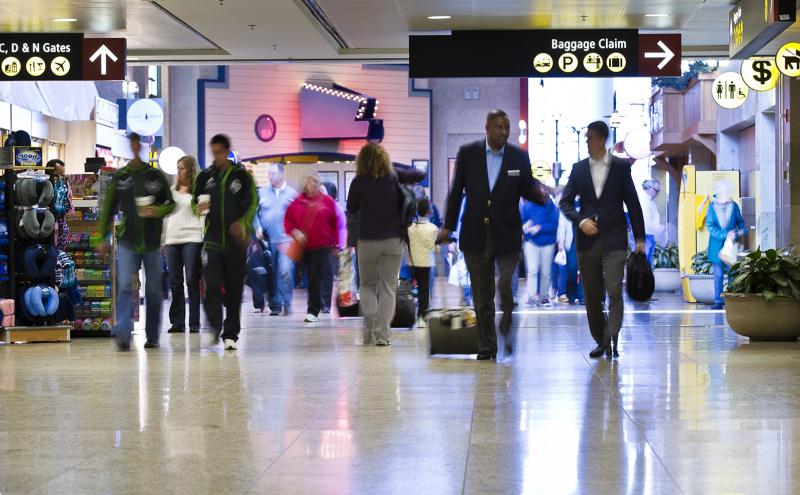 Port to expand community engagement, join citizenship initiative, define standards for law enforcement, increase partnerships
May 8, 2018
SEATTLE — The Port of Seattle Commission introduced new policies that aim to increase support for immigrant, refugee, and traditionally under-served communities. One is a motion establishing a pilot program around racial equity within the Port of Seattle, while the other establishes a 'Welcoming Port Policy' to immigrants and refugees who utilize Port services and resources. As our region's global gateway, and a major employer of diverse communities, the Port of Seattle is in the unique position to ensure that economic opportunities and customer services are available equitably across the region.
"By this action, the Port of Seattle reaffirms our commitment to being a welcoming and inclusive port for all people. We demonstrated those values when we opposed the travel ban, and we continue to raise our standards for improving equal access to services, benefits and opportunities. The port can be safe and secure while supporting inclusion for all." said Commission President Courtney Gregoire.
Since President Trump's Executive Order banning travel from seven Muslim-majority countries was put into effect last year, the Port of Seattle has been increasing its efforts to support and protect the rights and quality of life of immigrants, refugees, and foreign visitors.
The Welcoming Port Policy Directive includes the following five goals:
The Port will not deny anyone services based on immigration status.
The Port prohibits any Port employees, including law enforcement officers, to ask about place of birth, citizenship or immigration status or collect information on place of birth, citizenship or immigration status.
The Port will not use its own resources to facilitate the enforcement of civil immigration law.
The Port strives to make all visitors to its facilities to feel welcome, safe, and able to access services, benefits, and opportunities.
The Port remains committed to engaging and collaborating with local immigrant and refugee community stakeholders and advocates and within the community.
"The Port serves as an international gateway to the Pacific Northwest. It has played a vital role in the economic success of our communities and made Seattle a truly global city," said U.S. Representative Pramila Jayapal. "I'm proud to see the Port of Seattle reaffirm its commitment to be a welcoming hub for travelers where all people, particularly immigrants, refugees and communities of color, can feel safe."
"With this policy directive, the Port of Seattle affirms core principles of equity and inclusion consistent with its role as a gateway to the world. OneAmerica is pleased to partner with the Port on its efforts to ensure that it remains a welcoming institution for immigrants and refugees, embracing citizenship and due process," said Rich Stolz, Executive Director of OneAmerica.
"As a critical economic driver in our region, the Port's action positions it to be a national leader in making clear that civil liberties, economic growth and national security can be advanced together without succumbing to a political environment too often driven by fear."
The Port is committed to becoming a more equitable, diverse, and inclusive organization by building awareness of the causes and impacts of institutional racism while evaluating policies and procedures to address any institutional barriers that may exist. Routine use of a racial equity tool explicitly integrates racial equity into governmental operations.
Ideally, a racial equity tool will:
Proactively seek to eliminate racial inequities and advance equity;
Identify clear goals, objectives and measurable outcomes;
Engage communities in decision-making processes;
Identify who will benefit or be burdened by a given decision, examine potential unintended consequences of a decision, and develop strategies to advance racial equity and mitigate unintended negative consequences; and,
Develop mechanisms for successful implementation and evaluation of impact.
In 2017, the Port of Seattle was the first port to join the Government Alliance on Race and Equity (GARE), a national network of governments working to achieve racial equity and advance opportunities for all. Across the country, governmental jurisdictions are making a commitment to achieving racial equity, focusing on the power and influence of their own institutions, and working in partnership with others. GARE captures best practices and with a network in 30 states and over 150 cities, they provide tools to put theory into action. The Port is able to leverage these best practices in meeting the goal of being a more equitable, diverse and inclusive organization.
This effort will enable the Port to perform more effectively and sustain organizational performance by identifying and addressing barriers to opportunity; producing innovative and effective solutions; achieving higher levels of employee engagement and commitment; and building more collaborative relationships with the communities we serve.
About the Port of Seattle
Founded in 1911, The Port owns and operates Seattle-Tacoma International Airport, two cruise ship terminals, Fishermen's Terminal—home of the North Pacific fishing fleet, one grain terminal, a public cargo terminal, four public marinas, and manages a number of real estate assets for financial return and economic advantage. The port's operations currently help create nearly 200,000 jobs and $7 billion in wages throughout the region. Over the next 19 years, the port's "Century Agenda" seeks to create an additional 100,000 jobs through economic growth while becoming the nation's leading green and energy-efficient port.
Media Contact
Peter McGraw | Senior Media Officer, Corporate, Seaport and Real Estate
mcgraw.p@portseattle.org | 206-787-3446