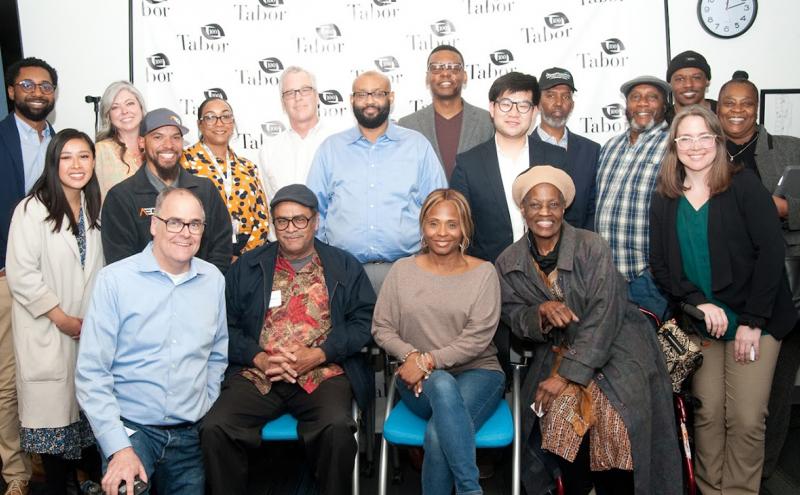 Community Business Connectors Pilot Program aimed at equitable recovery as businesses report worsening climate
July 12, 2022
The Port of Seattle Commission approved $650,000 in funding today to launch Community Business Connectors, an innovative two-year pilot program with the Seattle Metropolitan Chamber of Commerce aimed at providing direct service to underserved small businesses across King County.
The Community Business Connectors program will work like a help desk for small businesses, assisting them with referrals to a range of resources. Small businesses, community-based organizations, or anyone in the "hub" can submit a help ticket. Once a ticket is submitted through the online intake form, the Seattle Metro Chamber will assign the ticket to a "Connector" – a contracted organization or individual who knows about available resources for small businesses. This Connector will contact the business directly and provide referral options to business experts like advisors, lenders, and advocates.
"Businesses that survived COVID proved themselves to be resilient, but after several listening sessions with the community, it is clear that business owners now face lingering pandemic problems plus a whole new set of challenges around affordable leases, staffing shortages, inflation, rising interest rates, and more," said Port of Seattle Commissioner Sam Cho. "Getting out there now while federal relief resources are coming to states and local communities gives us the best chance of saving jobs and building stability in traditionally underserved communities and businesses."
"Small businesses have been hit hard by the pandemic, and this is especially true for small businesses owned by people of color who have faced higher barriers to accessing capital, receiving state and local relief funding, and pivoting to online sales," said Seattle Metro Chamber President and CEO Rachel Smith. "For an equitable, inclusive recovery, we need to ensure that small businesses can get the direct support and resources they need not just to keep from falling behind, but so they can get ahead. We're proud of this public-private partnership with the Port of Seattle – an economic development engine and Chamber member – to launch this pilot program to make it simpler for small businesses throughout King County to connect with trusted advisors."
Small businesses report worsening outlook
To better understand what small business owners need to survive the current business climate, the Port contracted with 10 community-based organizations to survey BIPOC businesses about how they are doing after two years of the pandemic. In total, the Port received 318 surveys returned in nine languages. Largely, the surveys came from businesses representing South and East King County.
Results from the survey show that BIPOC-owned small businesses face challenges and need assistance:
Only eighteen percent of businesses are doing better compared to a year ago
Forty-seven percent of businesses are doing worse compared to a year ago
Loss of business, not enough customers, and reduced income or unemployment are among their top challenges
Businesses need help applying for financial assistance, marketing and advertising, and increasing sales.
Fifty-four respondents reported needing help with pursuing government contracting opportunities.
How is your business doing now compared to a year ago?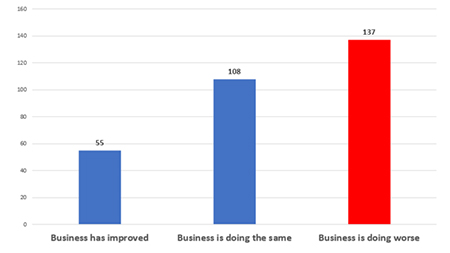 Watch a video to hear directly from community-based advocate Lori Wada, Korean American Resource Center, about challenges facing small business owners or from business owners Samuel Rodriguez and Byung Kwan Chae about their experiences in the past two years.
Why Community Business Connectors
The Community Business Connector initiative will fund and support seven to ten "Connector" organizations across King County to help impacted small businesses get the critical help and resources they need to survive. The Connectors provide significant outreach and a link to technical assistance at time when federal resources for recovery are flowing to states and local communities. The initiative supports current community-based outreach efforts and leverages resources to connect small businesses to advisors, both non- and for-profit local organizations.
The initiative to hire Community Connectors grew out of regional conversations surrounding the Small Business Administration's (SBA) Community Navigator Pilot program. Economic development staff from local cities, community groups, and small business advisors helped guide overall program development and supported additional community engagement. Recruiting culturally and linguistically knowledgeable advisors can help bridge the gap to reaching economic equity in underserved communities.
Program Funding
While there are many partners across King County that provide services to small businesses, there is no organization that can broadly deliver the range of small business resources contemplated by the new Community Business Connector initiative.
The CBC program will be jointly funded by Port of Seattle, King County, Seattle Metropolitan Chamber of Commerce, city partners, and several partners yet to be determined. In the first year, the Port of Seattle plans to fund $300,000 to help stand up the new program. The Seattle Chamber will allocate $380,000 of its King County COVID-19 Local Recovery Funds towards this initiative. The Port will partner with the Seattle Metro Chamber to implement this new small business initiative. In addition, interested city partners are dedicating an estimated $30,000.
In year two, the Port will plan to support $350,000 to help maintain and add capacity by hiring three additional business connectors. The Seattle Chamber will dedicate an additional $90,000.
Contact
Peter McGraw | Port of Seattle Media Officer
(206) 787-3446 | mcgraw.p@portseattle.org