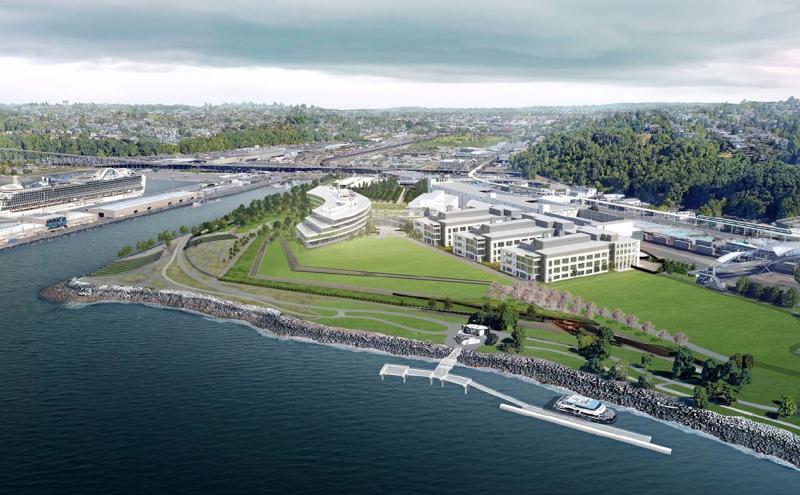 Study to be conducted in Partnership with Expedia and Washington Department of Fish and Wildlife
April 14, 2021

The Port of Seattle Commission approved funds for a Pier 86 Public Fishing Pier restoration study, in partnership with Expedia Group and the Washington Department of Fish and Wildlife. The Cost and Feasibility study will allow the Port and its partners to determine the technical requirements and potential costs of construction of rebuilding the public fishing pier at Pier 86 with a "ferry float" to support commuter service to the Expedia Campus and surrounding area.
"It is critical that we determine the best path forward to returning this great public benefit back to the Seattle waterfront for greater access that provides public equity," said Port of Seattle Commissioner Peter Steinbrueck. "By taking the time to study the engineering demands and construction costs of a new pier, we can best steward our public and private funds so the public has the confidence that we have used these resources wisely and will benefit everyone."
The funding agreement with Expedia Group and Washington State Department of Fish and Wildlife outlines spending levels among the partners on the study along with details to be included in the study. The total cost of the feasibility study and analysis will be additionally supported by a contribution of up to $167,000 by Department of Fish and Wildlife and a contribution of $250,000 by Expedia Group.
"The Department of Fish and Wildlife is excited about this public/private partnership that will bring back public fishing to Pier 86 which has been a high priority of ours since the facility closed in 2018. We look forward to seeing this project along for public benefit," said Washington Department of Fish and Wildlife North Puget Sound Regional Director Brendan Brokes.
Expedia Group has opened its new campus adjoining Pier 86 and has invested substantial funds to date in enhancements and improvements to the pedestrian and bicycle trails and shoreline environment north of Pier 86.
"Expedia Group is proud of our continued commitment to helping Seattle's waterfront become more accessible and welcoming to all. We're grateful for the partnership with the Port of Seattle and State of Washington in bringing this pier back to life. This project will be an exciting step in advancing our shared values of public shoreline access and sustainable transit commuting," said Richard de Sam Lazaro, Senior Manager of Government and Community Relations at Expedia Group.
The cost and feasibility analysis will be conducted by Reid Middleton under the supervision of Expedia Group, and will cover general site analysis, structural evaluations, structural design, zoning and regulatory permitting analysis, and criteria for facility construction. The study will allow the partners to evaluate the potential costs of construction and the technical requirements of the project.
"As we identify ways to restore this wonderful public access to the waterfront, we must assure that such considerations include commuters as well as killer whales and other marine life. The Port is a partner in developing a Quiet Sound Program, which is focused on assisting such efforts. Funding for the Quiet Sound Program is included in the Senate operating budget but still needs to be adopted by the House. Further, as we look to the waterfront to help provide potential transportation choices with a new ferry service, we will also be sure that this has minimal impact on our waterborne wildlife," said Port of Seattle Commission President Fred Felleman.  "We have to look out for our native whale populations as we add essential further ferry service throughout our region."
Once the study is completed and the partners have reviewed its conclusion Port staff will make final recommendations to the Port of Seattle Commission about additional funds for construction. The goal is to have the Site Analysis and Design and Project Budget work complete by July of this year.  If the parties decide to proceed, then Permit Documents and Implementing Agreements would be completed by January 2022.  The Port of Seattle, Department of Fish and Wildlife, and Expedia Group look forward to engaging the public for their feedback as further study and analysis is completed.
About the Washington Department of Fish and Wildlife
The Washington Department of Fish and Wildlife works to preserve, protect and perpetuate fish, wildlife and ecosystems while providing sustainable fish, wildlife, and recreational and commercial opportunities.
About Expedia Group
Expedia Group, Inc. companies power travel for everyone, everywhere through our global platform. Driven by the core belief that travel is a force for good, we help people experience the world in new ways and build lasting connections. We provide industry-leading technology solutions to fuel partner growth and success, while facilitating memorable experiences for travelers. The Expedia Group family of brands includes: Expedia®, Hotels.com®, Expedia® Partner Solutions, Vrbo®, Egencia®, trivago®, Orbitz®, Travelocity®, Hotwire®, Wotif®, ebookers®, CheapTickets®, Expedia Group™ Media Solutions, Expedia Local Expert®, CarRentals.com™, and Expedia Cruises™.
Contacts
Port of Seattle
Peter McGraw | Media Officer
mcgraw.p@portseattle.org | (206) 787-3446
Washington Department of Fish and Wildlife
Samantha Montgomery | Communications Manager
Samantha.Montgomery@dfw.wa.gov | (360) 688-0721 
Expedia Group
Noah Stewart | Gov't & Public Affairs Specialist
noahstewart@expediagroup.com | (512) 461-0152