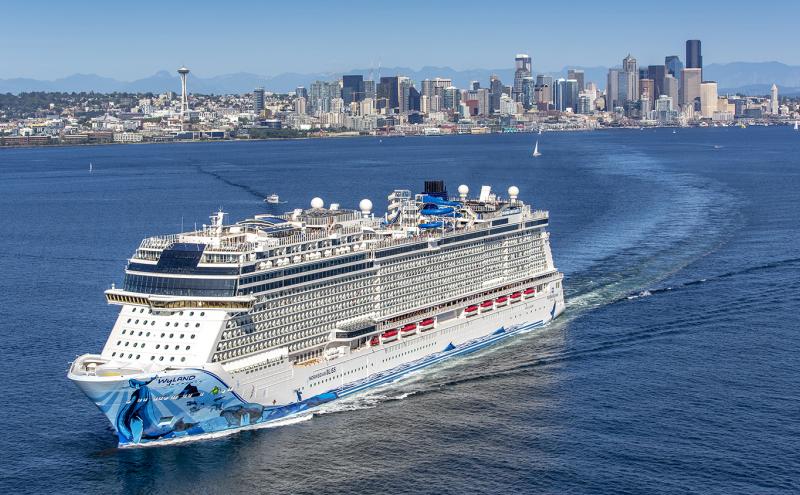 Norwegian Cruise Line's Bliss to arrive at Bell Harbor Cruise Terminal at Pier 66 
April 21, 2022
The Port of Seattle welcomes its first cruise ship of the season this Saturday, April 23 with Norwegian Cruise Line's Bliss at Bell Street Pier Cruise Terminal at Pier 66. The arrival marks the return of cruise season at the Port of Seattle with an expected 1.2 million revenue passengers and 296 ship calls. Cruise in Seattle provides nearly $900 million in economic benefit supporting 5,500 jobs and is an important component of the Port's strategy to expand economic opportunity.
"The Port of Seattle is excited to welcome cruise back to our region for the first full season since 2019," said Steve Metruck, Port of Seattle Executive Director. "As we provide vital support for Seattle's maritime, tourism, small business, and supplier sectors, we also are leading the industry in environmental excellence."
"We are working every day to ensure Seattle is a welcoming, safe, and vibrant place for residents, visitors, and tourists," said Mayor Bruce Harrell. "The return of cruise season gives us another exciting channel to share what we love about Seattle and highlight the things that make this region special, all while creating good jobs and boosting our economy."
"Norwegian Cruise Line is thrilled to kick off the 2022 Alaska season in Seattle, and especially at Pier 66, where our partnership with the Port began over 20 years ago," said Harry Sommer, President and CEO, Norwegian Cruise Line. "After restarting our return to service from the U.S. last year from Seattle, it's great to be back in our 'second home' and start a new full season of showing guests from around the world the beauty and splendor of Alaska, Canada, and Washington State, while contributing to the economic recovery of those local businesses that make cruise possible in this region." 
"ILWU Local 19 is proud to partner with the Port of Seattle and cruise lines to bring more jobs and economic growth to our downtown and region," said Matt Ventoza, Vice President of International Longshore and Warehouse Union Local 19. "The cruise business here helps create jobs for working men and women across many industries from the waterfront to farms, to hotels, restaurants, and beyond."
Environmental Commitment
The Port of Seattle is one of the most environmentally progressive cruise homeports in North America, routinely setting new standards that go beyond regulatory compliance to reduce environmental impact. Beyond compliance, the Port works closely with the industry to minimize the climate change and air quality impacts from cruise ship operations through use of cleaner fuels, access to shore power, and a strong collaborative relationship focused on the environment.
The Port has set a goal to have 100-percent of homeport cruise ships in Seattle equipped with shore power capability and connect to power on every call by 2030 or sooner. Today, the Port has begun to incorporate requirements into existing agreements to require shore power capable ships use shore power. Seattle's cruise lines continue to show their support for clean air and climate action by increasing the number of vessels that are shore power capable and connect when at berth. This year, 100 percent of Holland America Line and Princess Cruises ships calling at Smith Cove Cruise Terminal are shore power capable.
The Port is also working with cruise lines to ensure water quality protections for Puget Sound. While in 2018 Puget Sound officially became a 'No Discharge Zone,' cruise lines stopped discharging wastewater voluntarily years before the state of Washington extended these protections to all vessels. Since 2004, the Port has partnered with Washington State Department of Ecology and the cruise industry in a voluntary agreement. The memorandum of understanding, often referred to as the "Cruise MOU" was originally put in place to increase both standards and oversight on cruise ships, allowing for random inspections of systems and records on ships each season. 
 
In 2020, the Port also banned all exhaust gas cleaning system wash water from cruise ships at berth and in 2021, all ships calling on the Port voluntarily agreed to pause all discharges of wash water in Puget Sound. This wash water pause will remain in effect until findings from a third-party research study can show that wash water discharges do not impact Puget Sound water quality and until that time, cruise ships do not discharge anything into Puget Sound waters. 
Economic Impact Across the Region
Connecting locals to job and business opportunities is part of the Port of Seattle's equitable economic recovery strategy. The Port and cruise line partners hosted a cruise job fair at the Port's Community Hub in South Park and also co-sponsored an Alaska travel vendor fair in March, along with a cruise and tourism webinar with presentations and question and answer session.
Cruise benefits not only the Seattle region, but also communities throughout Alaska.
"The cruise industry is an important component of the Southeast Alaskan economy. The past two years have been incredibly difficult for our local businesses, and we're excited to welcome visitors back to our beautiful community and region," said Alexandra Pierce, Tourism Manager of the City and Borough of Juneau, Alaska.
"From the grand opening of our high-speed gondola systems to welcoming a record-setting number of travelers, this will be an exceptional cruise season at Icy Strait Point," said Russell Dick, Huna Totem Corporation President and CEO. "From our Native community of Hoonah to the Yukon River beyond Denali, the cruise industry drives the economy for small villages across the state of Alaska. In turn, our rich culture, vast landscapes, and abundant wildlife inspires life-changing memories for the entire family." 
Contact
Peter McGraw | Port of Seattle Media Officer
(206) 787-3446 | mcgraw.p@portseattle.org