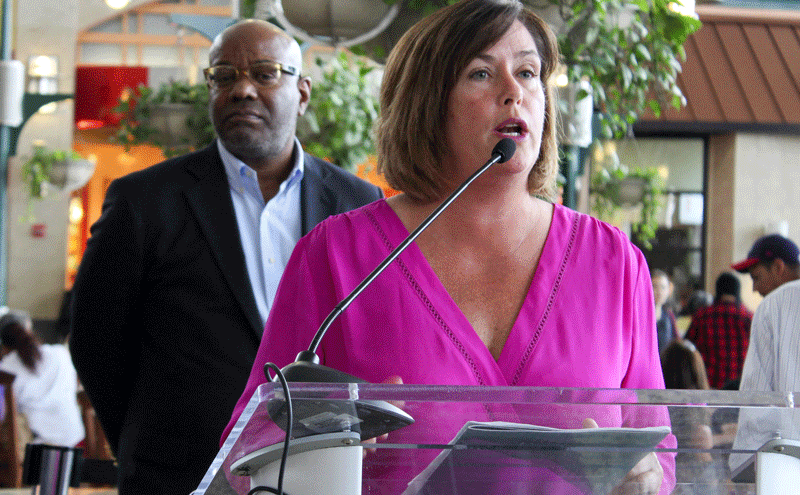 Offers Ivar's, Wendy's and Maki of Japan kiosks or food carts to maintain service during upcoming Central Terminal construction
June 28, 2017
SEATTLE – The Port of Seattle today announced positive developments in expanding dining and retail opportunities at Seattle-Tacoma International Airport.
Port of Seattle Commissioners this week authorized the Port to move forward with a competitive selection process for 21 dining and retail opportunities at Seattle-Tacoma International Airport. The criteria for the upcoming competitive selection process continue to expand opportunities for small businesses, while also responding to public input.
The Port also announced that it offered food cart and kiosk opportunities to Ivar's, Wendy's and Maki of Japan. All three restaurants will close in early 2018, as the Port kicks off a major renovation to add 10,000 square feet of mezzanine space to the Central Terminal. A video rendering of the proposed design can be viewed here.
"We want the airport to reflect what we love best about the Northwest and provide top notch service during construction," said Port of Seattle Commissioner Stephanie Bowman. "We value the experience and customer service focus of Ivar's, Wendy's and Maki's of Japan, and are eager to continue that partnership during construction in the Central Terminal. Looking forward, I'm pleased that the competition in our next round will strike the right balance between celebrating our local favorites and creating an environment where newer businesses can compete."
The competitive selection process for the next round of leases, known as Lease Group 4, will begin when official bid documents are soon posted for small and large lease opportunities. Highlights from the competitive selection criteria for Lease Group 4 are:
Requirement that all proposing firms be fully compliant with Proposition 1 back wages and benefits
Requirement that all proposing firms to submit a customer service plan
Increased emphasis on proposed wages and benefits
Maintain strong support for small businesses
Increased preference for local concepts
Requirement that all proposing firms with more than 35 employees implement a labor peace agreement and
A new limitation to how many opportunities any one company may win.
The Port is in the middle of a long-term dining and retail redevelopment program in which leases for the majority of the units are expiring over several years. Several new locations are already set to open later this year including Floret, Terminal GetAway Spa, Starbucks Evenings, and a new Qdoba.
The Port of Seattle set ambitious goals for engagement with small, local and minority businesses. The Port significantly increased outreach, networking and training programs for potential applicants and provided feedback to businesses that were unsuccessful in their prior bids.
Firms interested in competing for the next leases can register at our website to be notified about new leasing opportunities as well as training for doing business at Sea-Tac Airport. Full details of the lease packages will be available here.
Sea-Tac Airport dining & retail by the numbers
86 dining & retail units – will grow to more than 135 after the entire redevelopment
$275 million annual airport dining & retail sales
Full-time dining/retail employment up 21 percent since 2014
With the latest lease group awarded June 8, Sea-Tac will have 26 local businesses, 22 small business firms and 16 minority and women owned businesses (Airport Concession Disadvantaged Business Enterprise program or ACDBE's)
Lots of potential customers
Sea-Tac set annual passenger records for the past six years, totaling 45.7 million in 2016 - 3.4 million more passengers than in 2015. The 8 percent passenger growth rate is Sea-Tac's second largest in the past 20 years, only topped by 2015's 12.9 percent increase. Sea-Tac is one of the fastest growing large hub airports in the U.S. and is the 9th busiest based on total passengers for the past three years.
About Seattle-Tacoma International Airport
Operated by the Port of Seattle, Seattle-Tacoma International Airport (SEA, KSEA) is ranked as the 9th busiest U.S. airport, serving nearly 45.7 million passengers and more than 366,000 metric tons of air cargo in 2016. With a regional economic impact of more than $16.3 billion in business revenue, Sea-Tac generates 171,796 jobs (109,924 direct jobs) representing over $2.8 billion in direct earnings and more than $565 million in state and local taxes. Twenty-four airlines serve 81 non-stop domestic and 24 international destinations.