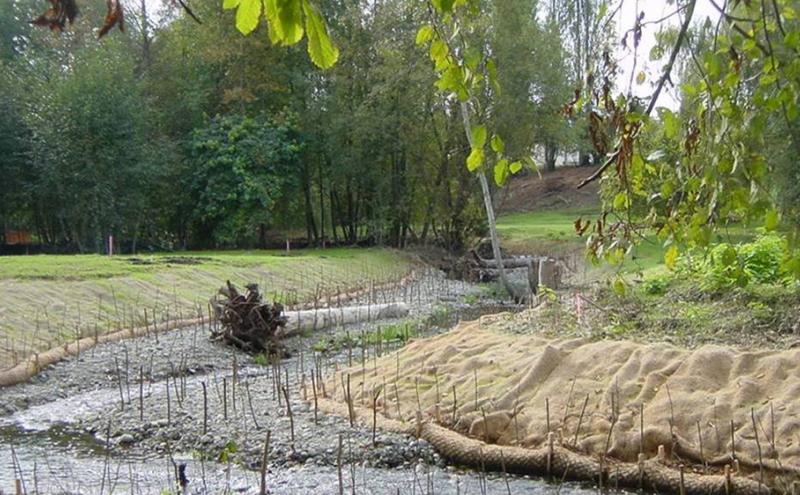 Cities of Burien and SeaTac join funding to restore salmon habitat and add ecological benefits
August 11, 2020
The Port of Seattle Commission approved an interlocal agreement this week to restore a segment of Miller Creek in Burien and SeaTac. The Port will contribute $800,000 to a $3.5 million joint project that will help replace a failing culvert and create 450 feet of new salmon habitat on Port property along Des Moines Memorial Drive.
"Investing in salmon habitat also supports Pacific Northwest forests and water and our community and economy," said Port Commission President Peter Steinbrueck. "The current pandemic spotlights why community engagement and our South King County Fund, workforce development priorities and environmental efforts are critical."
The Burien City Council votes on the interlocal agreement on August 17, 2020. "When fully funded, this project will help restore Miller Creek to a more natural state, cooling and filtering the water to restore salmon habitat," says Maiya Andrews, Public Works Director for the City of Burien.
"Future generations will reap the long-term environmental benefits from the collaborative hard work we are doing today," says City of SeaTac Public Works Director William Appleton. "This project will preserve and enhance our Pacific Northwest iconic populations of salmon and orcas while also protecting our vital natural waterways."
The project removes a large fish barrier on Miller Creek and is a key component of the overall restoration of the Miller Creek watershed. The creek currently supports a run of hatchery Coho salmon and its restoration will contribute to regional efforts to recover resident Orcas. The project will replace a deteriorating culvert near 144th St. with a new, larger culvert just south of the current location, protecting the roadway and improving fish passage. These actions provide a comprehensive approach to watershed management, create a continuous stream, restore the natural channel, and improve stormwater infrastructure. The Port's contribution helps to expand the project to create additional salmon spawning habitat on Miller Creek.
The project is construction-ready, and the City plans to begin work in the second half of 2021.
Contact
Perry Cooper | Media Officer
206-787-4923 | cooper.p@portseattle.org