Improved coordination with Congress, law enforcement, and aviation partners will ensure immediate response and follow-up to all incidents
September 20, 2018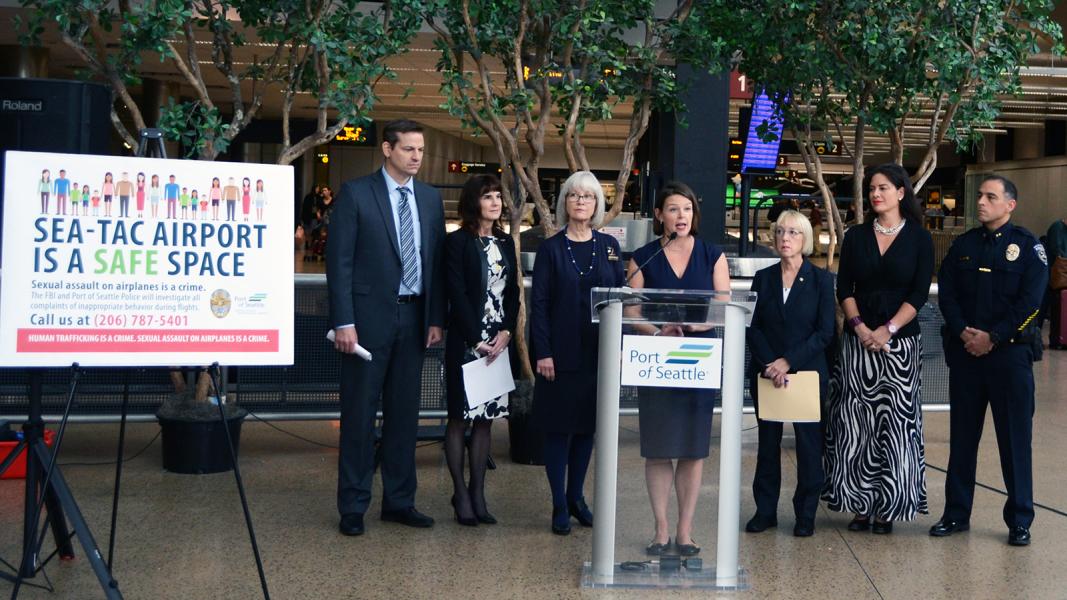 The Port of Seattle joined U.S. Senator Patty Murray, Alaska Airlines Vice President of People Andy Schneider, and community members today to announce new efforts to support survivors of in-flight sexual assault arriving at Seattle-Tacoma International Airport. Complementing other initiatives throughout the aviation industry and in Congress, the Port aims to deter potential perpetrators by highlighting the federal penalty, support passengers who seek to report an in-flight sexual assault and maximize the chances of successful prosecution. These steps come in the wake of the announcement last month by federal prosecutors of two men accused of such crimes on separate flights into Sea-Tac.
"Our police department works around the clock to make Sea-Tac Airport a safe and welcoming place," said Courtney Gregoire, Port of Seattle Commission President. "We urge anyone who feels they were treated inappropriately, or sexually assaulted or harassed, to report it immediately and request that Port law enforcement be present at the gate when they land."
The Port's new public awareness campaign includes signage throughout the airport to instruct travelers on how to get help if they have been inappropriately touched or harassed. Signage will also warn potential aggressors that all incidents will be pursued and prosecuted to the full extent of federal law. The campaign's messaging will also reflect the Port's continued efforts to combat human trafficking.
U.S. Senator Patty Murray has been a leading advocate for federal action to address in-flight sexual assault and harassment. Legislation she co-authored – the Stopping Assault while Flying Enforcement (SAFE) Act (S. 1065) – would mandate additional training, as well as create a National In-Flight Sexual Assault Task Force to bring together the diverse set of federal agencies and stakeholders who have a role to play in properly addressing this problem.
"When someone seeks help for sexual assault or harassment, they deserve immediate attention no matter where they are, even if it occurs at 35,000 feet," said U.S. Senator Patty Murray. "Because of brave people like Allison who've stepped forward to share their experience, it's on the rest of us to meaningfully address this issue. That's what motivated me to take action in Congress, and it's why I'm so encouraged to see so many partners stepping up to tackle this issue head-on."
Following her April 2016 in-flight sexual assault, Allison Dvaladze began researching the issue, launched a campaign to raise awareness about the problem, and approached Senator Murray to advocate for policy change.
"I want to acknowledge all survivors of sexual assault who brave the stigma and share their stories so that we may challenge the status quo. And I appeal to the airline industry and lawmakers to hear us, to respect us, and to appreciate the urgent need for action, for protocols, for trauma-informed training, and for reporting. I would like to recognize Senator Murray and her staff, the Association of Flight Attendants, the FBI, the Port of Seattle, the US Attorney's office, and Alaska Airlines for your leadership and commitment to addressing this crime. I truly hope others will follow," said Allison Dvaladze.
Ports, airlines, and aviation professionals share a responsibility to keep passengers safe. In addition to Senator Murray and the Port of Seattle, local company Alaska Airlines and its employees have taken a national leadership role on this issue.
"Keeping our employees and guests safe is our number one priority," said Andy Schneider, vice president of people at Alaska Airlines. "We've engaged with our labor partners, employees, guests, law enforcement, and experts to design new training and resources to ensure proper policies, procedures, and training are in place. As a company, we are committed to being part of the solution."
"Our union was first formed to push against the sexism especially branded for air travel, a culture ripe for sexual harassment and assault," said Sara Nelson, Association of Flight Attendants-CWA President. "While airline marketing promoted young women in short skirts with 'expiration dates' and male-defined appearance standards, brave women stood up to shatter discrimination barriers and even won the same rights for men on the job. We know from experience that sexual harassment is really about power. Those speaking up are shifting the balance of power and making change that promotes equality and safety. The Association of Flight Attendants-CWA applauds Allison Dvaladze for speaking up and relentlessly seeking change. She made it possible for Senator Murray to champion this issue and move her colleagues to require the DOT to act. It will take all of us to make changes that keep everyone safe. We applaud the Port of Seattle and Alaska Airlines for making this public awareness possible today. Our union remains focused on forever changing the culture of air travel and we are proud to stand with those taking action."
There were 63 incidents of sexual assault on airplanes report to the FBI in 2017, a 66 percent increase from 2014. This year, the FBI and the U.S. Attorney's office have increased their efforts to let the public know that these assaults are federal crimes, with notable results. Since January, the FBI's Seattle Field Office has reviewed roughly a dozen incidents of alleged sexual assault on aircraft.
Contact
Perry Cooper | Seattle-Tacoma International Airport
(206) 787-4923 | cooper.p@portseattle.org