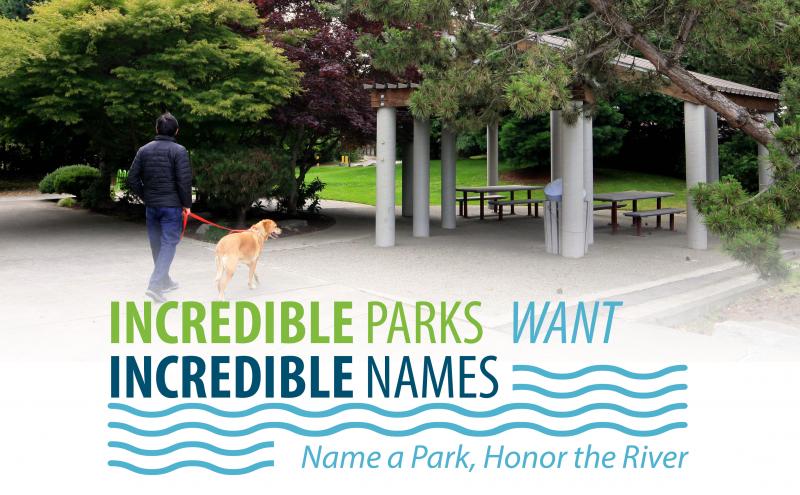 'Incredible Parks Want Incredible Names' nomination period ends August 31
July 24, 2020
The Port of Seattle will rename six Port-owned parks and shoreline access sites along the Duwamish River to new names that reflect the cultural and environmental history of the area. The Port has partnered with Seattle Parks Foundation, a well-recognized public parks and greenspace non-profit, to design and implement the re-naming campaign with transparency and community involvement.
The 'Incredible Parks Want Incredible Names' nomination period runs from July 24 to August 31.
"The Port of Seattle is thrilled to start this campaign to recognize the stewardship of the community in restoring the Duwamish River," said Ryan Calkins, Port of Seattle Commissioner. "With your input the new park names will honor that work for those who use and enjoy these green spaces."
"This is a great opportunity for the parks to be named to reflect the importance of their cultural, ecological and maritime place along the river," said Fred Felleman, Port of Seattle Commission Vice President and tribal liaison. "We are very grateful to the tribes, community groups, and industry stakeholders for helping to suggest and select names that tell the river's story."
"It's important these parks honor the heritage of the Duwamish River and we must remove colonizing names to truly reflect and honor the indigenous history and culture of the region of the land we occupy," said Rosario Maria Medina, Board President of Friends of Georgetown History.
The parks to be renamed are:
Nomination Process
Can you think of incredible names for these parks? You can submit names for the six parks, here. The 'Incredible Parks Want Incredible Names' nomination period ends August 31 at midnight.
To solicit public participation the Port distributed multilingual nomination postcards and flyers in Duwamish Valley neighborhoods and business areas, installed multilingual posters at the six parks to be renamed, and is engaging community groups connected to these Duwamish River parks on the renaming project.
The public can submit nominations in three ways:
Complete an online form at NameIncredibleParks.org
Leave an audio recording with your nomination at the Name Incredible Parks hotline (206) 385-9064
Fill out a nomination postcard and text a photo of it to the hotline
A review committee made up of diverse community and environmental leaders, tribal representatives, historians, and Port staff will review all park name nominations. The top three name nominations will be announced and set up for a public scoring period, which will then contribute to a final review and selection by the committee. New park names will be announced in a public ceremony in the fall.
Contact
Kathy Roeder | Communications Director
(206) 787-4882 | roeder.k@portseattle.org