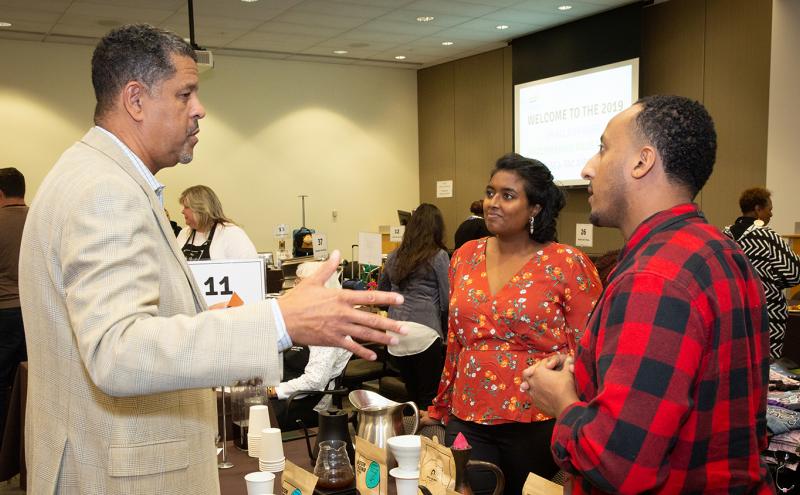 Ten of 12 small businesses selected are certified women or minority owned
June 17, 2021

The Port of Seattle selected twelve small businesses to participate in its new PortGen accelerator program. The Port's newest business development initiative is designed to help women and minority-owned businesses gear up for future procurement opportunities.
"Port projects should create economic opportunity in every community," said Sam Cho, Port of Seattle Commissioner. "The Port of Seattle's PortGen Accelerator is part of our efforts to advance equitable recovery.  Connecting small business owners to the right training and tools will make them more competitive when bidding for procurement opportunities with the Port and other government agencies."
Selected cohort participants represent an array of sectors from the Puget Sound small business community, such as construction, engineering, electrical, general goods and services, and specialty goods and services. Ten of the 12 firms selected are certified Women or Minority Business enterprises. Companies selected include:
American Abatement and Demo, a hazardous material and demolition contractor servicing commercial and residential projects.

Certified Inspection Service, Inc, an inspection surveyor providing inspection services, consulting, procedure generation and auditing.

Crux Diving Inc, a commercial diving and underwater services provider specializing in salvage, bridge and pier repairs, pile restoration and protective systems.

Ergosynch Engineering, a technical resource company specializing in electrical engineering, communications and control systems.

Integrated Design Engineers, a structural engineering company focused on Integrated Design. 

JMR Trucking INC, a freight shipping and trucking company specializing in freight hauling.

KWAME Building Group, a construction management company providing services for projects in areas such as aviation, entertainment, health care, municipal systems, and transportation.

Lights Inc, a lighting contractor providing commercial lighting solutions.

Mobile Electric, an electrical wholesale distributor for residential, commercial and industrial electrical needs.

Proshred Seattle, a shredding service provider specializing in secure on-site destruction of confidential documents and mixed media.

SHJ Electric, an electrical solutions company specializing in airport tenant improvement, container crane construction, maintenance and modifications.

SASH Painting, a painting and color consultation company specializing in services for the residential and construction industry.
Applicants were reviewed and selected by the PortGen Accelerator Advisory Committee consisting of leaders from the Port of Seattle, Find Ventures, SoundTransit, Washington State Department of Transportation, and the City of Seattle. The businesses accepted into this inaugural cohort will access mentorship and programming from the Seattle entrepreneurship community and increase their contracting opportunities with the Port and other Seattle procurement teams. A two-month business development program, the PortGen Accelerator will begin in June.
"This inaugural PortGen cohort will develop relationships with business leaders, take deep dives into financing, customer acquisition, and growth strategies, and meet mentors to support their expansion plans," said Courtney Law, Innovation Director at Find Ventures. "The accelerator will expand the access to new opportunities for the region's small business community."
To learn more about the PortGen Accelerator and opportunities to meet the first cohort, go to www.findventures.org/portgen. A showcase event is scheduled for 1 p.m. PST on August 12 and registration details can be found here.
About Find Ventures:
Founded in 2020, Find Ventures is a first-stage funder that envisions a world where all entrepreneurs have an equitable opportunity in building companies and a confident shot at solving our world's greatest challenges. Find Ventures believes that by fueling a cohort of founders at the earliest stage with capital, robust resources, and industry connections we will uniquely 'sprout' a generation of founders. Learn more at www.findventures.org. 
Contacts
Courtney Law | Find Ventures | C@findventures.org
Peter McGraw | Media Officer | mcgraw.p@portseattle.org