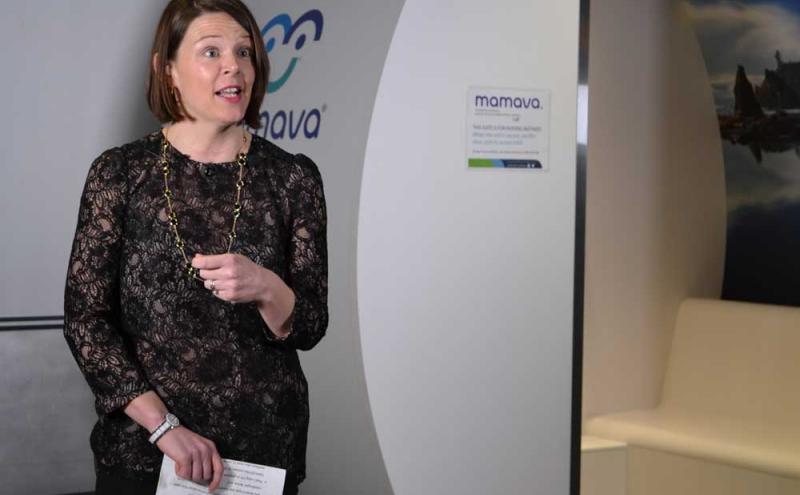 New nursing suites to complement existing play area and mother's room
January 25, 2017
The Port of Seattle unveiled two new nursing suites that will help simplify travel for moms. The unique units triple the amount of mother's suites at the airport, complementing the existing mother's room inside the children's play area located near the Central Terminal area at the Concourse A and B intersection.
As Sea-Tac Airport welcomed a record number of travelers in 2016, the Port recognized the need to expand its facilities and made accommodating families a top priority.
"As a mother of two children, it is personally important to me that Sea-Tac is a welcoming place for moms and their families," said Port of Seattle Commissioner Courtney Gregoire. "Our very popular children's play area, and our three dedicated locations for nursing go a long way towards simplifying travel for moms and delivering a world-class travel experience for families."
Commissioner Gregoire talks about the introduction of new "Mamava" pods where mothers can nurse babies or pump in privacy and tranquility - even amongst the many people at Sea-Tac Airport. Click on the image above to view a short video about the nursing suites.
The new suites are strategically located on the south end of the airport on the A Concourse and on the north end near the Satellite Train System station outside of Concourse D. Travelers will not have to walk too far from any gate. The private suites are equipped with a power outlet and a table along with a seat large enough to accommodate a mother and child.
"Working closely with new parents, it is wonderful to know a massive facility like Sea-Tac Airport understands how important it is to provide accommodations to families," said Joy MacTavish, international board certified lactation consultant, certified childbirth educator and owner of Seattle-based Sound Beginnings. "These suites are wonderful for those traveling with their babies or needing to express milk while traveling, so that they can care for their needs in a clean and comfortable environment. Many of our clients have reported that these types of accommodation help lower their stress level. This commitment to having more nursing suites at Sea-Tac is a welcome addition."
As part of its customer service commitment, the Port plans on adding more suites in other parts of the airport later in the coming year.
About Seattle-Tacoma International Airport
Operated by the Port of Seattle, Seattle-Tacoma International Airport (SEA, KSEA) is ranked as the 13th busiest U.S. airport, serving nearly 42.3 million passengers and more than 332,000 metric tons of air cargo in 2015. With a regional economic impact of more than $16.3 billion in business revenue, Sea-Tac generates 171,796 jobs (109,924 direct jobs) representing over $2.8 billion in direct earnings and more than $565 million in state and local taxes. Twenty-four airlines serve 83 non-stop domestic and 22 international destinations.