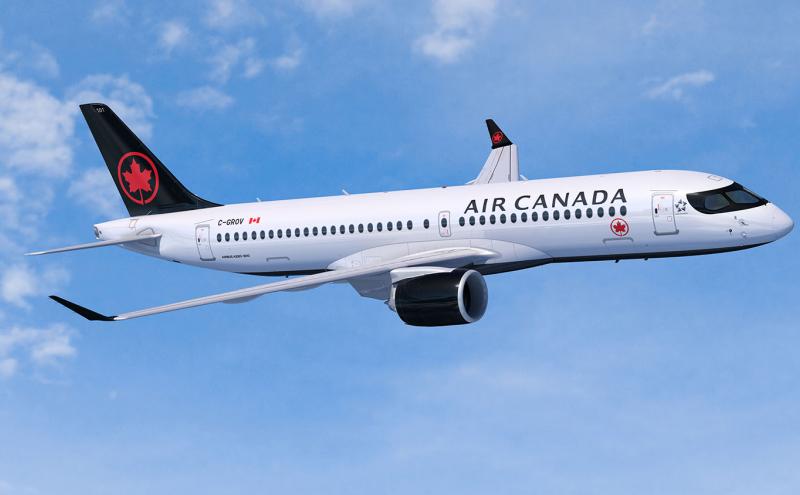 Route links Seattle with Canada's second largest city and key international market for leisure and business travelers
August 14, 2019
Editor's Note: Due to the COVID-19 pandemic, the launch of this service has been suspended. Please check with the airline for future travel dates, or subscribe to SEA Airport news. 
The Port of Seattle welcomes today's announcement by Air Canada of new nonstop service between Seattle-Tacoma International Airport (SEA) and Montreal, Canada beginning May 4, 2020. Air Canada's service to Montreal will complement the airline's existing service from SEA to Vancouver and Toronto. 
Known for its European charm, year-round festivals, and vibrant arts and culture, Montreal is one of Seattle's largest unserved international markets. Seattle and Montreal are both leaders in the aerospace, artificial intelligence, gaming, and life sciences industries, generating significant business traffic between the cities. The new route will link two of the world's largest aerospace clusters, anchored by Boeing in Seattle and Bombardier in Montreal. Other Seattle-based companies such as Microsoft, Expedia, and Amazon also have regional offices in Montreal.
"Canada is our second largest air travel market, after Mexico, and Montreal has been a missing link," said Port of Seattle Commission President Stephanie Bowman. "Seattle leisure and business travelers alike have been eager for nonstop service to Montreal, and we are thrilled that Air Canada is building on its presence in our market by opening this route." 
Montreal will become SEA's seventh nonstop destination in Canada, adding to current service to Calgary, Edmonton, Kelowna, Toronto, Vancouver, and Victoria. Montreal is a hub for Air Canada, and the Seattle flight schedule will allow for convenient connections to many Eastern Canada and Europe markets. 
The new service will operate daily on a year-round basis using an A220-300, which brings together state-of-the-art aerodynamics, advanced materials, and next-generation technology to deliver 20 percent fuel efficiency, a reduced noise footprint, and lower emissions. This will be the first international A220-300 route out of Sea-Tac. Air Canada's A220-300 will feature 137 seats, 12 in business class and 125 in economy class.
Flight details are as follows:
| | | | |
| --- | --- | --- | --- |
| Route | Flight # | Departure | Arrival |
| YUL to SEA | AC 565  | 5:55 p.m. | 8:45 p.m.  |
| SEA to YUL | AC 564 | 8:35 a.m.  | 4:34 p.m.  |
"With the only non-stop service between the two cities, Air Canada is strengthening its position in the Seattle market and providing yet another key link for business and leisure travelers alike. This new route also further strengthens and expands our service from our Montreal hub," said Mark Galardo, Vice President of Network Planning at Air Canada. "Our customers will benefit from innovative design features in a spacious and comfortable cabin. When connecting through Montreal or other hubs across Canada onward to international destinations, passengers travelling on an A220 will now have a seamless narrow body-to-widebody aircraft cabin experience all along their journey."
Air Canada's regional partner Jazz Aviation, operating as Air Canada Express, received the Port of Seattle's 2019 Fly Quiet Regional Award for operating as the quietest regional jet airline. Jazz Aviation reached remarkably low levels of noise from their operations and had good success flying noise abatement procedures.
More information on Air Canada's announcement can be found here.
International Service at SEA 
Air Canada's Seattle-Montreal flight is the second new nonstop international service that has been announced for launch in 2020. Previously, Lufthansa announced it will launch nonstop Seattle-Munich service on June 1, 2020. Air Canada's Montreal flight will be the 13th new international service added to Sea-Tac since 2017. The new International Arrivals Facility is currently under construction and slated to open in the Fall of 2020, creating an expanded and enhanced experience to meet the growing regional demand for international travel.
About Air Canada
Air Canada is Canada's largest domestic and international airline serving nearly 220 airports on six continents. Canada's flag carrier is among the 20 largest airlines in the world and in 2018 served nearly 51 million customers. Air Canada provides scheduled passenger service directly to 62 airports in Canada, 54 in the United States and 100 in Europe, the Middle East, Africa, Asia, Australia, the Caribbean, Mexico, Central America and South America. Air Canada is a founding member of Star Alliance, the world's most comprehensive air transportation network serving 1,317 airports in 193 countries. Air Canada is the only international network carrier in North America to receive a Four-Star ranking according to independent U.K. research firm Skytrax, which also named Air Canada the 2019 Best Airline in North America. For more information, please visit: aircanada.com/media, follow @AirCanada on Twitter and join Air Canada on Facebook.
About Seattle-Tacoma International Airport
Operated by the Port of Seattle, Seattle-Tacoma International Airport (SEA, KSEA) is ranked as the 8th busiest U.S. airport, serving 49.8 million passengers and more than 432,315 metric tons of air cargo in 2018. With a regional economic impact of more than $22.5 billion in business revenue, Sea-Tac generates more than 151,400 jobs (87,300 direct jobs), representing over $3.6 billion in direct earnings and more than $442 million in state and local taxes. Currently, thirty-one airlines serve 91 non-stop domestic and 28 international destinations.
Contact
Perry Cooper | SEA Airport
(206) 787-4923 | cooper.p@portseattle.org