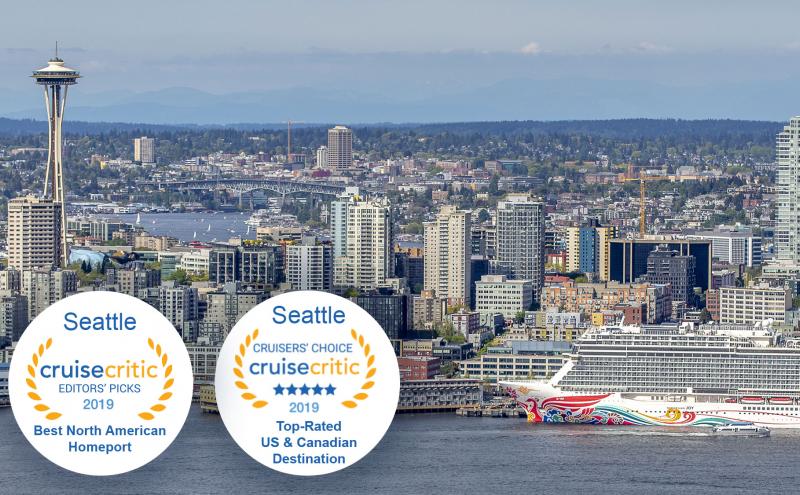 Seattle also Named 'Cruiser's Choice' in Top 5 Destinations 2019
December 5, 2019
The Port of Seattle won its second Cruise Critic Award, this one for Best North American Homeport 2019.  The cruise business in Seattle continues to grow as a lucrative homeport for voyages to Alaska, deemed by many travelers as the most desired cruise itinerary for all age groups.  Cruise Critic, the world's largest online cruise resource, also named Seattle 'Cruiser's Choice' in their Top 5 Destinations of 2019. 
From Cruise Critic: 
Best North American Homeport: Seattle

Seattle has proved indispensable as the perfect Pacific Northwest jump-off to the Last Frontier. Passengers enjoy proximity to major attractions like Pike Place Market, along with Port Valet, a luggage transfer program that provides seamless airport ticketing and baggage delivery -- free of charge. The port is always innovating, including plans for a new environmentally forward terminal, debuting in 2023.
"We thank Cruise Critic for their award for Best Homeport 2019, this is a huge honor for the Port of Seattle," said Port of Seattle Commissioner Ryan Calkins.  "We've worked hard each year to welcome cruise passengers to our wonderful city, and to provide as many opportunities to get them to stay a few extra days.  With great public transportation options and our own Port Valet Program, we will continue to innovate and offer the best hospitality possible. It is especially gratifying to be recognized for our efforts to make our home port the most environmentally progressive in the nation."
"Visit Seattle congratulates the Port of Seattle on the 2019 Cruise Critic Award for best homeport of the year," said Tom Norwalk, President & CEO of Visit Seattle.  "The Port's innovative approach to steering passengers to stay longer in Seattle through its Port Valet program has been a positive boost for local tourism.  Encouraging cruise passengers to stay an extra few hours around town can expand economic impact to retailers, restaurants, visitor attractions, cultural institutions and many other businesses."
 
About Cruise Critic
Cruise Critic® is an online cruise guide, offering a comprehensive resource for cruise travelers, from first-time cruisers to avid cruise enthusiasts. The site features more than 160,000 cruise reviews and hosts the world's largest online cruise community where travelers share experiences and opinions with fellow cruisers. Cruise Critic was the first consumer cruise site on the Internet, launched in October 1995 by The Independent Traveler, Inc., a subsidiary of TripAdvisor.
About Seattle's Cruise Business
In 2020, the Port of Seattle will serve over 1.3 million passengers through its cruise ship terminals at Bell Street Cruise Terminal at Pier 66 and Smith Cove Cruise Terminal at Terminal 91, and will host seven major cruise lines including Carnival, Celebrity Cruises, Holland America Line, Norwegian Cruise Line, Princess Cruises, Oceania Cruises and Royal Caribbean. The Port is expecting 225 cruise ship calls for the 2020 season.   Each homeported ship call brings in $4.2 million to the local economy.  Overall, the Seattle cruise industry generates more than 5,500 jobs, $893.6 million for the local economy every season, and $14.5 million in annual state and local taxes. 
Media Contact
Peter McGraw | Maritime Media Officer
(201) 787-3446 | mcgraw.p@portseattle.org