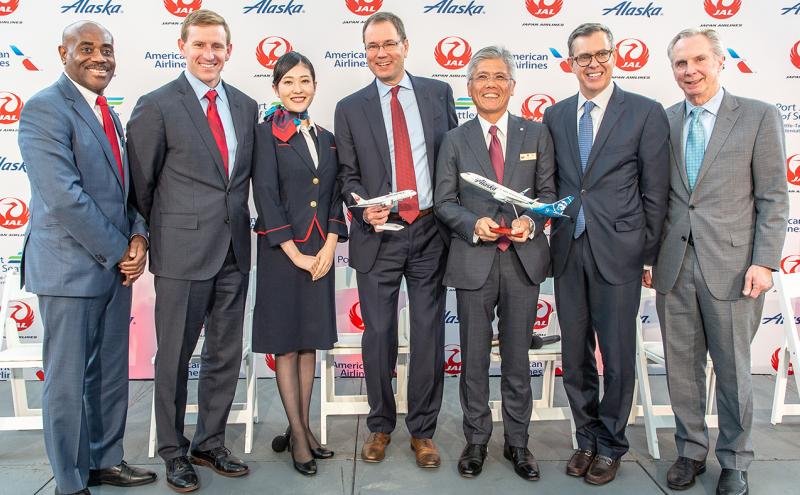 Service via Boeing 787-8 aircraft with daily service beginning March 31
September 26, 2018
L to R: Lance Lyttle, Managing Director, Sea-Tac Airport, Port of Seattle Commissioner Ryan Calkins; Chikako Endo, JAL; Brad Tilden, CEO Alaska Airlines; Tadashi Fujita, Ex. VP Japan Airlines; Joe Mohan, VP Alliances and Partnerships, American Airlines; Tom Norwalk, CEO Visit Seattle.
The Port of Seattle today joined Alaska Airlines and Visit Seattle to welcome executives from Japan Airlines (JAL) and it's Pacific Joint Business partner American Airlines as they announced nonstop service beginning March 31, 2019, between Tokyo-Narita (NRT) and Seattle-Tacoma International Airport. The new daily service via Boeing 787-8 aircraft will be a welcome back to Seattle as JAL previously served nonstop route to Tokyo from 1983 to 1992.
"Tokyo is Seattle's second largest international market, and is a strong destination for both business and leisure travelers," said Port of Seattle Commissioner Ryan Calkins. "With additional growth of international services in response to the demand of our growing region, this announcement highlights the need to move forward with the construction of new International Arrivals Facility."
"We are pleased to announce the introduction of the Seattle-Narita route, which will go into service in March 2019. Along with our joint business partner, American Airlines, we look forward to welcoming more visitors to Asia for business or pleasure who will experience Japanese hospitality from the moment they step onboard the aircraft," said Tadashi Fujita, Executive Vice President of Japan Airlines.
"We love partnering with Japan Airlines to bring their Tokyo service back to Sea-Tac," said Brad Tilden, Alaska Airlines Chief Executive Officer. "Every day, our global partners connect almost ten 737s full of our Mileage Plan members to international markets. Guests traveling to Japan and throughout Asia can look forward to JAL's warm hospitality and amazing in-flight experience the moment they step on the plane."
"Visit Seattle is honored to welcome Japan Airlines back to Sea-Tac Airport," said Tom Norwalk, President and CEO of Visit Seattle. "Japan is a critically important visitor market for our destination and this non-stop service from JAL will provide our Japanese visitors another wonderful option when flying to Seattle. I applaud JAL for its use of a Boeing 787 Dreamliner on this route and I look forward to personally welcoming the inaugural flight next spring."
"This new route will strengthen American and JAL's joint business across the Pacific and meet the growing demand in the Seattle-Tokyo market," said American Airlines President Robert Isom. "Our customers in Seattle will soon have nonstop service to one of the world's most important business and leisure destinations, as well as convenient connections to many other cities in Asia."
For more information, visit JAL's announcement here.
Flight Details
Daily service beginning on March 31, 2019.

The flight schedule is subject to government approval. Japan Airlines is the third airline to launch service to Tokyo-Narita from Sea-Tac Airport, joining ANA and Delta Air Lines.
International Service at Sea-Tac
Sea-Tac Airport welcomed seven new international airlines in the last two years. Last year in 2017, we welcomed four new international airlines – Virgin Atlantic, Eurowings, Norwegian and Aeromexico. This year we received three international carriers – Air France, Thomas Cook Airlines and Aer Lingus. In addition to today's announcement by JAL, Cathay Pacific Airways previously announced planned service to start in 2019.
The Port of Seattle is poised to welcome more international travelers with a new International Arrivals Facility scheduled to be completed in May 2020 and ready for passengers in August 2020 following extensive systems testing. The facility will double passenger capacity, reduce connection times and increase gates capable of serving international widebody airplanes from 12 to 20.
Contact
Perry Cooper | Seattle-Tacoma International Airport
cooper.p@portseattle.org | (206) 787-4923