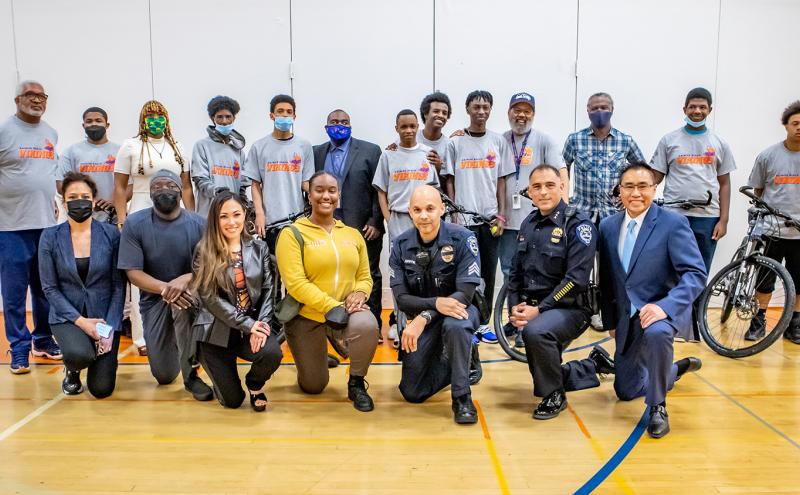 Unique partnership between Port, school district, and Bike Works connects students to surplused Port of Seattle Police Bike Patrol Unit bikes
June 8, 2022
It would seem simple to donate used items to a good cause for most people, but that's not the case for government agencies that must avoid the 'gifting of public funds' — a Washington state law that prohibits local governments from providing items of value to nonprofits or individuals.
Local governments can donate to other jurisdictions, however, which is how the Port of Seattle and Seattle Public Schools found a way for the Port's own police department to donate 13 Diamond Back bikes originally used to patrol Seattle-Tacoma International Airport (SEA). to the Rainier Beach High School Bike Works program.
The Port periodically replaces and refurbishes patrol bikes with upgrades most conductive to law enforcement and crowd management. The established Rainier Beach Bike Works program provides bicycle maintenance and cycling safety education while promoting health and wellness benefits for its students and athletes. Port staff took action to repurpose the replaced bikes, as there is still plenty of life left in them for educational and recreational purposes due to the level of continued maintenance.
"This is wonderful example of community collaboration and relationship building," said Port of Seattle Commissioner Toshiko Hasegawa. "Students, staff and police all stepped up to see a simple yet impactful idea into fruition for big public benefit. When it comes to building relationships, the small things matter."
"I am an avid bike rider and know the importance of being healthy and how the donations of these bikes would be such a huge benefit for our students at Rainier Beach HS," said Rainier Beach Principal Ivory Brooks. "I look forward to future partnership opportunities with the Port of Seattle and Port Commissioner Hasegawa. Thank you for your generosity. We are confident that our students will pay it forward with their great works in the community."
Bike Works @ Rainier Beach noted: "Our partnership has been an amazing opportunity for our students to flourish as community members and also learn the trade of bike mechanics and maintenance. This relationship was more than we could have imagined with our students as it is life changing." 
"It took us some time to get this transaction approved. It reminded us of past treatment and feeling like second-class citizens," said Yusuf Abdikadir, a student representative of NAACP Youth Council. "As a student leader and representative of NYC, we pushed back to ensure these donations benefited our peers. I am glad we were able to get this done! As a student athlete at Beach, these bikes would serve as training equipment to help prepare our student athletes for their specific sports. We are appreciative of this partnership with the Port of Seattle and thank them for blessing us with donations that can only better us."
The Port also has a refresh program for mobile devices such as outdated iPhones and iPads over time no longer meet strict information systems security protocols. More than 100 outdated mobility devices, mostly iPhones along with some iPads per year, have been conveyed for the last 4 years by the Port for use by Highline and Seattle School districts for educational purposes in their elementary schools. This provided the idea from Port staff to expand the conveyances to school districts to include the replaced bikes. The existing program of RBHS Bike Works volunteered to be an intermediary responsible for the care and use of the patrol bikes, a unique arrangement allowing the conveyance of surplus property from the Port to benefit the students. 
This unique partnership to provide a second life for bicycles is something the Port hopes other agencies and school districts can replicate to benefit their local communities.
To complete the transaction, Port of Seattle Police bike unit officers had to show up to gym class. During the ceremony, Port of Seattle Police exhibited skills that must be demonstrated during bike patrol unit certification.
Contact
Perry Cooper | SEA Airport Media Officer
(206) 787-4923 | cooper.p@portseattle.org
Virginia Bethea | Rainier Beach High School
(425) 891-6705 | vowens@seattleschools.org