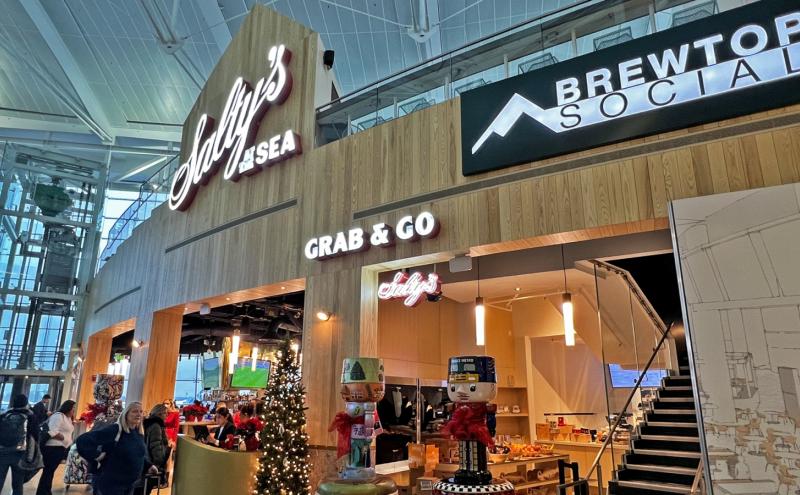 Upgrades Traveler Experience with Iconic Window Views
December 7, 2022
New, dramatic Central Terminal views to the airfield have arrived along with a new fun sit-down restaurant and the first-ever beer and wine garden in a U.S. airport! As part of the opening of the renovated north end of the Central Terminal, today marked the debut of Salty's at the SEA and BrewTop Social — creating new spaces and unique experiences for the SEA traveler as we head into the winter holidays at Seattle-Tacoma International Airport (SEA).  
The newest additions to SEA's iconic central gathering place follow the recent removal of construction barricades in the space as renovation and the pandemic kept travelers from the grand views of the airfield through the 60-foot high, 350-foot long window wall. The south end of the project opened in 2019 with five new tenants.  
"This is a new, creative step for SEA as we literally raise the bar for the customer experience," said Khalia Moore, Sr. Manager, SEA Airport Dining and Retail. "Creating a second level in the Central Terminal brings a new viewpoint to the airfield and the Olympics Mountains, but these tenants reflect the Pacific Northwest with their food, design and service."  
Salty's at the SEA is an oasis for our travelers offering astonishing sit-down dining. The restaurant features shucked to order oysters at its chilled seafood bar, a sports bar, plus a one-of-a-kind window display of Salty's world famous waterfront views of sunny beach days, spectacular sunsets, and twinkling skyline nights. 
"Salty's has brought warm hospitality to guests for over 40 years," said Kate Kingen, Salty's partner. "This setting at SEA will transport visitors to Salty's spectacular views of the Pacific Northwest along with menus celebrating seasonal coastal cuisine, regional wines, uncommonly warm service, and smiles."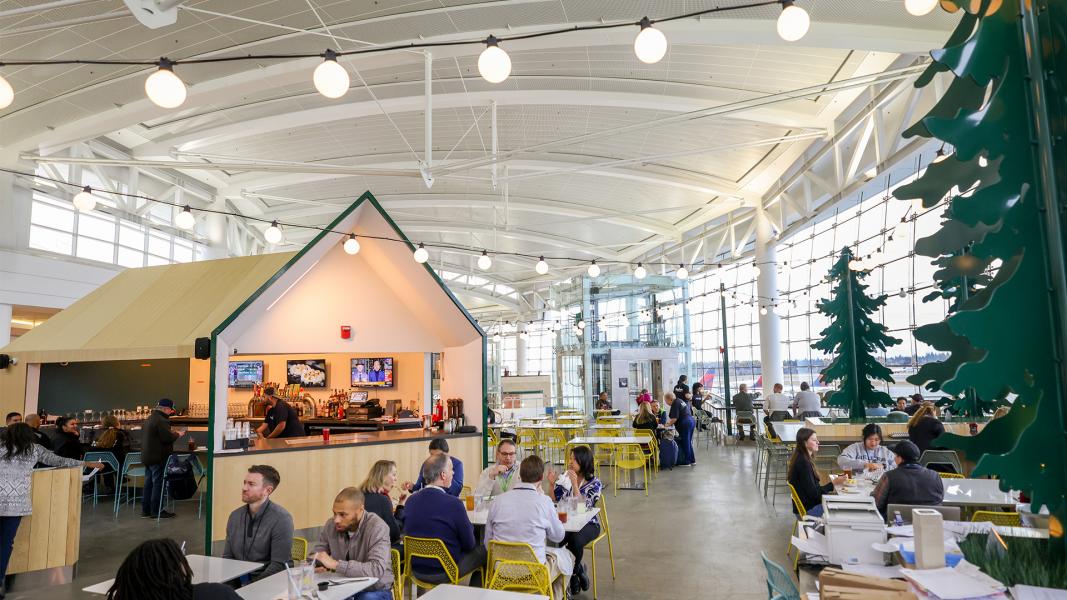 Directly above Salty's on the second level is BrewTop Social, offering the first wine and beer garden in a U.S. Airport with open-air dining experience with craft brews from local breweries on tap, stadium seating, a Northwest forest décor to bring the outside in, and the expansive view of the airfield and surrounding region! Family-friendly games will also be added as an innovative space.  
Concessions International, one of the nations' largest minority-owned airport concessionaires, brings this combination concept to SEA's Central Terminal.  
What's next at SEA?  
SEA Airport continues to add to the dining and retail experience with more than 70 new openings in the last four years. More are to come including additional locations filling up the N Concourse Modernization, as well as the beginning of construction of the C Concourse Expansion with additional elbow room and dining and retail options. Overall, Upgrade SEA will be modernizing the airport with over $4 billion in capital upgrades in the coming five years.  
Contact
Perry Cooper |  Senior Media Officer
(206) 787-4923 | cooper.p@portseattle.org