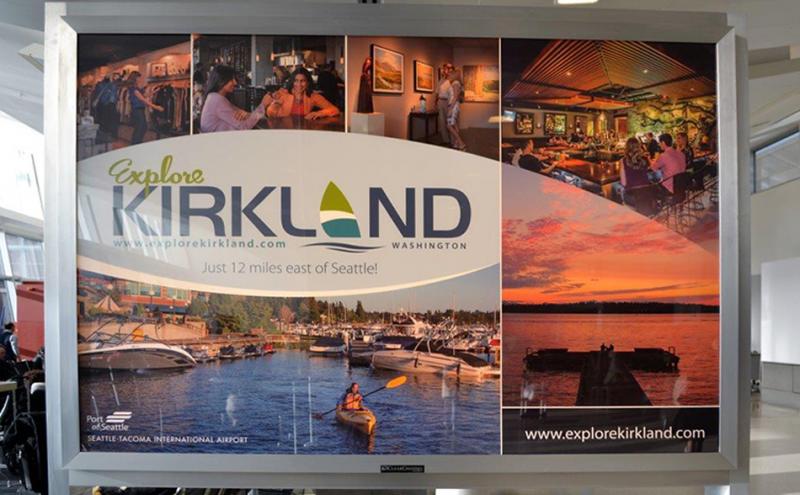 Ad space reserved for local cities and King County tourism marketers
September 6, 2017
The Port of Seattle today launched "Spotlight" a new economic development and partnership program that reserves Seattle-Tacoma International Airport advertising locations for neighboring cities and destination marketing organizations in King County.
"The local airport should champion what is best about our region and draw economic benefit further out into neighboring cities and communities," said Port of Seattle Commission President Tom Albro. "Our Spotlight program is one way that we can partner with smaller cities and destination marketers to convert Sea-Tac passengers into future customers."
The Port has set aside 10 percent of current advertising locations at Sea-Tac Airport for promoting local cities and King County destinations. The locations are throughout the airport in concourses and in baggage claim. Under the new program, the Port will cover the cost of reserving the advertising location. Local cities and destination marketing organizations will pay for printing and installation. The Port will assess results after six months and determine if the Spotlight program should be opened up to statewide destination marketing organizations.
"Travel and tourism supports jobs and revenue for cities and the state," said Tukwila Mayor Allan Ekberg. "This Port program makes those job and revenue benefits more accessible for smaller cities and destinations that traditionally could not reach the 48 million passengers using Sea-Tac Airport."
The local and regional tourism advertising program expands on existing tourism development partnership programs by the Port of Seattle.
In 2016 the Port launched its first ever tourism marketing partnership program. Now extended for a second year, the program provided marketing support to eighteen Washington-based destination marketing organizations, from the Anacortes Chamber of Commerce to Yakima Valley Tourism.
In 2017, the Port of Seattle also launched Port Valet, a complimentary luggage transfer program for cruise passengers flying out of Sea-Tac on an afternoon domestic flight. Port Valet allows cruise passengers the free option to check luggage and receive a boarding pass on board the ship and then venture out to experience Seattle for the day.