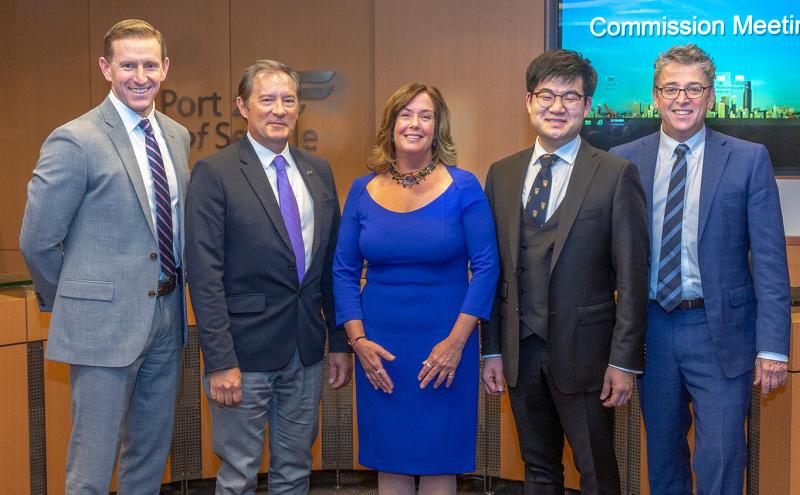 Fred Felleman starting his second term as elected VP, Sam Cho sworn in as newest commissioner
January 7, 2020
The Port of Seattle Commission has elected Peter Steinbrueck Commission President for 2020. Commissioner Fred Felleman will serve as Commission Vice-President, with Commissioner Sam Cho serving as Commission Secretary. Newly elected Commissioner Sam Cho was sworn in by his mother.  Re-elected Commissioner Fred Felleman was sworn in by Suquamish Tribal Chairman, Leonard Forsman.
"The Port of Seattle has a critical mission to foster economic development and living-wage jobs, as we advance social equity and environmental stewardship for the region and state. I'm grateful for the support and confidence of my commission colleagues, and for Commissioner Stephanie Bowman's effective leadership as president last year,'' said Port of Seattle Commission President Peter Steinbrueck. "Those priorities will shape our work on new waterfront facilities in Elliott Bay and bring improvements to Sea-Tac Airport."
"I'm reinvigorated to continue working to assure that the Port's economic engine drives broad-based job opportunities while minimizing impacts on surrounding communities, the environment, and climate," said Port of Seattle Commission Vice President Fred Felleman. "I'm committed to protecting our working waterfront and supporting innovations to create green jobs of the future."
"I am honored and humbled to join the Port of Seattle Commission and look forward to serving all the people of King County while providing economic benefit to our entire region and state," said newly elected Port of Seattle Commissioner Sam Cho.
| | |
| --- | --- |
| Commissioner Sam Cho is the newest member of the commission, starting his first term this year. | Commissioner Fred Felleman is sworn in for his second term. |
The Port of Seattle will begin both a monumental year and a monumental decade with great changes to the airport and waterfront, with environment and economic opportunities for the next generation. Projects include improving the experience for the traveling public at Sea-Tac Airport; increasing the environmental sustainability and resiliency of our operations, facilities, and Port-related industries; and expanding equity, diversity and inclusion at the Port and our related industries, and in our communities.
The Port of Seattle Commission remains focused on its policy-making and oversight role as it moves into a new decade providing essential travel and trade services that create jobs throughout the state and region. The Port will continue with major facilities improvements at Seattle-Tacoma International Airport, which will spend $6.5 billion by 2025, along with environmental review of additional Near-Term Projects under its Sustainable Airport Master Plan.
Further funding was also approved for 2020 for the Maritime Division, as design and review continues on the largest maritime infrastructure investments the Port has made in a generation.
The $500 million Maritime and Economic Development Division CIP continues to advance the Port's Waterfront Strategy with significant investments in a new Cruise Terminal at Terminal 46, Terminal 91 uplands development, habitat restoration, and development at Fishermen's Terminal, including a Maritime Innovation Center.
The announcement of a new cruise partner is expected in the first quarter along with The Northwest Seaport Alliance's announcement of a new tenant co-located at Terminal 46.
In addition to its CIP, the Port is also investing $184 million over the next five years in the Northwest Seaport Alliance (NWSA) capital program, which includes modernizing Terminal 5 to make it one of the most efficient container terminals on the West Coast. The CIP also includes $107 million of additional funding primarily for the preservation of critical maritime infrastructure.
2020 will mark the third year of a five-year investment plan designed to make our region a competitive maritime hub. The investments focus on asset preservation and prioritize economic development where our natural advantages align with economic growth opportunities.
Contact
Peter McGraw | Media Officer
(206) 787-3446 | mcgraw.p@portseattle.org