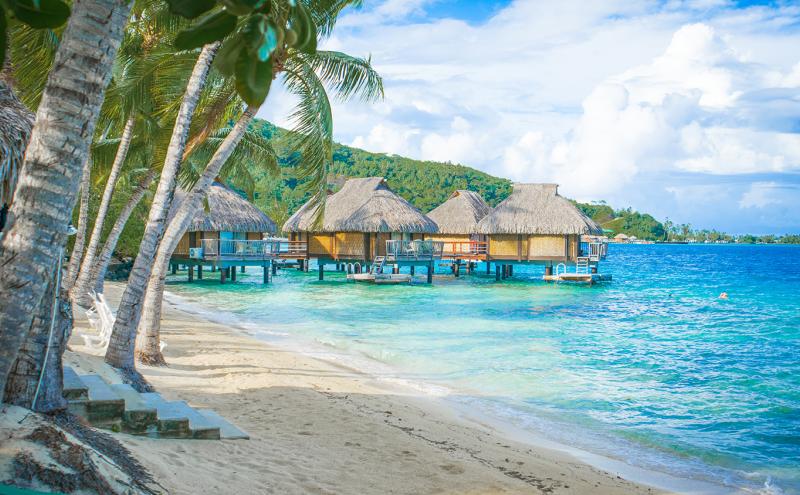 New Service to French Polynesia begins this fall
March 29, 2022
Pack your bags for that long-awaited vacation! Seattle-Tacoma International Airport (SEA) welcomes today's announcement that Air Tahiti Nui will begin nonstop service to Papeete, Tahiti (PPT) on October 5, 2022. The island of Tahiti is almost mythical in its beauty, and along with the rest of French Polynesia, is one of the world's foremost vacation destinations.
"Seattle is honored to be only the second U.S. destination for Air Tahiti Nui," said Lance Lyttle, SEA Airport Managing Director. "We're excited that Seattleites will now have yet another magical destination to explore, whether that's Tahiti itself or other nearby islands like Bora Bora or Mo'orea."
Tahiti will be Seattle's southernmost destination and the first located in the Southern Hemisphere. Air Tahiti Nui will operate the twice-weekly route using a Boeing 787-9 aircraft with the following schedule:
| Flight | Route | Depart | Arrive | Days |
| --- | --- | --- | --- | --- |
| TN51 | Seattle to Tahiti | 12:40 p.m. | 7:10 p.m.  | Wed, Sun |
| TN52  | Tahiti to Seattle | 10:00 p.m. | 10:25 a.m. (+1)  |  Tues, Sat |
Travelers to Tahiti can look forward to vivid turquoise lagoons, soaring lava-rock peaks, lush tropical forests, and hospitable people. These natural wonders of the islands fill the senses of all those that set foot in Tahiti. As the leading carrier to and from French Polynesia, Air Tahiti Nui's 787-9 Dreamliner fleet and awarded service will make you feel like you are in Tahiti the moment you step onboard.
"North America is a key market for our destination. So, when we decided to open a second gateway on the West Coast, Seattle was a natural answer for us", explained Mathieu Bechonnet, Air Tahiti Nui Managing Director. "I would like to thank our partners at Alaska Airlines and the Seattle-Tacoma International Airport for their warm welcome and support in making this happen."
"Who hasn't dreamed of visiting Bora Bora? We're delighted to have Air Tahiti Nui join our array of global airline partners, further connecting the West Coast to the South Pacific," said Nat Pieper, senior vice president of fleet, finance and alliances at Alaska Airlines. "Our guests are going to love the convenience of a nonstop flight to this amazing destination on an airline that offers world-class service and amenities flying the beautiful Boeing 787-9 Dreamliner aircraft."
International Service at SEA
Travelers arriving at SEA from Tahiti will enjoy the soon-to-open new International Arrivals Facility, the most complex capital development project in the history of SEA airport. The IAF will dramatically improve connection time, efficiency, and service to millions of annual international travelers.
Air Tahiti Nui's Tahiti service is the sixth new international service to SEA announced since 2020. Qatar-Doha, WestJet-Calgary, and Alaska-Belize City began service in 2021, while Air Canada-Montreal and Finnair-Helsinki will begin service in summer 2022.  
Contact
Perry Cooper | SEA Airport Media Officer
(206) 787-4923 | cooper.p@portseattle.org