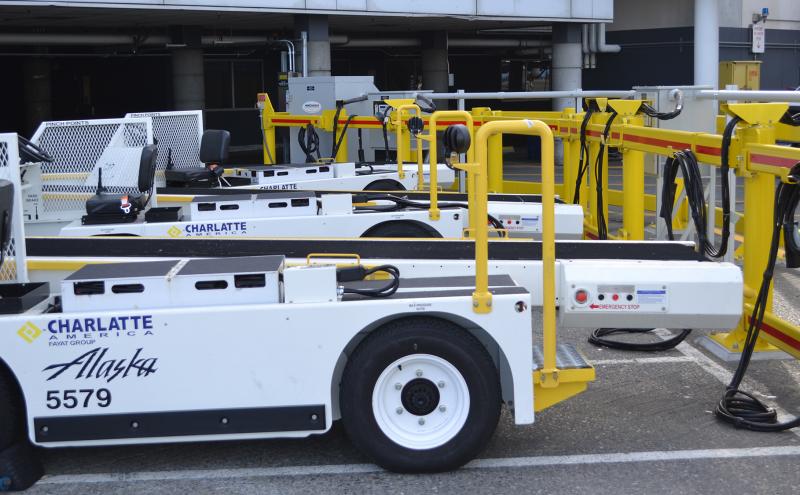 Geneva Event Notes 100 Examples of Carbon Emission Reduction Efforts Worldwide
September 29, 2015
Two greenhouse gas reduction projects at Seattle-Tacoma International Airport, led by the Port of Seattle and Alaska Airlines, were recognized at an international summit in Geneva today in a collection of 100 examples of how the aviation industry is collaborating to cut carbon dioxide emissions to help reduce the impact on climate change. The two projects, the electrification of ground support equipment and the Greener skies Over Seattle initiative, are estimated to save over 35,000 metric tons of greenhouse gas or the equivalent of taking 7,300 cars off the road.
Michael Gill, Executive Director of the Air Transport Action Group, a cross-industry association that published the report, Aviation Climate Solutions, said: "Aviation plays a vital role in the world economy, providing connectivity for people and business. Our industry has also taken a lead in climate action, putting in place a comprehensive framework and goals to reduce emissions from air transport. The Aviation Climate Solutions are a set of case studies showing how different parts of the industry all over the world, including the Port of Seattle and Alaska Airlines are working together to reduce our climate impact."
"Using energy wisely and improving the environment are priorities of the Port of Seattle," said Courtney Gregoire, Co-President, Port of Seattle Commission. "These projects are just two of many initiatives to reduce the environmental footprint of our airport. Making flight corridors more efficient saves fuel and benefits surrounding communities."
"Our goal is to be the airline industry leader for environmental stewardship while being a socially responsible, safe company that values our people and community along with the environment," said Joe Sprague, Alaska Airlines' senior vice President of communications and external relations. "Combined, these two projects are an essential component in Alaska Airlines' goal to reduce our emissions by 20 percent while improving the environmental health in the community we call home."
Aviation Climate Solutions was released at the Global Sustainable Aviation Summit in Geneva, Switzerland, alongside an open letter from industry chief executives which reaffirms the industry's commitment to climate action; and calls on governments to support it with the development of a global market-based measure for aviation emissions, improved efficiency in air traffic management and accelerating research for alternative fuels and new technology.
In 2008, the aviation sector became the first to set global goals to proactively manage its climate change impact. The industry will stabilise its net CO2 emissions from 2020 through a concept called carbon-neutral growth, whereby traffic would continue to rise to meet the demands of society and the economy, but growth would be offset through a global market-based measure. The longer-term goal is to actually reduce net CO2 emissions from aviation to half of what they were in 2005, by 2050.
Electric Ground Support Equipment at Sea-Tac Details
In 2014, the Port of Seattle, Alaska Airlines and Western Washington Clean Cities launched the project to install nearly 600 electric charging stations throughout the airport to convert ground service equipment (GSE) such as baggage tugs, bag ramps and pushback vehicles from fossil fuel to electric. Alaska Airlines took the lead providing 204 electric vehicles to debut the project. Each year the project is projected to save $2.8 million in airline fuel costs and 10,000 tons of greenhouse gas emissions – the equivalent of taking 1,900 cars off the road.
Greener Skies over Seattle Details
New west side approach procedures by aircraft that use satellite-based technology, introduced in 2013, allow a continuous descent from cruise altitude to Sea-Tac airport runways creating shorter, more direct flight paths at low power, which also reduces travel time. The joint effort between the Federal Aviation Administration, Port of Seattle, Alaska Airlines, and Boeing is estimated to save 2.7 million gallons of fuel and reduce carbon emissions by 25,600 metric tons – the equivalent of taking 5,400 cars off the road.
The Air Transport Action Group is a coalition of organizations and companies throughout the air transport industry that drive the sustainable development of the air transport sector. Funding members include ACI, Airbus, ATR, Boeing, Bombardier, CANSO, CFM, Embraer, Honeywell Aerospace, GE, IATA, Pratt & Whitney, Rolls-Royce and Safran. www.atag.org For additional information, contact Haldane Dodd, Air Transport Action Group: doddh@atag.org, +41 79 429 8710, @enviroaero / @ATAG_Aviation
The full publication can be downloaded at the website www.enviro.aero/climatesolutions
The open letter from industry chief executives is available at www.enviro.aero/openletter
About Seattle-Tacoma International Airport
Operated by the Port of Seattle, Seattle-Tacoma International Airport (SEA, KSEA) is ranked as the 13th busiest U.S. airport, serving nearly 37.5 million passengers and more than 327,000 metric tons of air cargo in 2014. With a regional economic impact of more than $16.3 billion in business revenue, Sea-Tac generates 171,796 jobs (109,924 direct jobs) representing over $2.8 billion in direct earnings and more than $565 million in state and local taxes. Twenty-two airlines serve 78 non-stop domestic and 22 international destinations.
About Alaska Airlines
Alaska Airlines, a subsidiary of Alaska Air Group (NYSE: ALK), together with its partner regional airlines, serves more than 100 cities through an expansive network in the United States, Canada and Mexico. Alaska Airlines ranked "Highest in Customer Satisfaction Among Traditional Carriers in North America" in the J.D. Power North America Airline Satisfaction Study for eight consecutive years from 2008 to 2015. Alaska Airlines' Mileage Plan also ranked "Highest in Customer Satisfaction with Airline Loyalty Rewards Programs" in the J.D. Power 2014 and 2015 Airline Loyalty/Rewards Program Satisfaction Report. For reservations, visit www.alaskaair.com. For more news and information, visit Alaska Airlines' newsroom at www.alaskaair.com/newsroom.