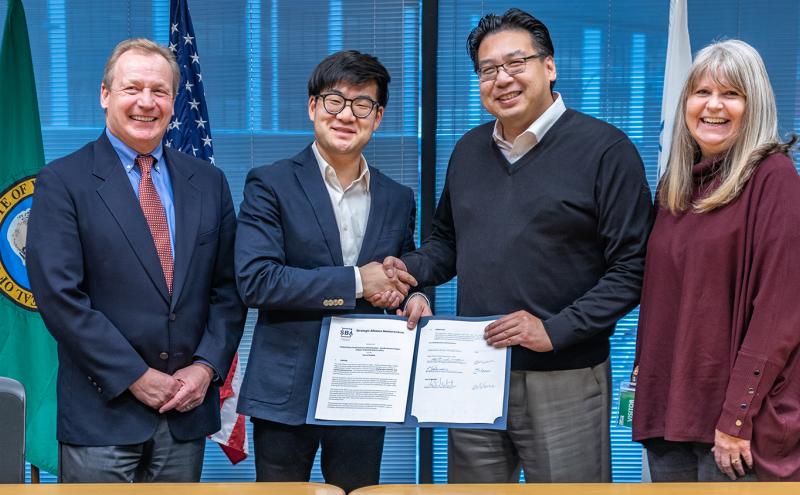 December 2, 2022

U.S. Small Business Administration (SBA) Regional Administrator Michael Fong, District Director Kerrie Hurd, Port of Seattle Commissioner Sam Cho, and Executive Director Steve Metruck held a signing ceremony for the Strategic Alliance Memorandum between the United States Small Business Administration Pacific Northwest Region and the Port of Seattle to encourage, develop and foster mutual understanding and a working relationship between the SBA and Port of Seattle in order to strengthen and expand small business development in the local area.
"We are excited to enter into this partnership with the Port of Seattle," said SBA Pacific NW Regional Administrator Mike Fong. He added, "SBA is committed to creating opportunities for small businesses to grow and thrive and together with the Port we can leverage our resources to reach more small business owners and entrepreneurs."
"The Port of Seattle's mission is to promote economic opportunities and quality of life in the region by advancing trade, travel, commerce and job creation in an equitable, accountable, and environmentally responsible manner," said Port of Seattle Commissioner Sam Cho. "With this Strategic Alliance Memorandum with the SBA, our organizations can foster greater economic growth throughout the Pacific Northwest Region and beyond.  We look forward to growing this relationship in the coming years."
The mission of the SBA is to aid, counsel, assist and protect the interests of small business by providing financial, contractual and business development assistance and advocating on their behalf within the government. SBA district offices deliver SBA programs and services to the public.
Each party has separate services and resources which, when delivered in coordination with each other, will provide maximum benefits to the small business communities served.
About the U.S. Small Business Administration
The U.S. Small Business Administration makes the American dream of business ownership a reality. As the only go-to resource and voice for small businesses backed by the strength of the federal government, the SBA empowers entrepreneurs and small business owners with the resources and support they need to start, grow or expand their businesses, or recover from a declared disaster. It delivers services through an extensive network of SBA field offices and partnerships with public and private organizations. To learn more, visit www.sba.gov.
Contact
Peter McGraw | Port of Seattle Media Officer
(206) 787-3446 | mcgraw.p@portseattle.org
Main photo caption from left to right: Steve Metruck, Executive Director, Port of Seattle; Sam Cho, Port of Seattle Commissioner; Mike Fong, Regional Administrator, Small Business Administration; Kerrie Hurd, Seattle District Office Director, Small Business Administration.