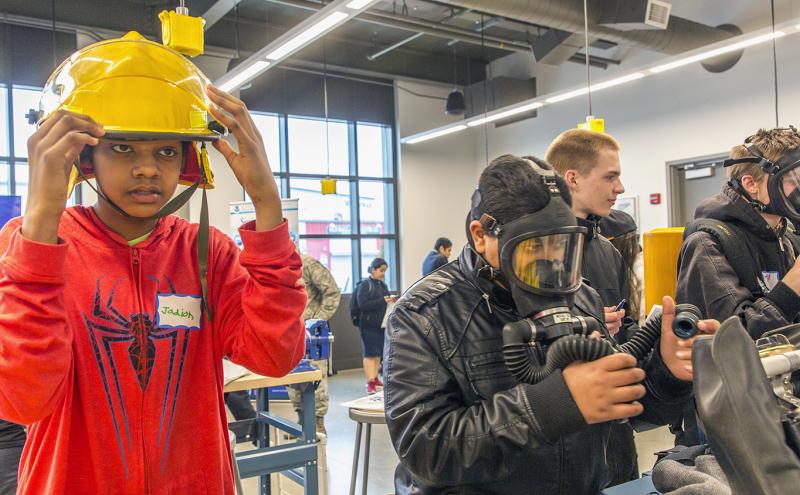 Local leaders partner to save youth jobs during COVID-19 
August 4, 2020

The Youth Maritime Collaborative has launched a new paid summer internship through the Seattle Public Schools' (SPS) 'Launch 206' pilot and Seattle Goodwill programs. The Youth Maritime Collaborative (YMC) is a voluntary partnership between maritime leaders and youth-serving organizations that introduces youth to maritime careers. It is administered by Washington Maritime Blue, a non-profit strategic alliance formed to foster maritime innovation and sustainability in support of an inclusive blue economy.
The Port of Seattle, City of Seattle, and Seattle-King County Workforce Development Council (WDC) funded this inaugural internship program to expand maritime employment and education opportunities for young people, especially youth traditionally underrepresented in maritime.
The YMC program guarantees a paid summer internship with a maritime business or non-profit organization to youth who are 16-24 years old. Upon successful completion of the internship, youth will earn a $1,000 stipend Any Seattle Public School student in good academic standing and who has taken a career and technical education (CTE) class will also earn .5 credits plus the $1,000 stipend. Maritime employers also yield a significant return on investment through hosting and mentoring interns. Participating employers discover innovative talent pipelines, improve business culture, increase productivity and retention strategies while providing students a high-quality learning experience in a growth sector.
In its first year, the maritime employers will host 13 students that applied for internships through "Launch 206" and YMC. Both Launch 206 and the YMC are continuing to recruit employers to host youth for future opportunities.
"The Port of Seattle is proud to continue our support of the Youth Maritime Collaborative through this Summer internship program. Young adults need jobs more than ever these days and the maritime industry needs youth in order to be more innovative, inclusive, and globally competitive. It's great to partner with Seattle Public Schools and Goodwill as part of Launch206,"  said Port of Seattle Commission Vice President and Maritime Blue Board Member, Fred Felleman.
"The YMC is strongly committed to promoting equity and diversity in the maritime workforce. Our vision for inclusivity begins with intentionality expanding our partnerships with maritime employers who share our values and with (BIPOC-led) community-based organizations that primarily serve youth of color from underrepresented communities. We are thrilled for implementation of Launch206 and look forward to continue to deliver outstanding and accessible internship programs that lead to career and educational pathways into the Maritime sector," said Veasna Hoy, Youth Maritime Collaborative Program Director.
"Our mission is to connect our bright and amazing students with thriving businesses in our own backyard to high-demand, family-wage career opportunities. LAUNCH206 partners with local industries to support meaningful work-site learning experiences for high school students which align to their High School and Beyond Plan," said Katie Searle, Internships and Career Pathways Coordinator for Seattle Public Schools.
Support from the Port of Seattle allowed YMC to recruit private sector maritime employers for summer jobs, experiential programs, and career connected learning partners. The City of Seattle Office of Economic Development is investing $50,000 to provide YMC interns—particularly Black and Indigenous Person/People of Color youth—internships and stipends in the maritime industry.
"The maritime industry is 90 percent white male, and the average age of a maritime worker is 55 years old. Our maritime industry must become more diverse—both racially and generationally," said Sarah Scherer, Manufacturing and Maritime Advocate for the City of Seattle Office of Economic Development.
Maritime industry jobs are considered essential services. As a result, internships provided will be a combination of in-person hands-on training at employer sites, and some virtual trainings. To ensure the safety of youth interns, all employers have met safety rules for Phase 2 of Washington's Safe Start Plan and Seattle-King County Public Health guidelines, are providing PPE, and have protocols in place to maintain social distancing.
Maritime leaders such as Boat Setter, Communications Energy Tech Solutions, Center for Wooden Boats, One for Neptune, Net Your Problem, Pacific Yacht Management, Vigor, and University of Washington Applied Physics Lab Ocean Engineering Department, have committed to hosting youth for jobs and business training this summer.  
In 2016, the Port and maritime leaders joined with youth-serving organizations to form the Youth Maritime Collaborative to increase interest in maritime careers among high school students.  Today the Port continues to support the YMC through Maritime Blue with a $100,000 annual contribution, which also provides maritime experiential activities to nearly 600 youth annually and supports creation of the YMC's strategic plan. The City of Seattle also funds experiential days, social media/marketing, and a day for SPS counselors/staff to learn about maritime.
Lean more about how your maritime business can support youth for a future program at the Youth Maritime Collaborative website.
To learn more about Launch 206 click here. 
Contact
Peter McGraw | Maritime Media Officer
(206) 787-3446 | mcgraw.p@portseattle.org