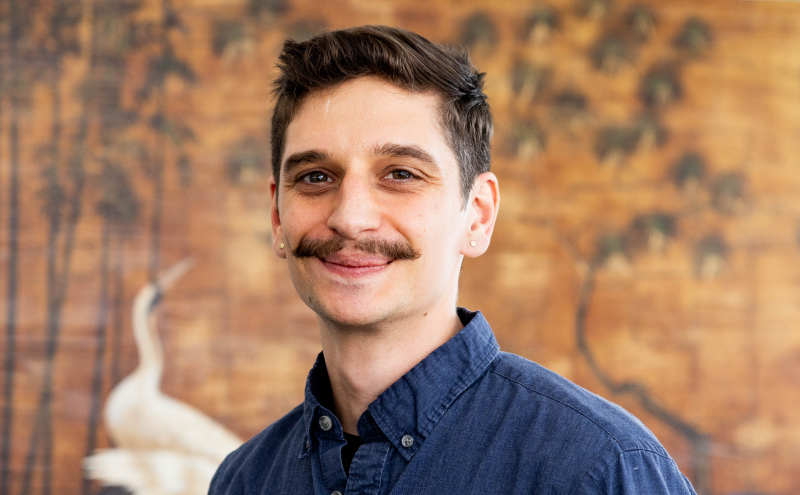 Pete Fleming is our first, full-time art technician, and this month marks his one-year anniversary with the Port! To celebrate, we are going behind the scenes to learn what an art tech is and recap recent projects. 

Art technicians are in charge of maintaining, updating, and caring for the permanent collection. This includes installing, relocating, storing, and cleaning art in a safe way. Pete's responsibilities also include the upkeep of maintenance data and overseeing large-scale conservation and installation efforts. Every piece of art is widely different, so an art technician must be proficient with solving unique challenges while keeping artwork pristine.

 

Cleaning John Grade's Boundary

How do you clean one of the largest objects in the airport art collection, that is suspended over the busy central area of the North Satellite? That is the question that had to be solved when it came to removing dust buildup from "Boundary" by John Grade. The answer: working overnight from lifts, Pete and Tommy vacuumed the inside and outside of the wooden structure, utilizing their flexibility (and some very long hose extensions) to access the complex surfaces!

 

De-Installing William Morris' 

Northwest Garnering

To make space for the Checkpoint 1 Expansion project and to protect the artwork from upcoming demolition activity, we removed over 136 hand formed glass tusks, bones, and eggs, from Gina Marie Lindsay Hall. This was completed with help from contractors Herzog Glass, and Artech, in addition to a wide range of Port departments and partners.

 

Cleaning and Data Management: 

Ralph Helmick and Stuart Schechter's Landing 

Once the star of the central terminal, Landing had to be removed due to both safety concerns as well as an inability to clean the piece in its old configuration. Due to the presence of nearby kitchen vents, each individual metal object had a thick coat of grease and grey dust. One of Pete's first tasks was cleaning, categorizing, and packing over 2,000+ individual objects in the hopes that Landing can one day be re-installed in a new configuration.

 
Published Date
Aug 09, 2023