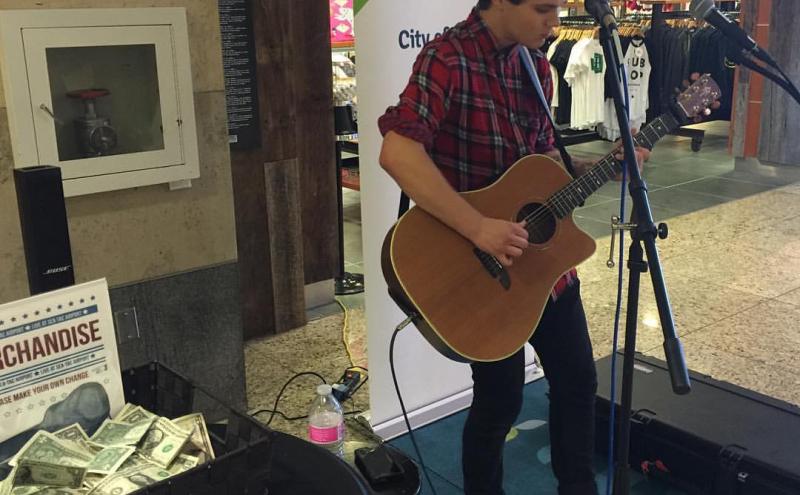 Find out about more the artists who play at Sea-Tac Airport. Here's one of our featured artists: Jason Kertson
In 2012, the Port of Seattle introduced Experience the City of Music, a music program created in effort to showcase the diversity of music culture in the Northwest and enhance traveler experience as they pass through Seattle-Tacoma International Airport. Since 2013, Sea-Tac has had over 58 live musicians play, accumulating over 1,800 hours of music. The genres of these artists can range from jazz to blues to folk, and even pop.
One artist in particular is a young musician by the name of Jason Kertson. He can often be seen at locations throughout the terminal, performing his songs using a loop station and a guitar. Having practiced six hours a day since he was seven years old, Kertson developed a passion for mastering the guitar. Besides the guitar, he also plays bass, drums, keyboards, harpsichord, ukulele, mandolin, and the violin.
In February of 2011, YouTube icon Ray William Johnson tweeted Kertson's guitar cover of "Drifting" by Andy McKee. In 2013, he auditioned for The Voice and was featured in a five minute on-air segment, which helped him gain exposure to thousands of new fans. Kertson has been in three bands: Jason Kertson and the Immortals, a metal and hard rock band created in 2010; Pink Slips, a band founded by the daughter of Guns 'N Roses's Duff McKagen in 2013; and now Kertson, an indie rock band formed under Jason's last name.
"I knew that I had this desire to do something more with music, not just go and sing songs, but preach a message, whether it's a quality or anything like that," Kertson said. "This new band was formed under the desire to be something positive, be something influential, and overall to make as many people confident and happy as possible. That's our goal."
Jason learned about Experience the City of Music after asking a friend to homecoming in his junior year of high school. Jason has also been working with Gigs4U for a year and a half, which had helped him land his performances at the airport.
"[The music program] gives musicians a way to express things in a way they may not be able to express otherwise," said Kertson. "It also gives some people a chance to be in front of an audience, and being at the airport is really good practice too, especially when you're out in the central area, learning how to interact with your audience and getting comfortable being in front of people." Kertson is one of many artists that can be found at Sea-Tac. Look for other artists and their schedules.
"People are caring and wanting to support music and musicians. As far as being a musician, there's nothing more important than the people who support you because without them you've got nothing," Kertson said.
Published Date
Jun 01, 2018