The Quarterly Health and Safety Engagement Award recognizes and celebrates the efforts of employees who ensure that employees and the surrounding community arrive and go home safely each day.
The Port fosters an environment where each employee feels comfortable sharing ideas, voicing concerns, and addressing hazards in a timely manner. Every day, employees across the Port act to mitigate hazards and improve safety around the workplace. Every action, large or small, contributes to lasting operational improvements.
At the Port's 4th Quarter Service Award Luncheon in February, four employees were recognized for their leadership, commitment and contribution to a safe environment for staff and the community in the last quarter of 2019. Each nominee is recognized with a certificate signed by Executive Director Steve Metruck and presented by their Director at a staff meeting. Nominations for the Quarter 1 Safety Engagement Awards are currently open and the deadline for employees to submit their recognition is Tuesday, March 17, 2020. The finalists for the Q1 Safety Engagement Award will be announced at the Port's next quarterly Service Award Luncheon.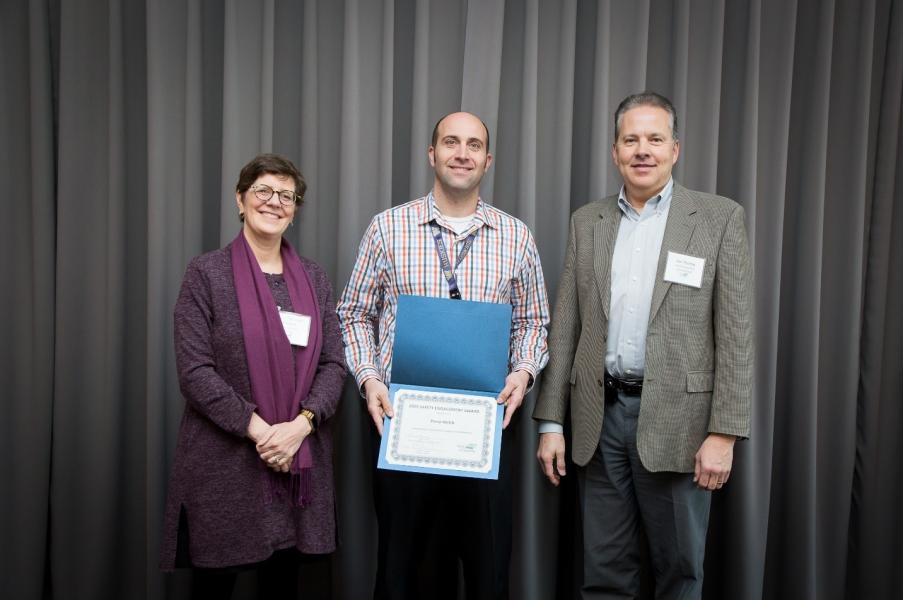 Perry Welch is recognized by Maritime Managing Director Stephanie Jones Stebbins and Chief Financial Officer Dan Thomas. Not pictured: Ellen Fisher.
Perry Welch and Ellen Fisher – Port of Seattle Design Engineers
On September 24, an excavator on a flatbed truck struck the instrument landing system bridge for runway 16, causing structural damage that made it hazardous for traffic below. Traffic below was closed as a safety precaution. This action has big implications on the operation of our airport as it compromised the capability of aircraft to land in inclement weather.  
Perry and Ellen were called to assess conditions. They made the difficult decision to maintain closure on the Perimeter road and to also close City of SeaTac's 154th S./ 156th Way since a failure of this bridge would also impact this major city thoroughfare. 
Perry and Ellen worked on a plan to support the damaged structure, limiting closure of traffic to within 24 hours; half of the minimum planned time. The bridge was open again to traffic the next day, assuring safe and accessible routes for all drivers on the roads and normal operation for our aircraft.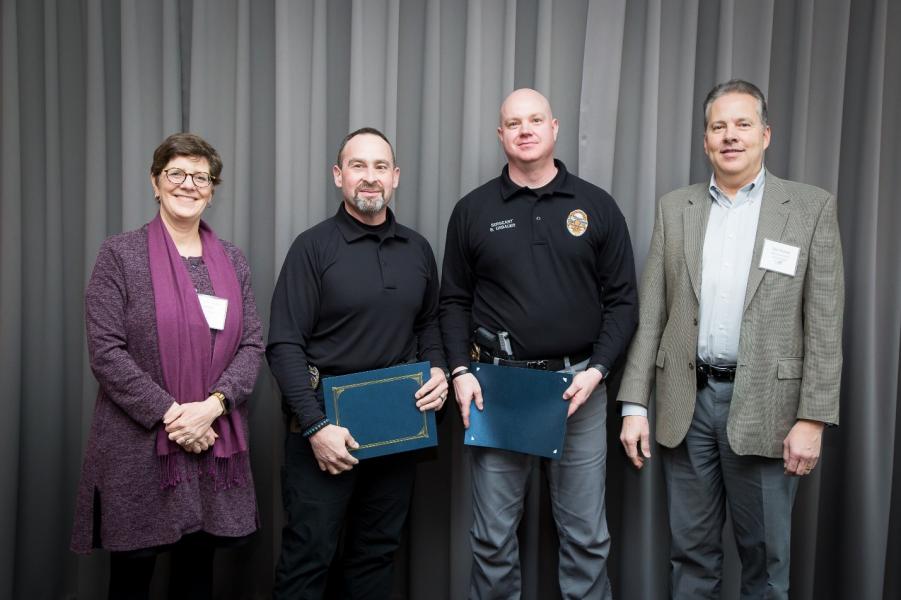 Sgt. Bram Urbauer and Officer Joey Russo – Port Police Department
Sgt. Urbauer and Joey Russo worked together to acquire new rifles equipped with features that protect the hearing for the officers who use them. The rifles are equipped with suppressors to reduce the noise when fired in an open area. In addition, the weight of the suppressor diminishes recoil for improved accuracy, and the extended length of the barrel reduces the risk of injury to the officer's hands from the fired projectile or expanding gasses from muzzle ports. This could prevent or reduce future costs of workers compensation claims that may arise from repeated training.
Published Date
Feb 10, 2020