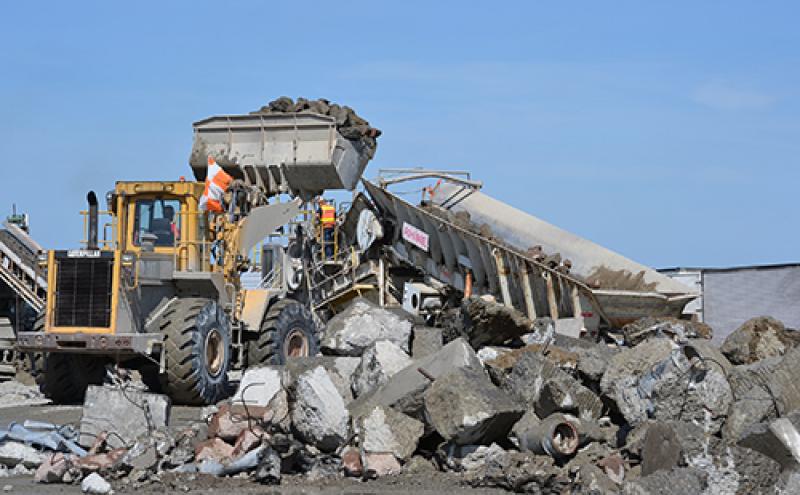 Status: Completed
The Port of Seattle completed reconstruction of the center runway (designated as 16C/34C) at Seattle-Tacoma International Airport in 2015. The runway was originally built in 1969 and had some brief closures during 2016 in order to complete adjoining projects with taxiways and blast pads. 
The project included installation of a new LED runway lighting system and an automated electronic Foreign Object Debris (FOD) detection system to provide additional safety on the runway. Portions of connecting taxiways were also replaced along with associated electrical, water, and aging stormwater infrastructure.
Why was reconstruction needed?
This was the first reconstruction of the runway since it was originally built in 1969. It was designed with a 20-year lifespan and, after nearly 46 years, needed to be replaced. Over the course of the last 20 years, more than 600 panels (out of 4,000) have been replaced to keep the runway operational.
How did the project impact operations?
Reconstruction did not impact flight schedules, passenger traffic, or any other airport operations. During the reconstruction, all air operations (takeoffs and landings) were directed to the airport's two other runways. Nearly 1,000 daily operations occur on the airfield and detailed plans were developed to minimize conflicts between construction activities and aircraft operations.
The construction occurred in phases along the runway so crossing taxiways were always open on each end of the runway. The Federal Aviation Administration (FAA) manages the use of the two operational runways.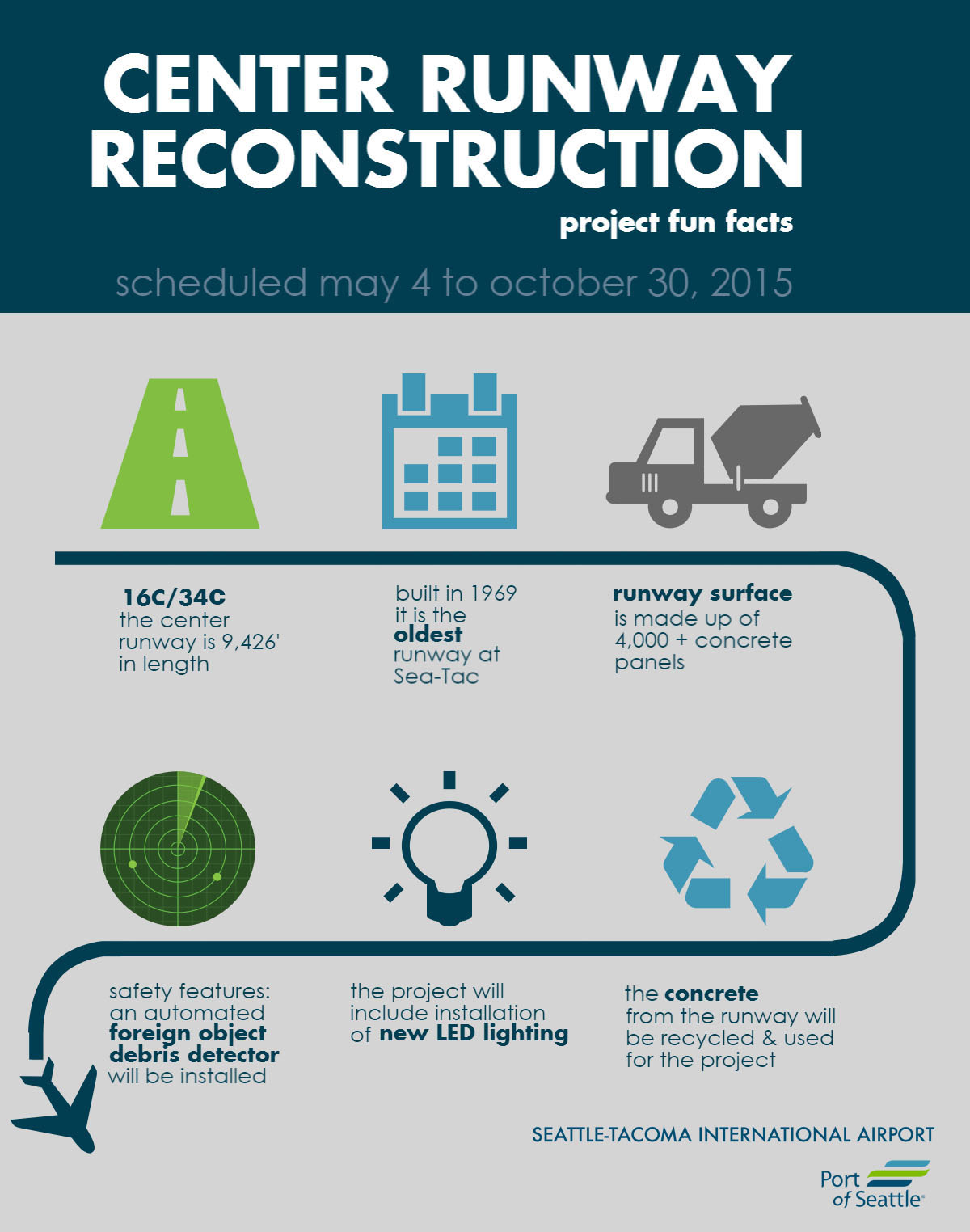 How much did it cost?
The project budget was $95 million, but the current project cost is $80 million. The Port received $25 million in FAA grants. The remaining funding was allocated from Airport Development Funds and future revenue bonds.
Center Runway at a Glance
Length: 9,425 feet

First Built: 1969

Project Budget: $95 million

Project Cost (est.): $80 million
Additional Project Facts
The center runway, 16C/34C, is the oldest runway at SEA having been built in 1969
16C/34C is 9,425 feet in length (SEA's longest runway, 16L/34R is 11,901 feet in length and its third runway, 16R/34L is 8,500 feet in length)
All three of SEA's runways have been constructed or rebuilt within the last seven years (16R/34L was built in 2008 and 16L/34R was reconstructed in 2009)
The design life of the reconstructed center runway is 40 years
The runway surface is made up of more than 4,000 concrete panels, each measuring 20 feet by 18.75 feet
Over the course of the last 20 years, more than 600 panels were replaced to keep the runway operational
The existing concrete from the runway was recycled and crushed on-site into gravel that was used as the sub-base for the new runway, taxiways, shoulders, and blast pads - more than 300,000 square yards of recycled concrete
Existing asphalt from the shoulders and blast pads was taken to asphalt plants for recycling into new asphalt
The new asphalt on the project contains 20 percent recycled concrete asphalt
Steel and other metal components, such as dowel bars, are separated for recycling
Over 200,000 square yards of new concrete was placed for the new runway
The new runway consists of eight inches of crushed rock sub-base, four inches of asphalt, and 18 inches of Portland cement concrete
Over 16,000 linear feet of new storm drain pipe was also installed