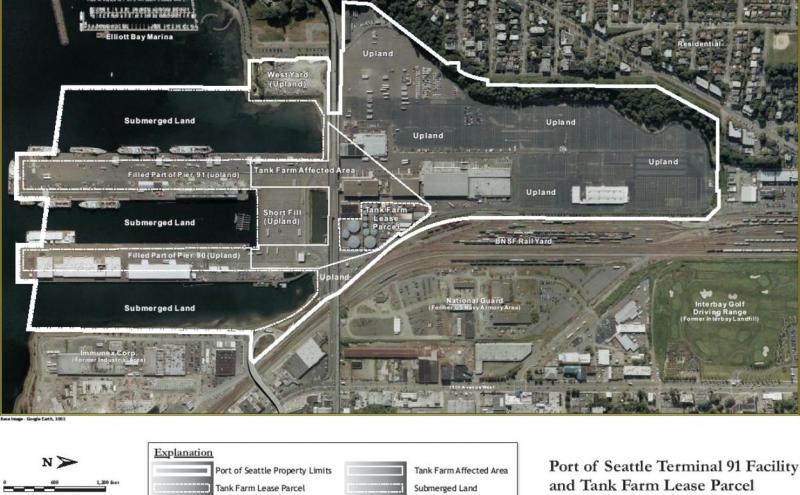 Terminal 91 Tank Farm Clean-up Project
What's Happening?
The Port under a Washington Department of Ecology State Agreed Order would implement a clean-up plan at the Port's Terminal 91, an industrial area between Seattle's Queen Anne and Magnolia neighborhoods. The Port would proceed with a plan to remove, contain or treat contaminated soil and groundwater at the now-demolished tank farm located north of the Magnolia bridge. Ecology will accept public comments on the order, issued under the state's cleanup law, from January 20 to March 5, 2012. All related documents including a fact sheet are available for public review here.
Current Operations
Terminal 91 (T91) is the Port's largest seaport facility, located at 2001 W. Garfield in an industrial area in the Interbay neighborhood of Seattle. The 212-acre terminal is currently used as a cruise terminal, seafood storage and processing, a business complex and includes various storage facilities. T91 has undergone heavy transformation, from an estuarine bay to a filled upland waterfront facility. T91 currently is under an Agreed Order with the Department of Ecology for corrective action. These activities include environmental investigations and ultimately cleanup.
A number of investigations have been performed at the facility and are summarized in the Remedial Investigation Summary Report. The chemicals of concern identified in the report include gasoline, diesel and heavy oil range petroleum hydrocarbons, metals, polychlorinated biphenyls, semi-volatile and volatile organic compounds. A feasibility study to identify possible cleanup options for the tank farm area was produced (2007) which was the basis for the Cleanup Action Plan (CAP). The draft CAP went out for public comment in October 2010 and was subsequently finalized. A new order is being negotiated to perform the actions specified in the CAP.
Historical Information
The former tank farm located at the facility was operated by Philip Services as a permitted dangerous waste treatment and storage facility and by other port tenants as a fuel storage and distribution tank farm.
From the late 1800s through 1920, owners of the area included various railroads, land development companies, and private individuals. The Great Northern Railroad began to develop the area in the 1900s by filling in the area between the Magnolia Bluff and Queen Anne Hill. Fill material was added to the area through 1920. The tank farm operated by Philip Services was constructed in the 1920s and appears to have been operated as a fuel storage facility in the late 1920s and 1930s.
The U.S. Navy acquired the entire facility in 1942 and operated the tank farm primarily as a fuel and lubricating oil transfer station until 1972, when the port leased back the facility and subleased the tank farm to Philip Services. Philip Services conducted waste oil recovery and wastewater treatment until 1995 when they ceased operation and performed above-ground closure activities. The tank farm was subsequently used for fuel storage and blending until 2003 and was demolished in 2005.