Port of Seattle Receives International Award for FTZ Growth
The Port of Seattle received an award from FDI Magazine, a division of the Financial Times, which focuses on foreign direct investment research. In their 2014 annual global free trade zone awards, the port was recognized for the 'highest growth in occupied space' in the Americas for efforts around Foreign Trade Zone (FTZ) #5 and its 72 percent expansion from 33,180 square meters to 57,238 square meters. The increase was due mainly to customer Tommy Bahama's business growth in 2013.
What is an FTZ?
Foreign-Trade Zones (FTZs) are designated, secure sites considered outside of U.S. Customs territory but physically located in the United States. Established in 1934, the Foreign-Trade Zone program was designed to encourage international trade and U.S. employment. A company can apply to designate part or all of their own facility as an FTZ. Foreign and domestic merchandise may be admitted into foreign-trade zones for storage, exhibition, assembly, manufacture, production and processing without formal Customs entry procedures, the payment of Customs duties, or the payment of federal excise taxes. Applicable duties and fees are paid when the products leave the zone.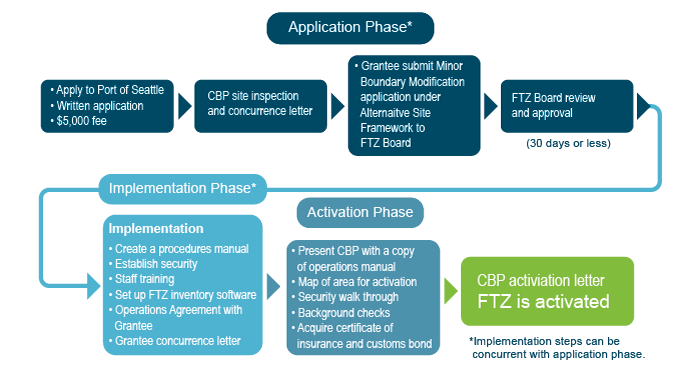 FTZ Advantages
Defer customs duties and federal excise taxes until merchandise is transferred from the FTZ to domestic market customs territory of the U.S. or a North American Free Trade Agreement (NAFTA) country (Canada or Mexico).
Reduce processing/entry fees by as much as 85 percent with the Weekly Entry Process, which allows goods to be shipped 24 hours a day, seven days a week, with just one entry filed each week and just one Merchandise Processing Fee per entry.
Reduce customs duties on goods processed or assembled in the FTZ when imported components have a higher duty rate than the finished goods (see example below).
Defer Harbor Maintenance Tax payments and pay quarterly instead of at time of entry.
Eliminate customs duties entirely when goods are re-exported from the FTZ.
Store quota merchandise in the FTZ until the quota period opens and immediately ship goods into U.S. Customs and Border Protection territory.
Exempt imported goods from state and local ad valorem taxes when they are held in the FTZ for storage, sale, exhibition, repackaging, assembly, distribution, sorting, grading, cleaning, mixing, display, manufacturing or processing. Goods manufactured in the U.S. and held in the FTZ are also exempt.
Eliminate the need for drawback and keep funds in the operating capital of the company.
FTZ #5 Reduces Costs
There are a number of ways FTZ #5 can reduce operating costs and enhance your company's bottom line. The Weekly Entry Process and assembly of imported components in the FTZ are just two examples.
The Weekly Entry Process available to companies operating within the FTZ can result in savings of up to 85 percent on entry and processing fees. Entry and Merchandise Processing Fees can be paid weekly, rather than daily, saving time and brokerage fees, as well.
Example:
| | |
| --- | --- |
| 160 entries per year at $485 | $77,600 |
| 52 entries per year at $485 | $25 220 |
| Annual savings | $52,380 |
A company that sells first aid kits imports most of the kit components from Asia – items like bandages, gauze pads, cold packs, tape, scissors, tweezers, rubber gloves, metal cases, etc. The kits are assembled in the U.S. Most of the components have import duty rates of two to three percent. The duty rate for the metal boxes is 17 percent, but the import duty rate for complete first aid kits is zero.
Example:
| | |
| --- | --- |
| xxxAnnual value of kit components | $10,000,000 |
| Averaged duty rate of components | 10% |
| Annual Duty savings from assembly in FTZ | $1,000,000 |
The same type of advantages can apply to a wide range of companies, especially manufacturers that import components or materials for processing or assembly in the U.S.
How to activate a zone
Following are steps to apply for and activate a Foreign Trade Zone. For additional details on this process, please contact the Port of Seattle. Download current FTZ Tariff Rates.
Submit an "Agreement for Foreign Trade Zone Status Application" form to the Port of Seattle. The Application fee is $5,000.
Prepare a "Request for Minor Boundary Modification". This is a short, straightforward application that includes a site plan and legal description of the site. It is submitted to the FTZ Board in Washington DC for approval.
Secure an approval letter from U.S. Customs and Border Protection (CBP) to apply for zone status. (Applicants need to coordinate directly with CBP for site inspection and review of overall FTZ plan to get their concurrence.)
Prepare an inventory and procedures manual for operations within the proposed FTZ. The manual is submitted to CBP for approval prior to commencement of FTZ operations.*
For additional information, read the C.B.P.'s FTZ manual.
Perform a background check of key employees and company officers engaged in the operation of FTZ. (Administered by U.S. Immigration and Customs Enforcement (I.C.E))
Purchase of general liability insurance.
Establish U.S. Customs Foreign-Trade Zone bond.**
Execution of an Operator Agreement between the FTZ Applicant and the Port of Seattle acting in capacity as the Grantee for Foreign-Trade Zone #5.*** .
Final site review by CBP. CBP provides an activation letter authorizing the start of zone operations.
Timeline:
Zone approval: Once the Minor Boundary Modification request has been submitted, approval takes 30 days or less.
Zone Activation: In general, average time to activate is 6-9 months. Times will vary by company and the proposed activity in a zone.
Resources
Notes:
*Due to the importance of the inventory and procedures manual to the successful operation of your FTZ business, it is recommended that you retain a professional with FTZ experience to help you prepare it.
** The bond amount is based on the value of equipment and material that will transit through the FTZ. CBP will have final approval of the amount.
***The Operator Agreement specifies the obligations of each party as they relate to FTZ operations.