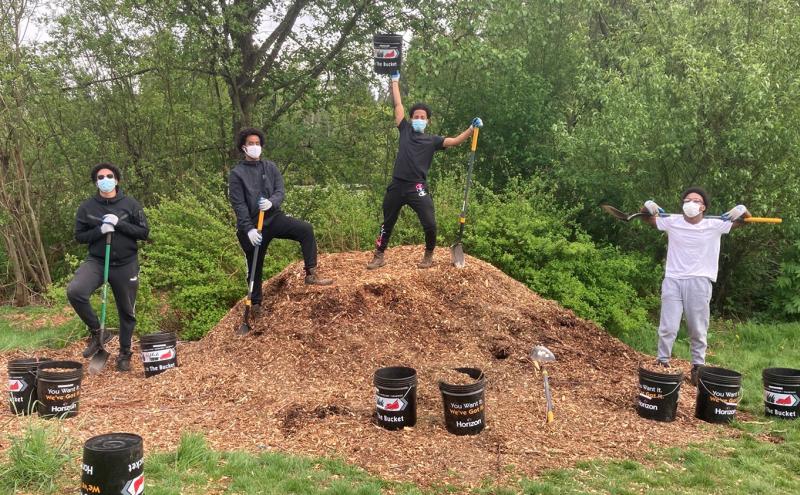 Non-profit opportunities available for Youth Career Launch now and South King County Community Impact Fund Environmental Grants in September
June 14, 2022
Local non-profits and community groups will share success stories and best practices for organizing and improving the environment in South King County at a one-day conference organized by the Port of Seattle.
With a focus on creating jobs, increasing equity, and improving the quality of life in South King County, participants will network and learn about funding sources, including the Port of Seattle's South King County Community Impact Fund and other regional grant programs. Support of community-led environmental projects is at the center of the Port's ongoing work to reduce environmental impact and improve the quality of life for neighboring communities.
"Frontline communities in South King County have been bearing the brunt of environmental injustice for generations," said Port Commissioner Toshiko Hasegawa. "Now they are organizing and rising up to be leaders in the environmental movement. With resources and capacity building from the Port of Seattle, communities of color are leading a just transition to a green economy and the Environmental Symposium serves as a forum to share knowledge and showcase their incredible work."
The event, organized and led by Andy Gregory and Ilays Aden, who implement the Port's Environmental Engagement Program, will include panel presentations featuring projects successfully funded through South King County Community Impact Fund Environmental Grants, and other regional leaders.
The panel topics will include:
Cultivation and Cultural Belonging (led by Ilays Aden).
Community Stewardship and Youth Activism (led by Andy Gregory).
Green Jobs for a Just Transition (led by Tiffany Sevilla, Port Workforce Development Program Manager)
Registration is free. Breakfast and lunch will be provided.
Ayanle Ismail, Executive Director of Bridging Cultural Gaps, a South King County Community Impact Fund first round grantee, will participate in the Cultivation and Cultural Belonging panel. Bridging Cultural Gaps works with Black and East African immigrant families and youth to do park clean-up days, build out a recycling initiative, and hold educational workshops on connecting with nature and the urban environment.
"Understanding our guiding principles and values as the root of what inextricably connects us with the environment is important. This is why our project is successful. Our advice to others interested in this work would be to personalize their mission with the impact they seek to create in the community," Ismail said. "Events like the SKC Environmental Symposium are important because they create a relational approach that brings us together, rather than a transactional one. Such a process also creates room for learning and advancing the environmental movement."
Event details
Saturday June 18, 2022 | 8:30 a.m.-3:00 p.m.
Highline College | 2400 S 240th St | Des Moines, WA 98198
Virtual option available
Register now >
Take this survey for food, interpretation, and access needs.
Port funding opportunities
The Port of Seattle established the South King County Community Impact Fund in 2018 to develop equity-based partnerships and provide resources and support in historically underserved, ethnically, and culturally diverse near-airport communities.
The South King County Community Impact Fund Environmental Grants Program awards matching grants to community-led projects that improve the environment in the near-airport communities of Burien, Des Moines, Federal Way, Normandy Park, SeaTac, and Tukwila. Projects include urban forest restoration, park trails maintenance, youth environmental stewardship, community garden improvements, and installation of a public bicycle skills track. The next funding cycle is expected to launch September 2022.
Funding is awarded to projects that reflect the rich diversity in South King County and aim to improve the quality of life in communities surrounding the airport. The grants program demonstrates the Port's commitment to its closest neighbors in South King County who experience disproportionate environmental impacts, with less access to parks and green space.
The Environmental Grants Program has revolutionized how the Port works with communities to improve access to funding opportunities. Since 2020, the Port has worked with a group of multicultural, multilingual liaisons to identify and remove barriers to participation in the program by co-creating grant materials and supporting liaisons to conduct community outreach to promote the grant opportunity.
Launching youth maritime careers
The South King County Environmental Symposium will also feature information about the Port of Seattle's Youth Career Launch Program and open RFP, which closes July 7, 2022. The Port is seeking organizations to provide career launch opportunities in maritime industries in the Puget Sound region for youth and young adults ages 16-24 years, with a particular focus on youth from overburdened communities and vulnerable populations. The program is based around working with BIPOC youth and communities in a workforce development capacity, partnering with employers in port-related industries, youth job training; and providing wrap-around services to facilitate workforce development opportunities.
Contact
Kate Hudson | SEA Airport
(206) 787-6801 | hudson.k@portseattle.org