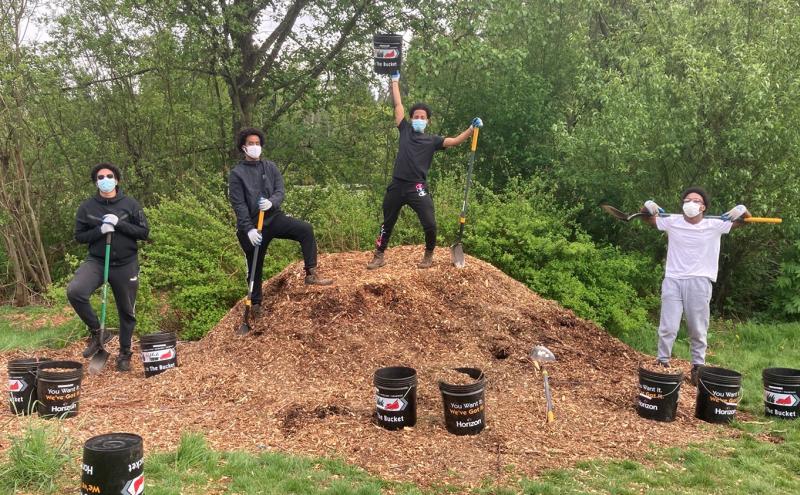 The Port has funded three cycles of the South King County Fund (SKCF) Environmental Grants. Organizations can apply for one, two, or three-year grants for up to $20,000 per year and up to $60,000 for multiyear funding. Multi-year grants allow community groups to invest in long-term planning and implementation. Multiyear funds also increase the impact of the Port's community investments and help to support sustainable project planning and implementation.
A total of $500,000 was awarded in cycle three to increase access to green space and improve livability in near-airport communities. 
Program background
The SKCF Environmental Grants Program is a cycle of the South King County Community Impact Fund that supports projects to improve the environment in near-airport communities of Burien, Des Moines, Federal Way, Normandy Park, SeaTac, and Tukwila. Community-led groups are invited to apply for funding for activities such as:   
public space improvements (including parks, school playgrounds, public square, or port habitat sites);   
equipment or artwork installations, or;
neighborhood or environmental stewardship projects.  
Through funding and partnerships with community-based organizations, the Environmental Grants Program drives the Port's investment in projects in cities around the airport to enhance livability, improve green spaces, and restore forests. The SKCIIF Environmental Grants Program expands the reach of the successful Airport Community Ecology (ACE) program into more communities that surround Seattle Tacoma International Airport (SEA). Communities in South King County disproportionately experience environmental harm due to a long history of inequitable land use practices and economic displacement that have pushed marginalized communities farther and farther south.
Fund highlights
$500,000 of funding was available in cycle three
Requests can be up to $20,000
Multiyear funding is available for up to $60,000 over three years
Projects must take place on public property.  Please see City contact information at the bottom of the page to connect with parks department staff members.
Projects must demonstrate a 3:1 match, meaning every dollar awarded by the Port must be matched by three dollars from the grant recipient or project partners. The Port offers several ways to meet this match including volunteer time, attendees of public events, contact hours, lifetime environmental value of trees planted, carbon emissions reductions, in-kind contributions, contributions of project partners, and cash         
Proposers must be a nonprofit organization with 501(c)3 or 501(c)6 status or community group that works with a 501(c)3 fiscal sponsor
Organizations must demonstrate experience in serving diverse near-airport communities that experience economic and environmental injustice
Organizations must submit a written proposal and participate in a discussion with the review panel
City points of contact
For projects taking place on city property including parks, public right of ways, street ends, etc., it is best to contact a representative within your project city to pre-approve the project. Some projects may need permits or require approval from Parks and Recreation or Public Works. It is best to contact the city early in your planning process and if possible, ask for a letter of recommendation to include in your application packet. The following list is designated points of contact who are familiar with the Environmental Grants Program and are ready to help you with your project.
---
Cycle II Funded Projects:
Weed Warriors
Solar Project for New Start Community Garden
Des Moines Memorial Drive Preservation Association
Signal Box Wraps on Des Moines Memorial Drive
Friends of Normandy Park
Marine View Park Forest Restoration
Partner In Employment
SKC Youth Restoration
African Young Dreamers Empowerment Program
Youth Activism Project
Friends of Saltwater State Park
Saltwater State Park Habitat Enhancement, Monitoring, and Education
Tilth Alliance
SKC Community Garden Support
Dirt Corps
Salmon Creek Park Restoration
Earth Corps
Hilltop Restoration and Community Engagement
Serve Ethiopians Washington
Improve Angle Lake Park
Bhutanese Community Resource Center
Continue educating and connecting Bhutanese communities to open space
Amigos Latinos de Burien
A New Beginning: Revitalizing Arbor Lake Park
Federal Way Korean American Association
Hanwoori Garden (Phase II)
The Service Board
Youth Stewardship Project for Duwamish Hill Preserve
Environmental Science Center
Beach Heroes
Mountains to Sound Greenway Trust
Community-Driven Stewardship at Salmon Creek Ravine
Toros Cycling Club
Bike Training Course and Education
EarthGen
Green Stormwater Infrastructure Projects in Highline Schools