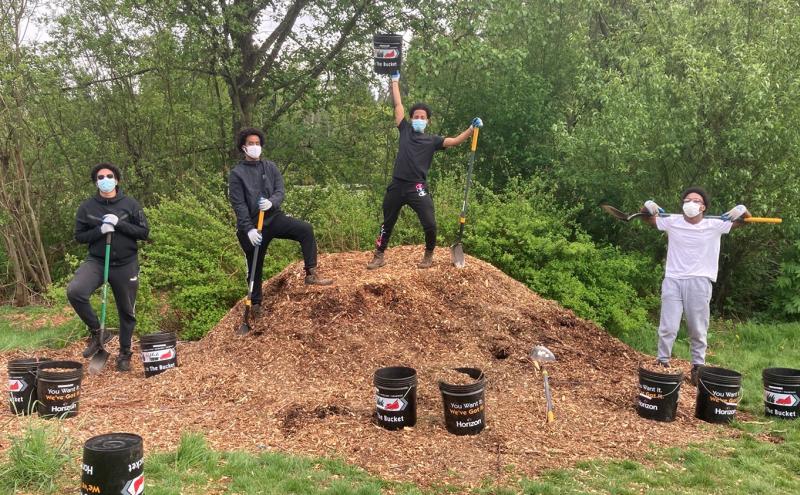 The Port of Seattle has awarded $687,000 in funding for its second cycle of South King County Community Impact Fund Environmental Grants to 18 organizations serving communities around SEA Airport. Community-led projects include urban forest restoration, park trails maintenance, youth environmental stewardship, community garden improvements, and installation of a public bicycle skills track.
Learn more
SKCCIF Environmental Grants Program
The Port has now closed the second round of applications for the Environmental Grants Program. New this year, organizations were able to apply for one, two or three-year grants for up to $20,000 per year. Multi-year grants allow community groups to invest in long-term planning and implementation, increases the impact of the Port's community investments, and helps to support sustainable project planning and implementation.
The SKCCIF Environmental Grants Program is a cycle of the South King County Community Impact Fund that supports projects that improve the environment in the near-airport communities of Burien, Des Moines, Federal Way, Normandy Park, SeaTac, and Tukwila. Community-led groups were invited to apply for funding for activities such as:
public space improvements (including parks, school playgrounds, public square or port habitat sites),
equipment or artwork installations,
or neighborhood or environmental stewardship projects.
Fund Highlights
There was $385,000 of funding available in the second grant cycle that closed October 15, 2021.
Requests were up to $20,000.
Multiyear funding made available for up to three years.
Projects must take place on public property.
Projects must demonstrate a 3:1 match, meaning every dollar awarded by the Port must be matched by three dollars from the grant recipient or project partners. The Port offers several ways to meet this match including volunteer time, attendees of public events, contact hours, lifetime environmental value of trees planted, carbon emissions reductions, in-kind contributions, contributions of project partners, and cash.
Proposers must be a nonprofit organization with 501(c)3 or 501(c)6 status or community group that works with a 501(c)3 fiscal sponsor.
Organizations must demonstrate experience in serving diverse near-airport communities that experience economic and environmental injustice.
Organizations must submit a written proposal and participate in a discussion with the review panel.
Cycle One Funded Projects:
Learn more about the fourteen (14) organizations that received funding for the first cycle of the SKCCIF Environmental Grants Program. This South King County Community Impact Fund Story Map also shows where projects were funded.
1.    Federal Way Korean American Association is building a Korean garden in Federal Way's BPA Trail, and creating a cultural space where community members can nurture and sustain the garden through intergenerational bonding. This project is also a larger part of a five-year plan with the organization's sister city in Korea to build out the garden. This project will take place in Federal way and was funded at $20,000.
2.    Multicultural Self-Sufficiency Movement is developing a community garden for community members, youth, and older adults to engage with the natural spaces; have access to safe and healthy food; and grow and cultivate the garden space. This projects works with intergenerational families and community members in Federal Way and was funded at $9,000.
3.    Bridging Cultural Gaps is organizing Black and East African immigrant families and youth to do park clean-up days and build out a recycling initiative that will be in multiple East African languages. They are  also accepting nature photography submissions and holding podcast conversations in several languages to better engage community members. This project takes place in Tukwila and was funded at $20,000.
4.    Bhutanese Community Resource Center is educating young adult and youth immigrants and refugees in Tukwila to learn about native plants in the region, and how to reduce waste through composting. They have adopted the Cascade View Community Park in Tukwila to clean up. They were funded at $14,000.
5.    Congolese Basketball is focusing on improving Crystal Spring Park in Tukwila. The group and volunteers will host small group park clean-up days, install basketball and tennis nets, and redesign the courts with art installations. They are funded at $20,000.
6.    New Start Community Garden added culturally relevant art pieces for the garden fencing at New Start Community Garden, which is home to community gardeners and New Start High School student gardeners. This project commissioned art from students and local South King County artists to create a more welcoming garden space in Burien and they were funded at $15,000.
7.    Partner in Employment works with immigrant and refugee youth to learn about, and work on park restoration and maintenance; identify native and non-native plant species; restore and design planting sites; and do outreach to others in a variety of environmental fields to sustain the work. This project adds capacity to host five additional youth beyond what was funded through their Economic Recovery Grant. This project will take place in SeaTac and Tukwila and they were funded at $20,000.
8.    EarthCorps' young adult crew members is clearing 60,000 square feet of invasive blackberry bushes at the Hilltop Park. They are also working with community volunteers to plant native trees for shade habitat and a safe place for community members to gather and enjoy the park. This project takes place in Burien and they were funded at $15,000.
9.    Highline Botanical Garden Foundation has expanded the Highline SeaTac Botanical Garden by moving twelve mature bonsai trees donated from The Seike Family in SeaTac. The original garden was impacted by airport expansion and the twelve trees will be incorporated into the new garden location. They were funded at $20,000.
10.    Environmental Science Center is serving 1100 Highline School District students in Kindergarten through 3rd grade with virtual beach habitat and stewardship classes live streamed and recorded at Seahurst Park. The naturalist-teachers from ESC will also clean up beaches during and after each of the fifty classes taught. Schools with at least 50% of their students on free or reduced lunch will be given priority. This project serves Burien and Highline students and they were funded at $10,000.
11.    Friends of Normandy Park Foundation engages Highline School District families and friends to remove 20,000 square feet of invasive plant species at Marine View Park. The community members are  replacing the area with native trees, shrubs and herbaceous plants. This project will take place in Normandy Park and they were funded at $8,683.
12.    Summer Search will work with eighty young people of color and underrepresented youth to explore land, water and air issues. The youth will develop and research four small group outdoor work sessions that will include planting trees and maintenance improvements around Tukwila's parks.  The students will also be in YMCA's Summer Outdoor Leadership School, which was successful during COVID-19 in 2020. They are funded at $20,000.
13.    Puget Soundkeeper Alliance empowers youth leaders to support immigrant and refugee families as they do debris cleanups on kayak patrols, water quality monitoring, and microplastic education. This project takes place in Tukwila, Burien, Des Moines, and Federal Way and they are funded at $10,902.
14.    Tilth Alliance is training twenty volunteers on urban farming techniques. The volunteers are then installing rain gardens, doing habitat restoration, and creating or supporting community gardens. They are partnering with a local immigrant and refugee organization and serving Federal Way, Burien and Tukwila. They were funded at $15,000.
---