Action coincides with Governor Inslee signing legislation enabling Seattle City Light to incentivize electrification of the waterfront terminals
April 24, 2019
The Port of Seattle Commission adopted its workplan for the Energy and Sustainability Committee at its April 23 meeting, identifying four areas of focus to improve environmental and community health in Puget Sound and combat climate change. Commissioners Fred Felleman and Ryan Calkins lead the Energy and Sustainability Committee as co-chairs. 
"This new Committee Charter continues the Commission's priority goal to be the greenest, most energy efficient Port in North America," said Port of Seattle Commissioner Fred Felleman. "The Charter remains primarily focused on reducing greenhouse gas emissions and community impacts by improving the Port's own operational practices and partnering with other agencies, airlines, and maritime industries."   
 
"The Port and its partners are making sustainability a better operational choice by making it easier and less expensive to implement," said Port of Seattle Commissioner Ryan Calkins, "and they are not taking no for an answer when facing operational or regulatory hurdles. We need to make system-wide change to achieve our goals of bringing clean power to Seattle's waterfront and helping all of our industries transition to cleaner fuel."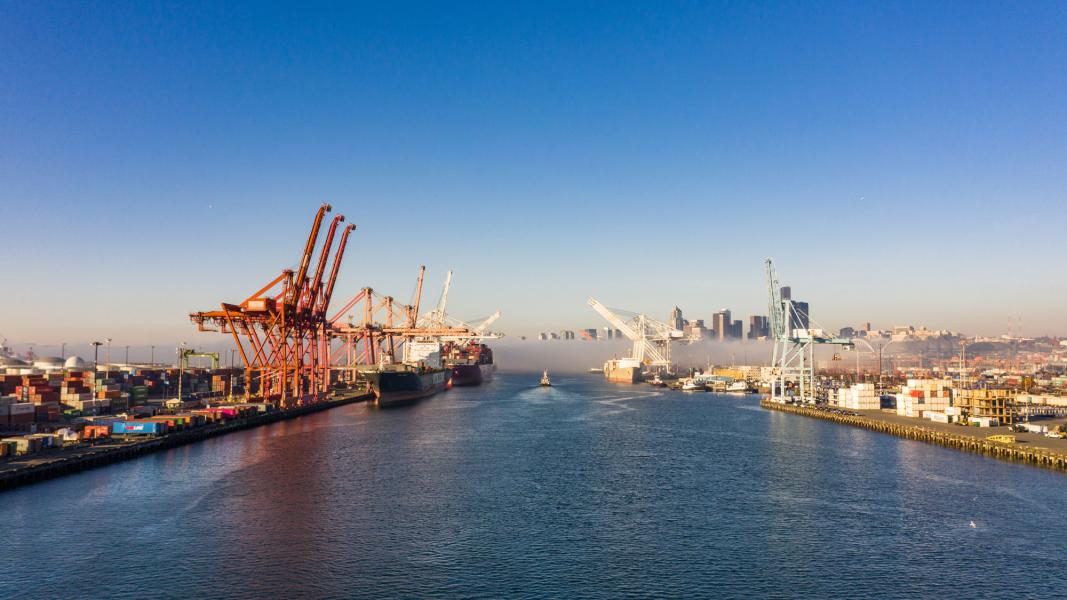 The five focus areas for the Energy and Sustainability Committee include: 
1.    Advancing the Sustainable Aviation Fuels Strategy — Make progress toward fueling flights departing from Sea-Tac Airport with a 10 percent blend of sustainable aviation fuel by 2028.  Sustainable Aviation Fuels can reduce lifecycle greenhouse gas emissions by 50 to 80% compared with petroleum jet fuel while also reducing community exposure to air emissions. 
2.    Deliver a Sustainable Project Framework Resolution — The framework will enable the Commission to transparently evaluate alternative environmental approaches presented by staff when seeking authorization to design and build capital projects.   
3.    Develop the Port's Waterfront Clean Energy Strategic Plan — The plan will, among other things, identify strategic partners for the evaluation of alternative ways to cost-effectively electrify Terminals 66, 46 and 5.  Electrification would enable ships to turn off their engines thereby reducing pollution while at the dock.
4.    Develop the Maritime Blue Maritime Inspiration Awards — The awards are intended to elevate the recognition of companies and organizations in Washington to inspire public interest and support for the numerous components of the maritime community that are part of the region's cultural fabric.  Awards will focus on initiatives to advance environmental sustainability, technological innovation, and inclusive economic development. 
5.    Incorporate Environmental Stewardship into New Cruise Terminal — The committee will focus on minimizing cruise ship discharges in support of the principles approved by Commissioners earlier this year for the development of the Port's cruise business.
The Committee fully recognizes that its goals cannot be achieved without collaboration with community, business and government partners. For example, the Port became the first non-city to join the King County-Cities Climate collaboration (K4C) to partner on broader strategies to reduce greenhouse gases.  
"The Port is pursuing ambitious greenhouse gas reduction goals for its operations and in collaboration with its partners.  When done right, actions to reduce emissions are saving money, creating jobs, protecting the environment, advancing equity and social justice, and improving public health," said Matt Kuharic, Climate Change Program Coordinator for King County.  
Contact
Peter McGraw | Maritime and Corporate Media
(206) 787-3446 | mcgraw.p@portseattle.org