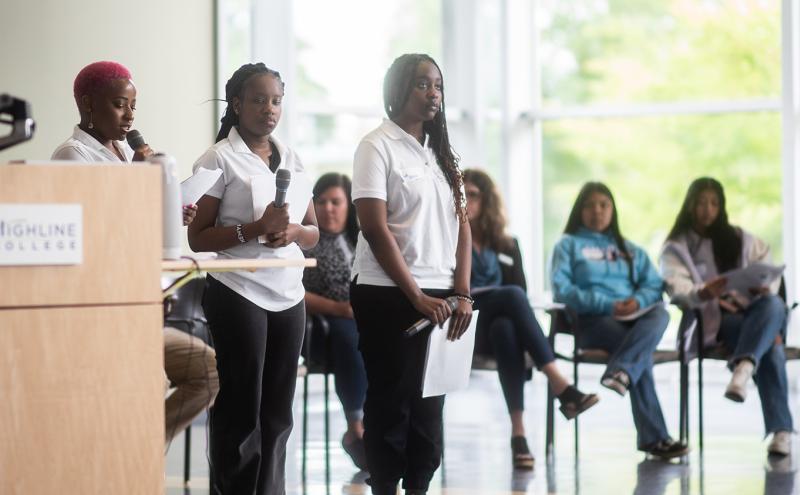 May 12, 2023
Local non-profits and community groups will share their experience in organizing, creating jobs, and improving the environment for South King County communities at a one-day conference on June 3.
The 3rd Annual Pathways to Opportunities – An Environment and Jobs Symposium, organized by the Port of Seattle, will put an equity focus on economic and environmental development in communities that surround the airport.
"Jobs and the environment are not just compatible, they're inseparable if we're to address the urgent needs of our communities and the climate," said Port of Seattle Commissioner Fred Felleman. "The South King County Community Impact Fund empowers community groups to make strategic investments that enhance their prosperity and quality of life."
"The South King County Symposium provides a unique forum to showcase the many wonderful local projects that make huge differences in their respective communities," said Port of Seattle Commissioner Toshiko Hasegawa. "By providing a forum for sharing of our experiences, we can spark new ideas and connections, and empower our local leadership network to take charge that is in the best interest of their communities in South King County." 
Participants will network, hear from local and regional leaders in the environmental and workforce space, and learn about funding sources, including the Port of Seattle's South King County Community Impact Fund. Support of community-led environmental projects is at the center of the Port's ongoing work to improve the quality of life and create economic opportunity for neighboring communities.
Learn about the South King County Community Impact Fund.
The event, organized and led by Guadalupe Torres and Ilays Aden, who implement the Port's South King County Community Impact Fund program, will include panel presentations featuring projects successfully funded through South King County Community Impact Fund (SKCCIF) Environmental Grants and Economic Recovery Program and other regional leaders.
Panel presentations will include topics such as:
Community Stewardship and Youth Activism — Including a presentation by Njuguna Gishuru, a community development leader who specializes in developing restorative economic strategies for Black, Indigenous, and youth of color and advancing economic empowerment in King County.
Port Funding Opportunities and Resources featuring Port programs like SKCCIF, Workforce Development, Green Jobs, and the WMBE Community Business Connector Program
Community-Based Organizations' Projects — Including a presentation by Jimmy Brown, who founded Build 2 Lead to create pipelines for non-traditional access to networks and learning opportunities to support students of color.
"Throughout its history, El Centro de la Raza has stood in solidarity with social justice and the environmental movement by unifying all racial and economic sectors and defending the rights of our most vulnerable and marginalized populations. El Centro leads by example in advocacy, action, and change," said Estela Ortega, Executive Director of El Centro de la Raza. "We support the symposium as a space for the community to learn, establish partnerships, and expand their potential. Our community deserves opportunities to gain livable wages, and the symposium can be a launching point to great careers!"
Event details
Time and date:
Saturday June 3, 2023
8:30 a.m.–2:30 p.m.
Location:
Highline College
2400 S 240th St, Building 8
Des Moines, WA 98198 
About the South King County Community Impact Fund
The South King County Community Impact Fund (SKCCIF) was established to develop equity-based partnerships and provide resources and support in underserved near-airport communities. SKCCIF will award $10 million between 2020 and 2024 to address economic recovery from COVID-19, workforce development, and fund environmental improvements in South King County's ethnically diverse communities. More than 60 projects have received SKCCIF funding since 2019, helping community-led projects come to fruition. Many of these projects increase job application assistance in underserved and non-English speaking communities, recruit for pre-apprenticeship programs and maritime careers, build gardens, clean public spaces, and expand environmental education.
The next round of Economic Recovery Funding launches on June 30. Subscribe to South King County Community Impact Fund Updates to stay plugged in.
Contact
Perry Cooper | Port of Seattle Senior Media Officer
(206) 787-4923 | cooper.p@portseattle.org