October 20, 2021
Equitable Recovery Advances in Proposed 2022 Budget through Capital Improvements, Customer Service, and Sustainability
Port of Seattle Executive Director Steve Metruck proposed his 2022 Budget and 2022-2026 Capital Improvement Plan to Commissioners today. The budget steers the Port back towards growth after two years of managing severe COVID-related impacts to lines of business and the community.
With rising demand in travel and trade, in 2022 the Port proposes significant increases in its capital improvement plans, sustainability, and customer service programs to complete its vision for an equitable recovery.
"Prioritizing health and safety in operations at our gateways and capital projects helped the Port emerge from one of the most challenging periods in our history," said Executive Director Steve Metruck. "While we still need to navigate some uncertainty around the pace and path of the recovery, current trends give us confidence that this is the right time to scale up our investments."
"Our region continues to face an uneven and incomplete recovery," said Port of Seattle Commission President Fred Felleman. "The Port's preliminary 2022 budget reflects our intention to advance an equitable recovery through generational investments in infrastructure at the airport and seaport, with enhanced customer experience to operate these new and existing facilities.  We are also fostering jobs of the future as we create demand for innovative ways to reduce our emissions and improve habitats."
The 2022 budget and five-year capital improvement plan reflect a rising recovery in revenue from increased volume in Port lines of businesses. More than 50 percent of the Port's funds come from operating revenue and fees, which began to improve midway through 2021 after sharp declines. The budget also reflects a return to investing in the organization's own capacity after two years of steep cuts in spending on personnel and discretionary items.
Forecasts anticipate that a full return to pre-COVID activity in Port-related industries could occur in 2023 or 2024.  Seattle-Tacoma International Airport (SEA) anticipates that passenger volume will return to 95 percent of pre-COVID levels in 2022. While the highly diversified maritime division maintained commercial fishing, grain terminal, and recreational boating revenue in 2021, there were no Alaska cruises in 2020 and approximately 18 percent of pre-COVID passenger volume returned in 2021. The Port forecasts that cruise will return to 75 percent of pre-COVID levels in 2022.
Community feedback plays an important role in the Port's budget development and presentation. This spring, the Commission invited 100 community leaders to provide feedback on the Port's equitable recovery strategy. Feedback from those sessions pointed to capital projects, workforce development, and an emphasis on equity as key to delivering on the Port's recovery mission.
The Port will hold virtual community briefing sessions for Maritime and Economic Development divisions on October 20 and Aviation division on October 21. Documents from multiple public briefings and study sessions on financial performance, capital improvement plans, and the proposed budget are available at the Port's 2022 budget website. An executive summary of the 2022 Preliminary Budget can be found at the 2022 Budget in Brief.
The Commission is expected to adopt its budget and five-year capital improvement plan at its November 16, 2021 meeting.
Capital Improvement Plan Highlights
By the end of 2021 the Port will have completed major construction on the airport's North Satellite and International Arrivals Facility, and the Northwest Seaport Alliance will hit major milestones on the completion of Terminal 5 in the seaport. In 2022 the Port begins preparing for major growth of its capital program. In the next five-year plan, the Port will significantly exceed recent record spending on capital projects.
The total capital budget for 2022 is $559.5 million and the five-year Capital Improvement Program is $4.4 billion.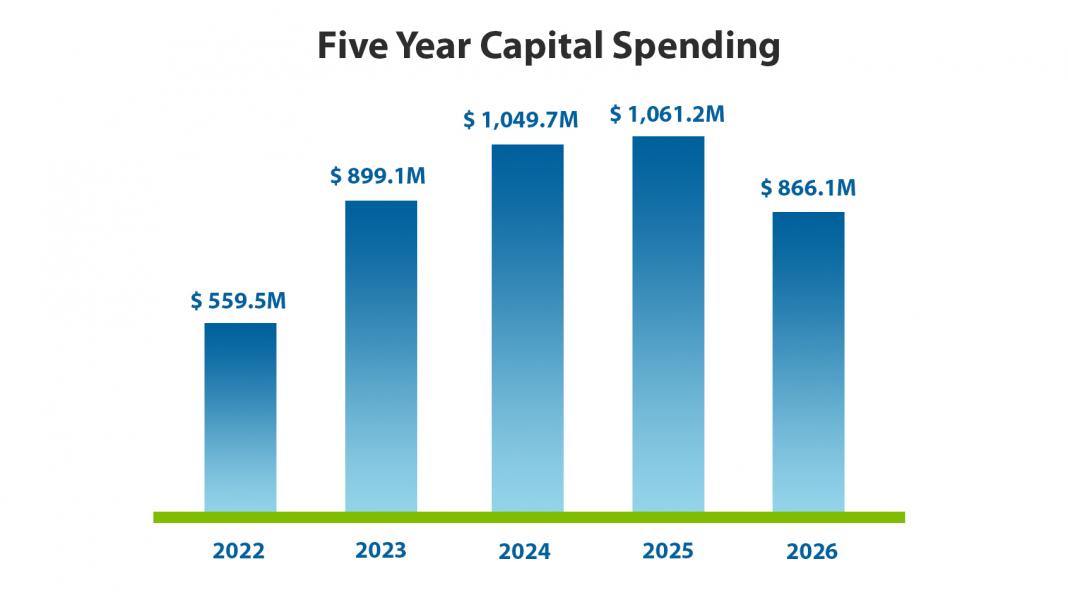 Highlights of capital improvement plan projects include:
North Main Terminal Development at Seattle-Tacoma International Airport (SEA)
SEA Main Terminal Improvements Program
SEA C Concourse Building Expansion
SEA South Satellite Renovation Program
Terminal 46 North Pier Structure Replacement
Terminal 91 Berths 6 & 8 Redevelopment
Pier 66 Shore Power
Terminal 91 Uplands development
Major Terminal Improvements at Terminal 5 (NWSA)
Dock Rehabilitation and Shore Power Construction at Terminal 18 (NWSA)
Operating Budget Highlights
The proposed annual operating budget enables the Port to maintain efficient operations and invest in crucial customer service, sustainability, and economic development initiatives. In 2022, the operating budget includes increases to expand Port capacity for planning and capital development, to maintain new airport facilities, implement new customer service programs, and support economic development and sustainability initiatives.
Despite the rising recovery, the Port continues to carefully manage expenses. The 2022 operating budget continues to track lower than it planned to spend in 2020, our last pre-COVID planning budget.
Total operating revenues: $785.8 million; $25.8 million or 3.2 percent below the 2020 budget forecast
Total operating expenses: $499.2 million; $29.4 million or 6.3 percent under the 2020 budget forecast
Net operating income before depreciation: $286.6 million; $52.2 million or 16.2 percent below the 2020 budget forecast
Highlights of operating budget initiatives include:
$12.4 million in expenditures for environmental stewardship
$16.1 million in expenditures on 17 community programs
$8.9 million to improve customer service at SEA
$1.7 million to promote and support statewide tourism initiatives
Northwest Seaport Alliance
The Northwest Seaport Alliance (NWSA) is a joint venture between the Port of Seattle and the Port of Tacoma. Established in 2015, the Alliance unifies the two ports' marine cargo terminal investments, operations, planning, and marketing to strengthen the competitiveness of the Puget Sound gateway.
The net income from the NWSA is distributed evenly between the two home ports. The Port of Seattle's share of the distributable revenue is the largest source of Non-Airport revenue and is included as operating revenue in the Port-wide financial statements.
The ports also share equally in NWSA capital investments. The NWSA Managing Members are holding a public study session on the 2022 Budget on October 28, 2021 and are expected to adopt a final budget at their November 8, 2021 special meeting.
Property Tax Levy
As a public Port in Washington, the Port may exercise a limited property taxing authority. The Port continues to maintain a low rate of the levy by maximizing operational revenue, fees, and bonds. In 2022 the levy provides 4.5 percent of the Port's funds.
The airport operates without any tax revenue. Funding for SEA comes from fees, rents, or leases in place with airlines, tenants, and travelers.
Executive Director Metruck's 2022 budget continues the five-year strategy the Commission laid out in 2018 to build up investment capacity against inflation. The median King County homeowner will still pay an estimated $72.00 in taxes to the Port of Seattle in 2022, based on an estimated median King County home value of $640,000 in 2022.
The levy funds debt service payment, as well as strategic investments in job creation, environmental sustainability, and community programs. Highlights of community programs fully or partially funded by the levy include:
South King County Fund environmental and economic development grants
Duwamish Valley Community Equity Program
City of SeaTac community relief
Economic development programs in tourism, workforce development, maritime innovation, and Diversity in Contracting
Contact
Peter McGraw | Port of Seattle Media Officer
(206) 787-3446 | mcgraw.p@portseattle.org