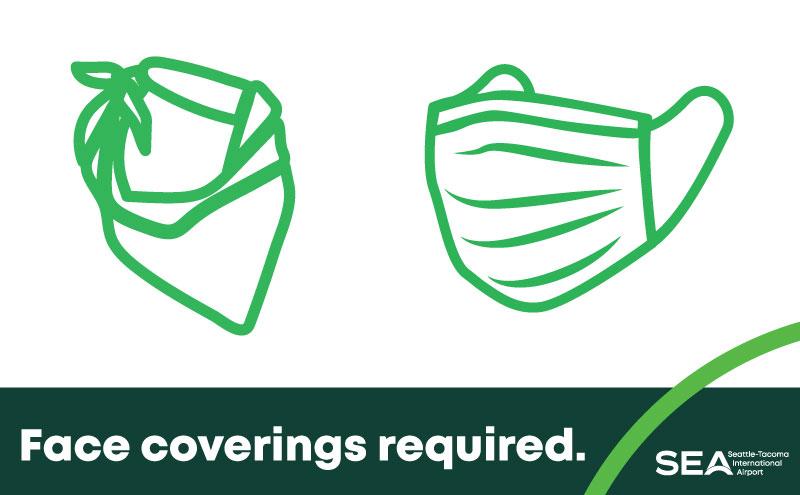 Facial Coverings Required Starting May 18
May 15, 2020
The FlyHealthy @ SEA program, a coordinated, layered approach to ensure the health and well-being of travelers, visitors and workers moves into a new phase at Seattle-Tacoma International Airport (SEA).
Beginning Monday, May 18, the Port will require all passengers, visitors, and airport workers to wear face coverings over their mouths and noses in public areas of the airport, with certain exemptions. Travelers will also see physical changes as the airport prepares for non-essential travel to resume.
"During this public health emergency, we are asking travelers and workers to join with us in adopting these new habits," said Port of Seattle Commissioner Ryan Calkins. "Wearing a face covering, washing and sanitizing our hands more often, and providing one another with plenty of space show care and concern for one another, especially our most vulnerable. When each of us does our part, travel becomes safer for all of us."
The face covering requirement puts into policy what had become a common practice at the airport. The Port of Seattle began encouraging its employees to wear face coverings and provided all employees in public-facing roles with two fabric masks on April 17. All federal agencies that operate at the airport now require their employees to wear face coverings or job specific personal protective equipment (PPE), and all airlines operating at SEA require employees and passengers to wear face coverings.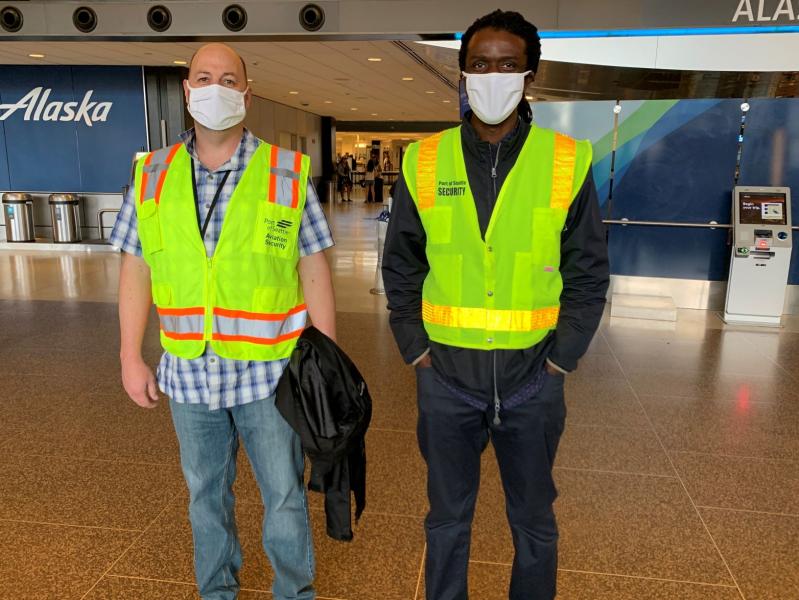 No single safety measure will stop the spread of coronavirus. The airport's FlyHealthy @ SEA program layers together multiple physical enhancements to the airport, new policies and protocols, and guidance to travelers to protect everyone's health. Highlights include:
Installing 240 hand sanitizers (completed)
Increased disinfection of high touch areas (completed)
Installing more than 4,000 signs, stanchion toppers, floor graphics and seat signs to support physical distancing (in progress)
Preparing 180 units of plastic protective barriers for installation (in progress)
Requiring face coverings (Effective May 18)
Preparing temperature check implementation plan (in progress)
Physical separation is encouraged as a shared responsibility with travelers to help protect themselves, fellow travelers and airport employees by:
Maintaining distance of six feet or two meters from others
Practice using every fourth step on escalators
No more than four in an elevator
No more than 10 in a train car
Face Covering Policy Details
There is no requirement for the type of material used in a face covering, only that it covers the nose and mouth. Some travelers do not need to wear masks, those under two years of age, those who cannot medically tolerate facial coverings, and actions such as eating or drinking as long as six-foot distancing is maintained. The Port will encourage travelers to use facial coverings with the goal of educating them for the importance of the action to the health and safety of our community.
Face covering use does not replace the need to practice all other measures including physical distancing (staying away from ill people, staying home and avoiding all non-essential activities and contact with others), frequent handwashing, and avoiding touching of the face. Learn more about the policy here.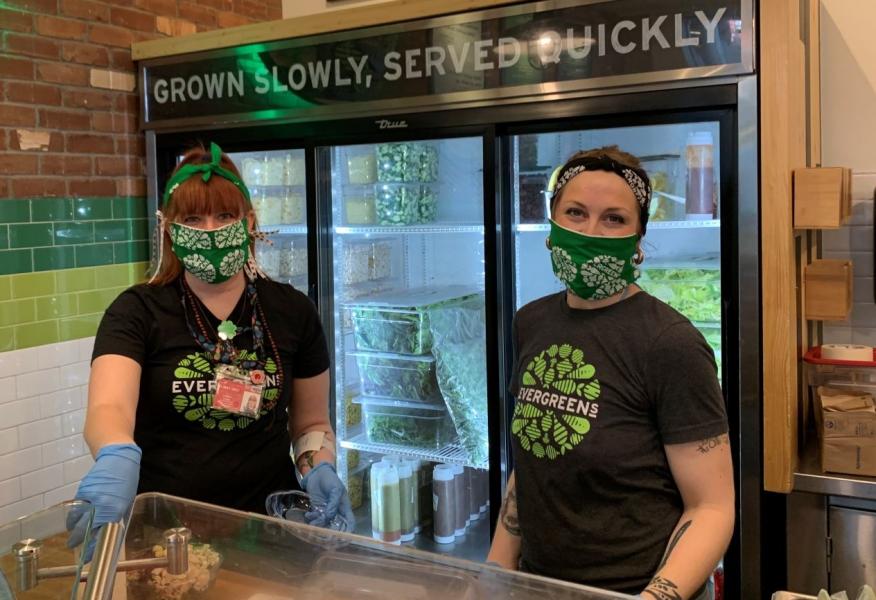 Staying On Top of Best Practices
The FlyHealthy @ SEA program will continue to adopt and deploy new safety measures based on the latest guidance from public health officials. On May 12, the Port of Seattle Commission passed a motion directing the Port staff to present a plan for how temperature checks could be implemented for international arrival passengers and departing passengers. The Port is connected with task force groups with nationwide airport groups, west coast airports, as well as airlines, the TSA and airport tenants. You may see adjustments through the process as best practices are shared and what we learn is best for our own facility.
Our customer care team is here for travelers with real-time responses. Tweet us at @flySEA or DM us with a question, concern, or idea to help us all.
The health, safety and wellness of our community come first. As more travelers return to traveling, our goal is to make SEA the safest airport in the country.
Current Airport Activity
SEA is operating at just 10 percent of typical passenger volumes as most in our community continue to follow the guidance to avoid non-essential travel. The airport currently serves on average about 6,300 daily departing passengers.
 
More Information
Contact
Perry Cooper | SEA Airport Media Officer
(206) 787-4923 | cooper.p@portseattle.org