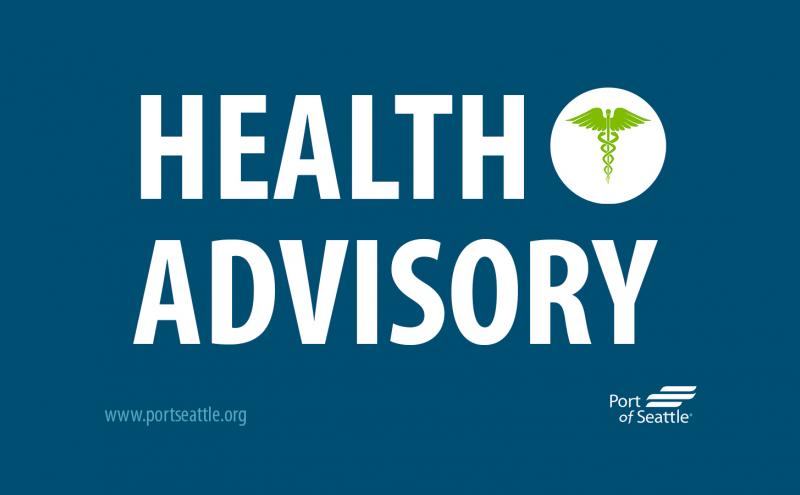 April 1, 2020
The Port of Seattle has been responding to the outbreak of 2019 Novel Coronavirus (COVID-19) since late January after public health officials confirmed the first case of the virus in the United States in Washington state. 
Since then the Port has implemented protocols to maintain the health, safety, and well-being of our employees, travelers, and community members who use Port facilities while maintaining the essential functions of the Port.  
The Port of Seattle supports efforts to limit the spread of the Coronavirus while maintaining essential operations. In response to Governor Jay Inslee's "stay at home" order issued on March 23, 2020, Port of Seattle Commission President Peter Steinbrueck made the following comment: "Critical Port facilities and operations are still open. We are doing everything we can to support those staying home while keeping Port facilities safe for those who do essential work."
Travelers should check with their airline for specific flight information. Several airlines have announced suspensions of service to mainland China and South Korea from Seattle-Tacoma International Airport.
Port-wide
On April 1, 2020, the Port of Seattle Commission approved an immediate, short-term emergency financial relief package for airport-based businesses, barred evictions of tenants at Port of Seattle facilities (including live-aboard residents) due to an inability to pay rent through June 30, 2020, and authorized the Executive Director to provide additional immediate relief to Port tenants such as maritime and real estate tenants. Read more about the additional relief and recovery strategies for Port tenants.   
At Seattle-Tacoma International Airport
Seattle-Tacoma International Airport (SEA) is open and operating. The airport continues to provide an essential service to the public. 
We have made many operational adjustments at SEA in response to the changing public health landscape. Here's how the Port is keeping our facilities clean and safe.
The U.S. State Department issued a Level 4 Travel Advisory, the agency's highest alert level, encouraging all U.S. citizens to avoid all international travel. Those who are currently abroad are advised to return home.
In response to the spread of the virus, the Trump Administration expanded travel restrictions, which include: 

Suspending entry of foreign nationals who have been in China, Iran, and numerous countries within the European Union for the last 14 days, including: Austria, Belgium, Czech Republic, Denmark, Estonia, Finland, France, Germany, Greece, Hungary, Iceland, Ireland, Italy, Latvia, Liechtenstein, Lithuania, Luxembourg, Malta, Netherlands, Norway, Poland, Portugal, Slovakia, Slovenia, Spain, Sweden, Switzerland, and United Kingdom. 
Directing Americans returning to the U.S. from the EU, China, or Iran to one of 13 U.S. airports, including our airport, and directing to voluntary self-quarantine under CDC best practices.

Beginning at midnight on March 24, 2020, the Port will not collect per-trip fees charged to on-demand taxi and flat rate hire operators for a period of 90 days. We will be determining the period for repayment and other details. 
Read SEA Airport status updates and COVID-19 FAQs for more information. 
The Port, public health organizations, and federal partners are taking the following actions to help prevent the spread of the virus and keep travelers and employees safe:  
Public health staff will proactively monitor for signs of ill passengers who present signs and symptoms of disease. This screening builds on established infections disease protocols, which includes reviewing information received from pilots, flight attendants, or crew who are trained to spot and report symptoms. This also provides an opportunity to educate passengers on steps they should take if they do develop symptoms. Read more about international arrival protocols during the coronavirus response. 
The CDC, Customs and Border Protection Agency, the Port fire department, and other airport partners have infectious disease response plans in place that are reviewed, practiced, and updated throughout the year.
The Port of Seattle has installed 231 hand sanitizers in and around the terminal. This includes sanitizer stations at the checkpoints, in the skybridges, common use ticket kiosks areas, the 3rd floor garage areas where the TNC's are located (Uber, Lyft, etc), and rental car bus stops. 
The Port of Seattle has implemented enhanced disinfection protocols in high-touch areas throughout the airport. Traveling right now? Find the closest hand sanitizer to your gate.
At Maritime Facilities 
The Port of Seattle and The Northwest Seaport Alliance (NWSA) announced they will make sections of Terminal 46 available for trailers, container equipment and storage needs in support of the U.S. Army's Field Hospital 10, which is to be set up at Century Link Exhibition Center to treat non-COVID patients. Read more about the Port and NWSA plans to support the U.S. Army Field Hospital.
The CDC is the main federal response agency for maritime vessels. The United States Coast Guard has forwarded precautionary information to vessel owners/operators and local stakeholders.
The Northwest Seaport Alliance and Washington state ports are in communication with each other and the United States Coast Guard (USCG) through the USCG Area Maritime Security Committee (AMSC), which was established to be prepared for events such as this.
Maintaining the health, safety, and well-being of our community is the Port of Seattle's top priority. The Port now expects the launch of the cruise season will be delayed until the resolution of the public health emergency. Read more about the delay of the 2020 cruise season and 2020 cruise season FAQs.
As of March 8, the Center for Disease Control is recommending that travelers, especially older adults and those with underlying health issues avoid taking cruises and "non-essential" travel, including long plane rides.
Some businesses at Fisherman's Terminal are open and operating under proper protocols while the North Pacific Fishing Fleet prepares for the fishing season. 
As of March 26, the Port of Seattle closed parking lots at Jack Block, Terminal 107, and Terminal 105 parks to support the statewide "Stay Home, Stay Healthy" order and discourage gatherings.
The Port of Seattle has implemented daily enhanced cleaning protocols to prevent the spread of coronavirus at Port maritime and marine maintenance facilities including:

Providing hand sanitizer and Clorox wipes for self-cleaning of desks, shops, Port vehicles
Disinfecting high-touch surfaces and floors throughout facilities, including kitchens, handrails, doorknobs, offices, conference rooms, and restrooms
For Employees and Community Partners
The Port is working to minimize the spread of coronavirus and keep employees at our facilities informed by:
Optimizing telework for our Port workforce. Reducing the number of employees in the office reduces the potential for the spread of infection for those who need to be in the office.  
Creating public videos about COVID-19 response and making them available to all airport employees via YouTube.
Printing a COVID-19 fact sheet for airport employees, translated into multiple languages.  
Reviewing large gatherings, events, celebrations, or tours scheduled to occur on Port properties in March. If feasible, they will be postponed to April or later.  
Hosting Port of Seattle Commission meetings virtually until the public health crisis subsides. On March 24, the Port Commission held its first-ever virtual Commission meeting.
We are adjusting our Port of Seattle Commission meeting public comment protocol due to the Governor's 'Stay at Home' order. There will be no physical location and the Port will not accept in-person, verbal comments during the special meeting on April 1, 2020. Alternatively, during the regular order of business, those wishing to provide public comment will have the opportunity to:

Deliver public comments via email: All written comments received by email to commission-public-records@portseattle.org will be distributed to Commissioner and attached to the approved minutes.
Deliver public comment via phone or Skype for Business conference: To take advantage of this option, please email commission-public-records@portseattle.org with your name and the topic you wish to speak to by 9:00 a.m. PT on Wednesday, April 1. You will then be provided with a link to join the Skype meeting.
How You Can Stay Healthy
Public health officials recommend personal hygiene and frequent hand washing as the best way to prevent illness.   
Wash your hands frequently, cover your mouth and nose with a tissue when you cough or sneeze, then throw the tissue in the trash and wash your hands.
Avoid contact with people who are sick and stay home when sick.
Avoid touching your eyes, nose or mouth with unwashed hands.
If you are traveling overseas, follow the CDC's guidance.
Check-in with your airline if you have questions about your travel itinerary.
While not protective against novel coronavirus, public health officials also recommend the influenza vaccine. It's not too late to get an influenza vaccine since flu season can last into spring.
Resources
Information about the novel coronavirus is updated frequently; check the following resources for the most up-to-date information:
Additional resources