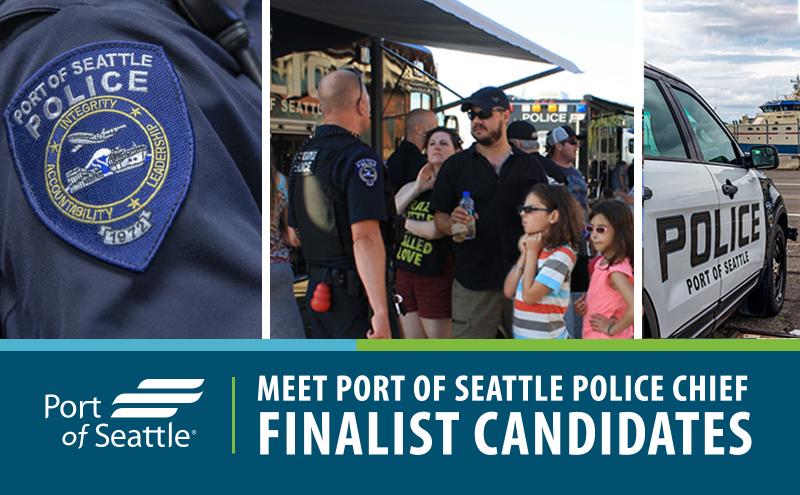 June 22, 2022
SEATTLE — Community members, Port tenants, and customers are invited to attend a virtual public forum to meet the finalists for the Port of Seattle Chief of Police.  Questions from the public gathered before the event will be presented to the candidates, and a recording of the forum will be made available afterwards on its police chief search page.   
"The Port of Seattle Commission is committed to building trust between community and government by being transparent, accountable, and accessible," said Toshiko Hasegawa, Port of Seattle Commissioner. "The public wants insight and input into policing operations, including who is hired to lead at the top of the command chain. This will be an excellent opportunity for community members to meet the candidates and provide input to the Port on the future you wish to see."   
Event details
When: Monday June 27, 2022 | 4:30–5:30 p.m.  
Where: Microsoft Teams Live  
The Police Chief finalist candidates are: 
Eric Sano, Captain, Seattle Police Department 
Michael Villa, Deputy Chief, Acting Chief, Port of Seattle Police Department  
The Port began recruiting for candidates in spring 2022 and expects to make a final decision this summer.  The Port's hiring process included: 
Working with a professional search firm to recruit candidates 
Engaging industry and community stakeholders to provide impressions of finalist candidates 
A diverse internal hiring panel 
A virtual public forum for candidates to respond to questions submitted by the community 
About the Port of Seattle Police Department 
The Port of Seattle Police Department provides the primary law enforcement service to Seattle-Tacoma International Airport (SEA) and the Port's seaport properties. The Department currently consists of over 115 commissioned police officers and 40 non-commissioned personnel. The Port police are the primary first responders for all reported crimes and incidents within its jurisdiction.   
Under policy direction of the Chief Operating Officer, the Chief of Police is responsible for all functions and activities of the Police Department, including human resource management; planning actions; department management; management of interagency relations and community relations; and performs administrative duties and related work as required. In addition, the Chief of Police must be able to perform all essential job functions identified for the ranks of Police Officer, Police Sergeant, Police Commander, and the Deputy Chief of Police.       
Contact
Perry Cooper | SEA Airport Media Officer
(206) 787-4923| cooper.p@portseattle.org