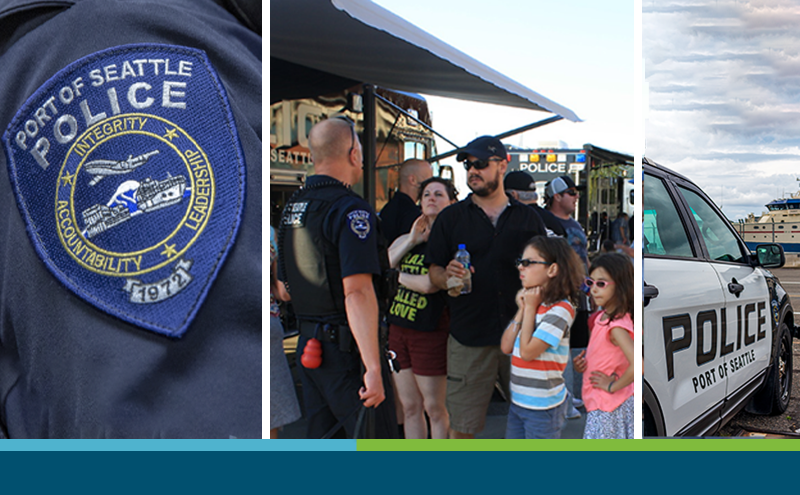 The Port of Seattle is seeking a well-rounded, experienced law enforcement professional with excellent interpersonal skills and proven leadership capabilities to lead the Port's Police Department as Chief of Police.  
The Port's hiring process includes:
Working with a professional search firm to recruit candidates
Engaging industry and community stakeholders to provide impressions of finalist candidates
A diverse internal hiring panel
A virtual public forum for candidates to respond to questions submitted by the community
The Port began recruiting for candidates in spring 2022 and expects to make a final decision this summer.
Virtual public forum
The Port invites tenants, customers, and community members to meet the police chief finalist candidates at a virtual public forum. 
When: June 27 from 4:30 – 5:30 p.m. 
Where: Microsoft Teams Live
Tenants, customers, and community members are invited to submit questions for the police chief finalists in advance of the forum by June 22 at policechiefsearch@portseattle.org.
The Port will post the recorded forum to this web page.
About the Department and Chief of Police
Port of Seattle police officers and civilian employees provide primary law enforcement services to Seattle-Tacoma International Airport (SEA) and more than 30 miles of waterfront property, piers, marinas, and cargo and cruise ship terminals.  
The Department serves the community in many ways such as dispatching and responding to 911 calls, assisting the public, providing proactive patrol, and facilitating the safe and expeditious movement of traffic.  
 
Officers routinely interact with a diverse population and a large number of different local and federal agencies. 
The Chief of Police is responsible for all functions and activities of the Police Department, including human resource management, planning actions, department management, management of inter-agency relations and community relations, and performs administrative duties and related work as required.  
 
Connect to more information 
•    Police Chief job description
•    Port Police Assessment 
•    2020 Annual Report