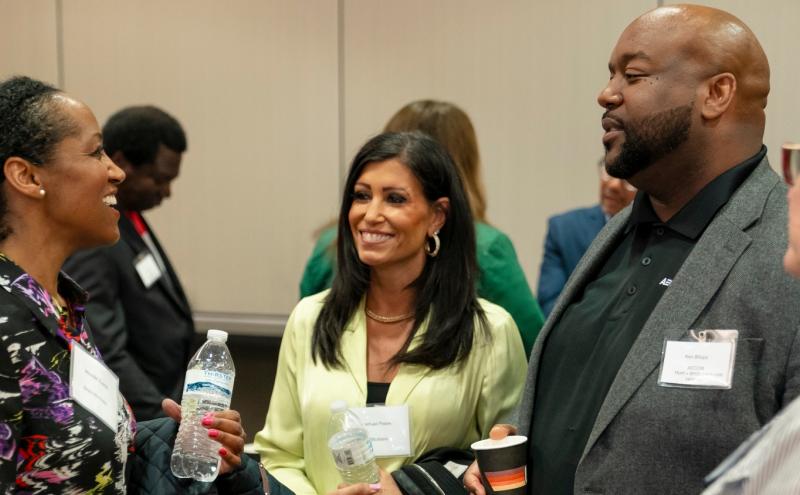 Applications are due Tuesday, August 1
July 6, 2023
The Port of Seattle invites small business owners to apply to its third annual Business Accelerator Program. Held in partnership with Business Impact NW, the Port is particularly encouraging women- and minority-owned small businesses to apply for the 10-week accelerator program. The program helps entrepreneurs in key port industries, such as construction and architecture, engineering, and design, scale their businesses and achieve long-term sustainability.
The 2023 Business Accelerator Program provides access to a dynamic network of resources, funding and commercialization expertise, personalized guidance tailored to each participant's goals, and access to trainings through a vibrant network of industry leaders and seasoned mentors—all while building community partnerships with like-minded entrepreneurs.
"We can better deliver on our operational mission and our economic development mission when our partner list includes a diverse group of local firms," said Port of Seattle Commission President Sam Cho. "The Business Accelerator helps small businesses prepare for opportunities with our port or in a related field."
The program has produced 25 graduates to date. Lisa Keohokalole Schaer of Point North Consulting, Inc was one of the 13 graduates from the previous cohort. "I have learned valuable insights and connected with industry experts I could never have met without this program," said Keohokalole Schaer. "I have no doubt my business will grow as a result of the investment this program has made in my DBE, WMBE firm."
Domonique Juleon, the Chief Program Officer at Business Impact NW, shares how thrilled the organization is to partner with the Port of Seattle and provide equitable opportunities for small business owners from economically disadvantaged and historically underserved communities. "Together we will deliver relevant business education, connections, and opportunities for more women- and diverse-owned construction and A&E firms to grow their businesses."
The Port of Seattle Business Accelerator Program is accepting applications through August 1, 2023. Interested entrepreneurs and startups are encouraged to visit the program's official website for more information and to submit their applications.
About Business Impact NW
Business Impact NW is a nonprofit Community Development Financial Institution (CDFI) dedicated to promoting long-term positive economic change through financial services, business advice and training to traditionally underserved populations – entrepreneurial low/moderate income earners, women, BIPOC, veterans, immigrants or members of the LGBTQ+ community. Business Impact NW offers support services (training, coaching and classes) in Washington State, Oregon, Idaho and Alaska through various technical assistance programs, including the Washington Women's Business Center (WBC), Veterans Business Outreach Center (VBOC), Food Business Resource Center (FBRC), & Loan Readiness Center (LRC). 
Contact 
Peter McGraw | Port of Seattle Senior Media Officer 
(206) 787-3446 | mcgraw.p@portseattle.org
Greta Stough | Business Impact NW Chief Strategic Development Officer 
(206) 324-4330 | gretas@businessimpactnw.org