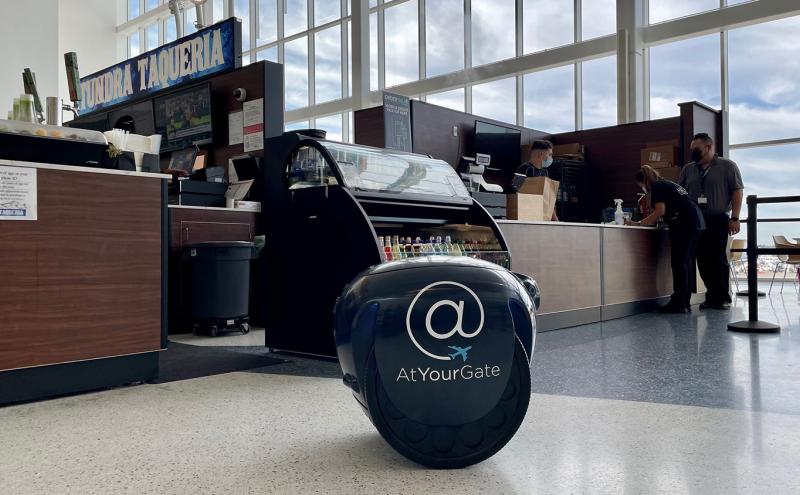 Use Order SEA to order from your phone and choose pick-up or delivery to your gate
September 9, 2021
Editor's Update: The delivery robot is now retired. 
Seattle-Tacoma International (SEA) is expanding programs that make travel less stressful. The airport recently introduced OrderSEA, a mobile food ordering service that includes gate delivery. This service saves passengers from standing in crowded lines while expanding your options; now you can enjoy eats from all over the airport without leaving your concourse. Some travelers can look forward to gate delivery from the OrderSEA robot, Gita.
"Technology can make your airport experience more flexible and less stressful," said Port of Seattle Commissioner Sam Cho. "OrderSEA means travelers can skip standing in a crowded line, the least fun and most stressful part of any trip."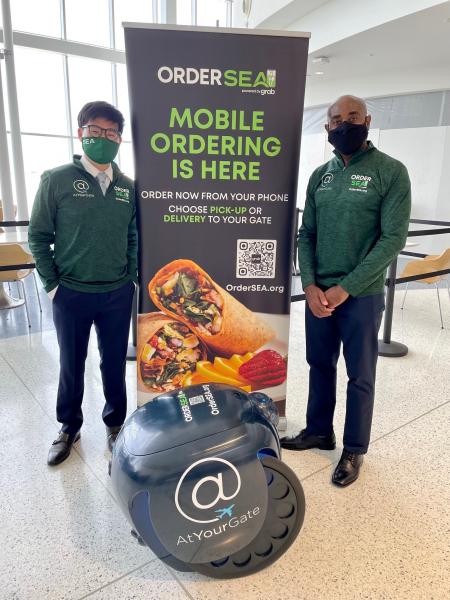 Sixteen restaurants at SEA are available for mobile or online ordering with OrderSEA, such as Trail Head BBQ & Bar, Rel'Lish Burger Lounge, McDonald's, Capitol Hill Food Hall, and Pei Wei. More are being added to the system in the coming months.
Since the soft launch of OrderSEA earlier this summer over 1,200 orders have been placed, including over 500 for gate delivery. McDonald's, Pei Wei, Mi Casa Cantina, Ballard Brew Hall and Rel'Lish Burger Lounge are the most popular amongst travelers.
Newly opened Tundra Taqueria, operated by Concessions International in the N Gates, just joined Order SEA. "Concessions International works with Grab on electronic ordering solutions here at SEA as well as many other markets across the country," said Concessions International Director of Operations Evan Ault. "This service allows us to reach many guests that may not be inclined to, or have the time for, a full 'in-restaurant' dining experience while traveling. The OrderSEA program makes to-go ordering, payments and even gate delivery a breeze for our guests. It also integrates with our point of sale systems in most locations to make transactions and payments seamless on our end. We are excited to be able to participate in Order SEA at our locations like Tundra Taqueria and Trail Head BBQ, and we are proud to provide a simple, concise and useful to-go ordering experience to travelers that utilize the service."
Grab a better airport experience
Order SEA is powered by Servy's Grab Airport Marketplace, the largest e-commerce platform to connect customers to airport restaurants and retailers, in partnership with AtYourGate. Travelers place orders at OrderSEA.org or the FlySEA App, securely pay from your phone, and choose pick-up after the TSA security checkpoints or delivery to your gate. 
Jeff Livney, Chief Experience Officer at Servy said, "We are excited to partner with Seattle-Tacoma International Airport to enable more people to benefit from our contactless order and pay technology with the launch of OrderSEA. Through our Grab Airport Marketplace platform, OrderSEA offers a safe and convenient touch-free alternative to traditional payment options enabling travelers and airport staff to easily place meal orders from digital devices for pick-up, with the option of having their choices delivered to them in airport. Together, in collaboration with our delivery partner AtYourGate, we are so pleased to be providing passengers in the Pacific Northwest a modern service that will enhance their overall experience during their journey."
Skipping the wait is amazing, but we have two fine print things to know. No alcohol delivery, and Order SEA is only available post-security once you're through the TSA checkpoint.
Five ways to skip the Line at SEA
SEA continues to add ways to make travel less stressful by being more predictable. Explore more ways to skip the line at the airport. As SEA introduces more and better technologies, travelers get more peace of mind, save time and combat crowds.
Use Pre-Booked Parking for seamless, contact-free travel. Book and pay for parking in advance of arrival, drive your own vehicle, and scan your booking QR code on your phone at garage entry and exit.
Try SEA Spot Saver! This is a free program for passengers to reserve time at the TSA general screening security checkpoints. RSVP to save your spot in line up to a day in advance of travel or once you arrive at the airport. In one week in August, close to 15,800 passengers used SEA Spot Saver for an abbreviated queuing experience. Moreover, nearly 90% of participants reported saving time with a reservation for security. And over 44% reported they signed up for the program for peace of mind about getting through security.
Consider enrolling in Trusted Traveler Programs such as TSA PreCheck, Global Entry, and CLEAR to get you through the lines faster. These expedited security programs make both domestic travel and international travel more efficient. Our frequent travelers use these options the most, but anyone can use these services for free.
Think opposite for pick-up and drop-off to avoid congestion driving at the airport. Meet arriving pick-ups on the departure drive level, one level up from baggage claim. Take departing drop-offs to the arrivals drive level and travelers just go up a level to ticketing. The busiest times are mornings for departures and evenings for arrivals.
Download the FlySEA App to navigate the airport and find current wait times at each security checkpoint in five-minute increments. It's available for download on iOS and Android devices.