Now available for download for iOS and Android devices!
The Sea-Tac app will help you get to your gate calm, cool and collected!
Whether you're looking for the fastest TSA security checkpoint line, the closest dining options to your gate, or the fastest transportation to get you to downtown Seattle, the Sea-Tac app can help. Take advantage of Sea-Tac's free Wi-Fi and download on Apple App Store for iOS  or download on the Google Play Store for Android for terminal maps, flight information and transportation tips.
Need help learning how to use the app? Check out this guide here!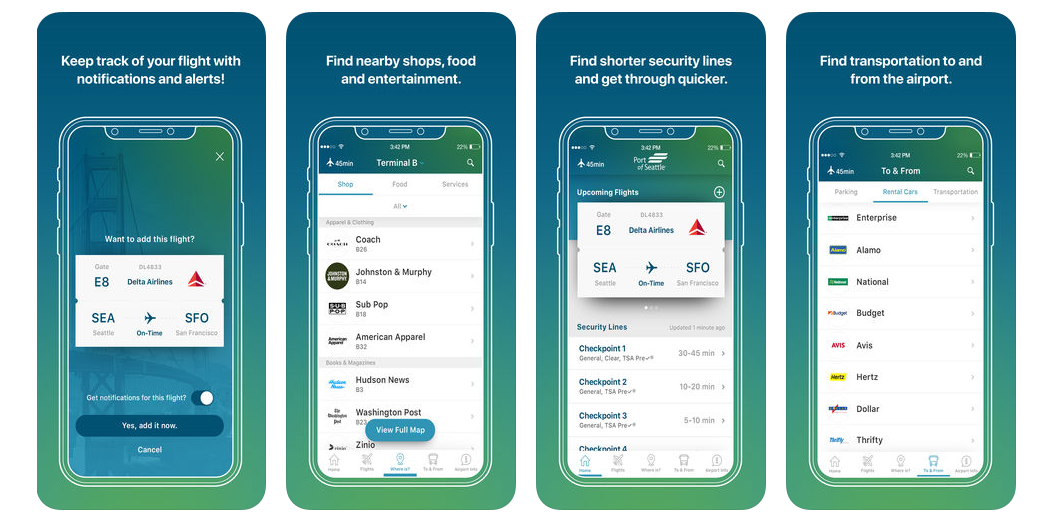 Features:
TSA security checkpoint wait times: Find the most convenient line with up-to-date wait time information
Parking spot reminder: Snap a photo of your parking spot to skip post-flight wandering
Shopping, dining and relaxing: Look at the airport directory and map to see all of our dining and retail options throughout the airport
Explore our amenities: Get the most comfortable visit with our water bottle filling stations, nursing suites, pet relief areas, cell phone charging stations, children's play area, and more
Find your flight: Enter your flight number to get your gate location and alert notifications
Ground transportation: Find information on airporters, courtesy shuttles, limos, public transit (buses or Link light rail), rental cars, taxis, app-based rideshare (Lyft, Uber, Wingz), and more