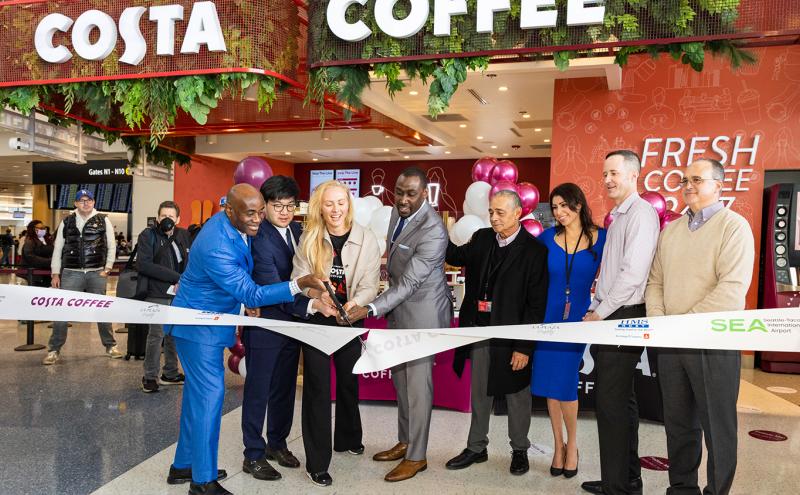 SEA welcomes new dining and retail partners, including first Costa Coffee retail store at a US airport
February 8, 2023
The redesigned N Concourse at Seattle-Tacoma International (SEA) Airport is now home to nine new options for travelers to grab a bite, sip some coffee or shop some snacks or new threads. The concepts are focused on Pacific Northwest favorites, locally inspired concepts and international favorites that are a first at SEA, including:
Pacific Northwest Favorites:
Beecher's Handmade Cheese
Filson
Pacific Northwest Concepts:
The Bad Egg Breakfast Bar
Openspace Taproom
Pike and Pine
sodoPOP
International Firsts:
Wendy's
Natalie's Candy
Costa Coffee
"The N Concourse is a gem of the airport, and these dining and retail additions continue to give passengers more of what they want and love," said Port of Seattle Commission President Sam Cho. "Along with the public art and local music stage, they complete the latest phase of redevelopment that will be seen across the airport in the years to come. I also appreciate the recognition by international favorites like Costa Coffee that SEA is a place to be to reach travelers locally and from around the world."
"At SEA our goal is to build a five-star airport focused on customer experience and these additions help us on our way," said SEA Airport Managing Director Lance Lyttle. "We are proud of our focus on giving travelers a diverse group of options for how to spend their time at the airport, especially with our dining and retail options. That includes building more partnerships with ACDBE and WMBE businesses here in N Concourse and throughout the airport. Each of these concepts has a recognizable tie to the Pacific Northwest and as a coffee-loving region, we're excited that Costa Coffee choose SEA for their first retail airport location in the United States."
Costa Coffee at SEA is operated by global restaurateur HMSHost.
"HMSHost has built its reputation on offering travelers dining options that exceed their expectations in terms of quality and experience. Costa Coffee is a beloved brand around the world, and we are proud to partner with Costa, our small business partners, and SEA to bring this exceptional concept to the N Concourse for hundreds of passengers to enjoy every day," said HMSHost Vice President of Business Development, Tosin Kasali.
"Our baristas are on the mission to craft the best beverage for you, and we're excited to be a part of Seattle's incredible coffee culture," said Daria Makhoukova, General Manager of Costa US Retail. "We're happy to be partnering with HMSHost to bring Costa Coffee to SEA Airport, to celebrate our heritage and build our brand together – with our guests, travelers, and local partners."
The Costa Coffee experience at SEA will be customizable for travelers to get what they need to fuel up for their journey. The space offers full-service barista crafted food and drinks, a self-service brewed coffee and quick-to go sandwich and snacks station, two self-service order kiosks and finally a Smart Café machine for 24/7 hot and iced espresso drinks.
Travelers can explore all of the diverse restaurant and retail options at SEA via the FlySEA app or on the SEA airport dinning and retail website.
About HMSHost
Global restaurateur HMSHost is a world leader in creating dining for travel venues. HMSHost operates locations all over North America and is part of Autogrill Group, the world's leading provider of food & beverage services for people on the move. Visit HMSHost.com for more information.
About Seattle-Tacoma International Airport
Operated by the Port of Seattle, Seattle-Tacoma International Airport (SEA) serves the people of the Pacific Northwest with essential services, access to hundreds of domestic and global destinations, and economic activity that supports tens of thousands of jobs and produces $20 billion in economic activity. SEA in 2022 earned the designation of Best Airport in North America and the travel industry's prestigious 4-Star Skytrax Airport Rating, focused on customer-centered travel with better services, facilities, and amenities. SEA currently offers non-stop flights to 91 domestic and 28 international destinations. For more information about our U.S. Top 10 airport, visit www.flysea.org and follow us on Twitter, Facebook, and Instagram. Every day. Elevate.
Contact
Perry Cooper | Port of Seattle Senior Media Officer
(206) 787-4923 | cooper.p@portseattle.org