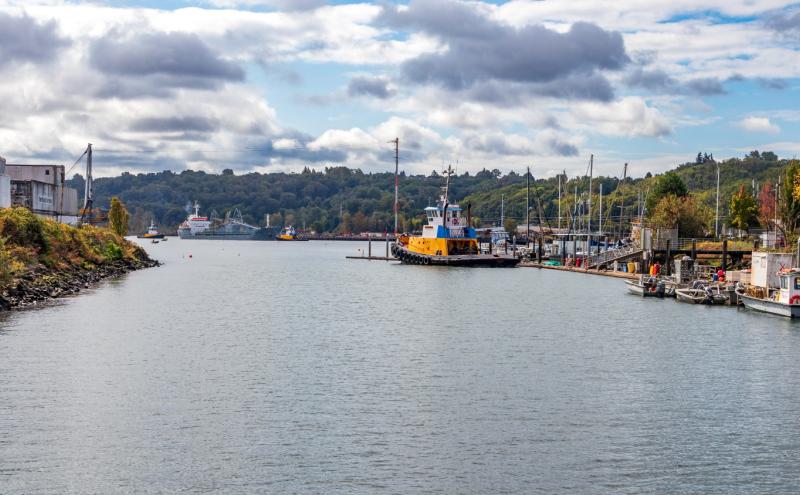 November 14, 2023
The Port of Seattle Commission adopted an Order today establishing a new Environmental Legacy Fund, a dedicated account into which the Port will deposit property tax dollars for use in addressing historical industrial pollution on its properties. The new Environmental Legacy Fund ensures that the Port can achieve its mission, vision, and Century Agenda goals for a sustainable, equitable region, while predictably and responsibly allocating its resources.
The Port is actively working on 18 environmental remediation projects to improve water quality, support salmon and marine mammal recovery, and restore habitat. These efforts also improve quality of life for residents through safer shorelines for recreation and fishing. Many of these projects are collaborations with other governments and organizations.
"The Port is already a leader in addressing legacy contamination," said Port of Seattle Commission President Sam Cho. "However, in order for us to build a port of the future that ensures a cleaner environment for future generations, we must embrace responsible planning today for the cleanups of tomorrow. The Environmental Legacy Fund does this."
"By dedicating resources now, we can offer taxpayers predictability and stability," added Port of Seattle Commissioner Ryan Calkins, "while still meeting future responsibilities."
The Environmental Legacy Fund will invest in research, investigation, design, and cleanup actions that could cost more than $100 million over the next decade. Ultimately, some of the costs may be covered by polluters and responsible parties, state grants, and insurance.
"One of the key lessons from the pandemic is the incredible value of strategic planning and strong financial reserves," explained Port of Seattle Executive Director Stephen P. Metruck. "Careful stewardship and planning made it possible for the Port to maintain its operations and help lead the recovery despite economic upheaval and uncertainty. Applying those lessons to our cleanup work protects critical resources needed for remediation, while staying true to our role as an environmental and financial steward."
The Port will seed this new fund with a $30 million investment of already collected tax levy dollars.
Environmental Cleanups
The Port has a long record of completing cleanups that improve water and habitat quality, bolster salmon and marine mammal recovery, and make shorelines safer for people and wildlife. It has demonstrated this commitment over many years of work throughout King County – from Elliott Bay to Seattle-Tacoma International Airport. The Port has not only completed a substantial amount of cleanup work to date but has also gained national and international recognition for its innovative and community-centered approaches.
Cleanups require intense partnerships with other local governments, the private sector, and near-port communities, along with careful design with environmental engineering experts, construction that protects the environment while minimizing impacts to operations and residents, and ongoing monitoring to ensure success. Cleanups often require decades of work. For example:
A barrel-cleaning company and auto-wrecking facility operated on a site north of Seattle-Tacoma International Airport starting in the 1940s. An apartment complex was built there in the 1980s before the Port acquired the property for a runway protection zone in 1998. Between 2007 and 2020, the Port worked closely with the Washington State Department of Ecology to remove or contain contaminated soil and sediment on property near Lora Lake. The Port's work improved groundwater, protected wildlife and people, and restored a wetland that protects the Miller Creek watershed.
Since the late 1930s, a parcel of waterfront property in the South Park neighborhood was used for asphalt shingle manufacturing, which left behind considerable contamination. The Port acquired the site in 2000 for operations, but after the U.S. Environmental Protection Agency (EPA) declared the property an "Early Action" Superfund site, the Port committed to removing the contamination and turning it into an asset for both people and fish. After more than two decades, the cleanup and restoration resulted in what is now known as the Duwamish River People's Park – 14 acres of shoreline habitat for Chinook salmon and a prized public access park for the local community. In the first year of monitoring, researchers found more than 7,300 juvenile salmon, including 250 juvenile natural origin Chinook salmon, and extensive, healthy marsh vegetation thriving at the restored site.
Looking forward, the Port is beginning work at Terminal 25 South, which is adjacent to and partially in the East Waterway site. In 2022, the Port signed an order with the EPA to conduct an Environmental Evaluation/Cost Analysis (EE/CA). The cleanup will be coordinated with the creation of a proposed habitat site. The Port is evaluating innovative or green cleanup techniques that can be used.
About the Property Tax Levy
Each year the Commission reviews and approves the amount of and expected uses of the Port's share of the property tax levy. Just 1.2 percent of the King County homeowner assessment goes to the Port of Seattle. In 2023, the median King County homeowner paid approximately $80 to the Port in property tax levy.
In addition to funding the new Environmental Legacy Fund, the levy is used for maritime capital projects including Northwest Seaport Alliance (NWSA) container terminal improvements in Seattle, community programs including economic and workforce development, and environmental programs.
Contact:
Peter McGraw | Port of Seattle Senior Media Officer
(206) 787-3446 | mcgraw.p@portseattle.org