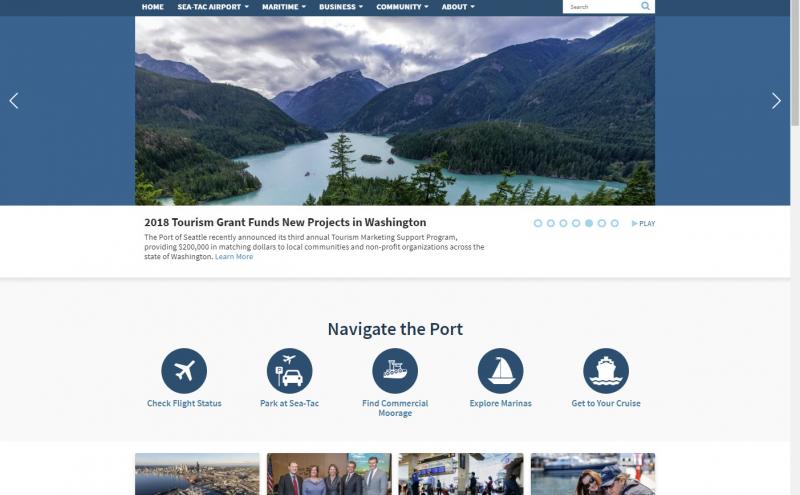 More Features for Travelers, Industry and Community Partners
May 1, 2018
Highlights include interactive wayfinding for Seattle-Tacoma International Airport, more resources for international travelers and travelers with disabilities.
The Port of Seattle launched a new website with a redeveloped design that adds more customer service features for travelers, and more resources for industry and community partners who are interested in working with the Port. Customer and community input through surveys and comments influenced the new navigation and design. 
The new design includes more interactive resources for wayfinding and to improve accessibility for travelers with disabilities. This new site launches an interactive map that is searchable and location-sensitive to help passengers navigate Seattle-Tacoma International Airport and its parking garage.  
The Port of Seattle's Sea-Tac Airport and cruise terminals at Pier 66 and Terminal 91 are major international destinations with daily interactions from a wide variety of people from different places and cultures. The new site increases foreign language resources through a Google Translate widget and later this summer will add a WeChat widget to support Chinese-speaking guests. 
The redesigned website puts a brighter spotlight on Port-sponsored events and activities. The Port hosts dozens of free educational and experiential events each year from career-connected learning events for youth, workforce development events for adults, small business opportunities like training and procurement and matchmaking events for local businesses, and family-friendly industry events like the Seattle Maritime Festival and Movies at the Marina.
One new website feature came directly from community requests. Working with the Port's Business Intelligence Unit, the Port now offers a transparent open dataset of airport-related noise measured through a flight track monitoring system with 24 permanent noise monitors.  The Tableau-based application allows community members to research specific flights, airlines or times and download a dataset of noise data.  
In addition to the website, the best ways to learn about opportunities and activities at the Port of Seattle are through the Port's bi-weekly newsletter Connections and the Port's many social media channels. Follow the Port and Sea-Tac Airport on social media for travel tips, news on business and career opportunities, information about the Port's plans to meet current and future demand through facilities improvements, and to share your feedback on economic and community development opportunities.