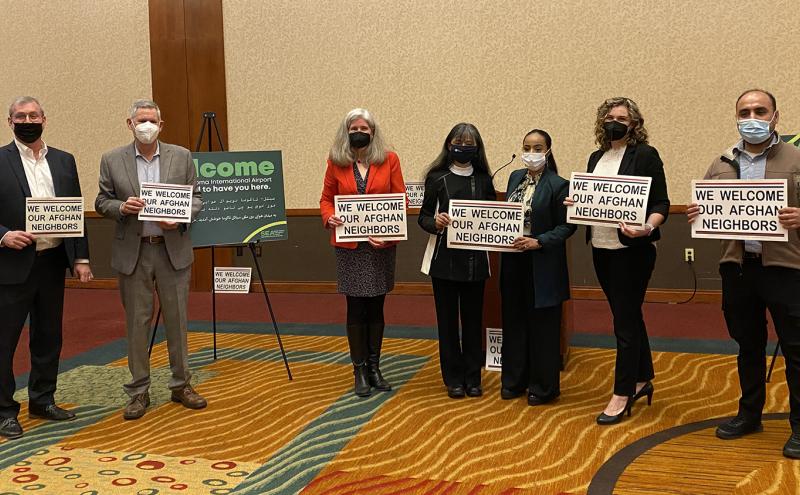 Port announces plans for industry job fairs beginning this month
February 16, 2022
While mid-February marks the end of the federal government's deadline to transition Afghan refugees to state resettlement services, local partners agreed this week that the work is just beginning for hundreds of families that recently arrived in our area. 
The Port of Seattle, Washington State Department of Social and Health Services (DSHS), and South Sound business leaders provided an update on successful efforts by Afghan refugee resettlement agencies, community-based organizations, and private businesses that led to temporary housing, donated food and household items, and early connections to job opportunities.
Partners also expressed that successfully resettling Afghan refugees into our community will require more long-term partnerships, particularly around housing. Officially, approximately 3,000 Afghan refugees were formally resettled in the state of Washington in the last six months, with several hundred arriving in the last month alone.
A recording of the update can be viewed on the Port of Seattle Facebook page.
In her update, the Port of Seattle Commissioner announced that the Port plans for a March 29 job fair near the airport to connect job seekers with the many available opportunities in Port-related industries. Later this spring the Port and industry partners will hold a maritime-specific job fair at the Port's Community Hub location in South Park. Further details on attending employers and how job seekers can participate will be announced soon.
"Every organization can play a part in creating an inclusive and welcoming community," said Port of Seattle Commissioner Hamdi Mohamed. "At the Port, we leaned into our customer service and economic development missions. We created a welcome center to make it easier for resettlement leaders to welcome refugees at the airport. We helped facilitate contacts between resettlement leaders and local hotels that can assist with temporary housing. And now we can best serve our community and our customers by helping skilled job seekers find Port-related jobs."
DSHS' Office of Refugee and Immigrant Assistance is coordinating Washington's response to Operation Allies Welcome.
In their update, DSHS explained that from Sept. 28, 2021 to last week (Feb. 8), Washington welcomed 2,579 people. To accommodate all of the Afghans rescued, individuals and families may arrive in Washington through several different pathways, including the Afghan Placement and Assistance program with the refugee resettlement agencies, community and private sponsorship pathways, and the Washington State Afghan Placement and Assistance initiative coordinated by DSHS.
Some people may voluntarily depart military bases to resettle in Washington independent of an organization. Through the different pathways, approximately 3,000 people will arrive in local communities in Washington by Feb. 15, 2022.
"We're honored to welcome our Afghan brothers and sisters and to acknowledge our crucial community partnerships that help Washington state meet this important moment," said Jilma Meneses, Secretary, Washington State Department of Social and Health Services.
"Welcoming refugees is a collective effort. Thanks to the tireless work of our staff and our community partners across the effort to welcome Afghan arrivals – including everyone at the Port of Seattle, the team at Hilton Worldwide, South Seattle, and South Sound Chamber of Commerce – our new neighbors are on their way to rebuilding their lives," said Sarah Peterson, Chief, Office of Refugee and Immigrant Assistance.
"The thousands of women and men that make up our diverse hospitality community are thrilled to provide a safe and warm welcome to the Afghan families joining our region, said Seattle Southside Regional Tourism Authority Mark Everton.
"These are our Allies and their families, people who supported the US in Afghanistan over the last 20 years. They stood by the US and our soldiers, when the US needed them the most even at big risk to themselves and their families. Now it is time for the US to stand by them, and for us to welcome and support them," said Ghulam Mohmand of the Afghan American Cultural Association.
"For 103 years Hilton hotels has pledged to be the light and warmth of hospitality bringing people together all over the world. So our team is offering a warm welcome, shelter, and the starting point for creating memories as our Afghan friends settle in our great community," said Hilton/Doubletree Airport representative Jon McFarland.
"Our members and local businesses have stepped up to provide resources such as short and long-term housing, education and job placement assistance, food, clothes, transportation, health care, mental health, recreation and so much. This is an example of what I call "opportunity multi-plyers". We are literally multiplying opportunity for the greatest benefit of our local business community and ensuring newly arriving Afghan refugees get their American lives off to a safe and secure start," said Seattle Southside Chamber of Commerce President/CEO Andrea Reay.
Contact
Perry Cooper | SEA Airport Media Officer
(206) 787-4923 | cooper.p@portseattle.org