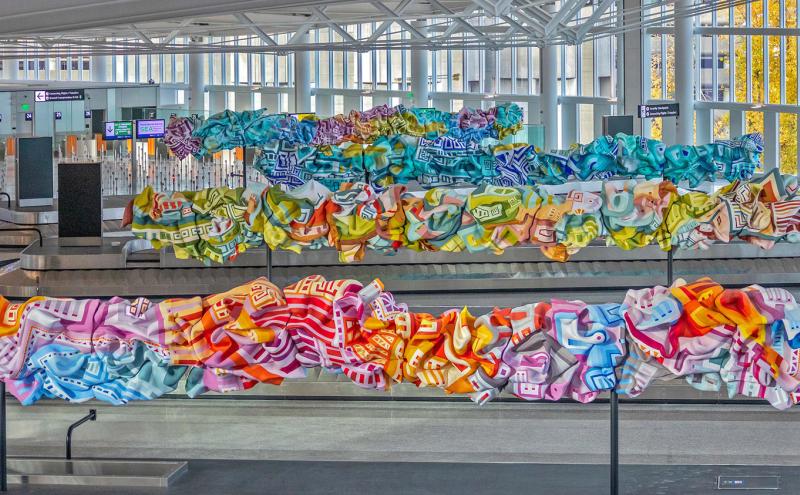 All arriving flights to use the new facility beginning May 10
March 31, 2022
Seattle-Tacoma International Airport (SEA) announced today the final activation and opening schedule for the new International Arrivals Facility (IAF). The IAF will begin serving a limited number of arriving passenger flights as trial runs in the final phase of readiness preparations.
"Global relationships and connectivity make our region more vibrant and resilient," said Port of Seattle Commissioner Hamdi Mohamed. "As a welcoming Port focused on customer service, this new International Arrivals Facility brings all our values for economic opportunity, sustainability, and inclusion into one remarkable building."
Starting the week of April 19, a limited number of international flights arriving between 6 and 9 a.m. will deplane from A gates into the IAF via a new international security corridor. This allows eight A Concourse gates to be used for either domestic or international wide-body flights, with direct access into the IAF.
In early May the airport will expand its trial runs to include flights arriving from the S Concourse. These passengers will cross over an active taxi lane on the iconic 85-foot-high aerial walkway into the IAF's Grand Hall, a 450,000-square-foot baggage claim and customs processing area that is more than four times the size of the previous space.
All arriving flights will begin using the International Arrivals Facility on May 10. The new passenger walkway, the extension on A Concourse, and the Grand Hall of the IAF will work together to significantly enhance the arrival experience for international travelers and will advance the Puget Sound region as a leading tourism and business gateway.
"We only get one opportunity to create a first impression, and we want it to say what this country and this region is all about," said SEA Managing Director Lance Lyttle. "The IAF solidifies our commitment to incredible customer experiences that are innovative and intuitive. Entering the United States, you will soon be greeted by a stunning facility and experience."
"We are excited that Delta customers will soon begin experiencing the benefits of this state-of-the-art International Arrivals Facility," said Scott Santoro — Vice President of Sales – West at Delta Air Lines. "As Seattle's largest global airline and the largest future user of this facility, Delta is committed to enhancing the customer experience in ways that will serve Seattle well into the future, while also helping to accommodate the growing demand for international service from the Puget Sound region, for both business and tourism."
"We're eager for all our guests – whether flying Alaska Airlines, our fellow Oneworld member airlines, or our additional airline partners — to experience the convenience and beauty of the new International Arrivals Facility," said Nat Pieper, senior vice president of fleet, finance, and alliances at Alaska Airlines. "Arriving in Seattle from destinations all around the globe will never be the same with all the dramatic, modern improvements. It's a turning point moment."
Launch Sequence Activated
There is much happening behind the scenes to ensure that the largest and most complex capital project in the Port's history seamlessly transitions from the construction phase to active airport operations. This process is called the Operational Readiness, Activation, and Transition (ORAT).
SEA's ORAT team is leading this activation period in close collaboration with federal agencies and airline partners. Familiarization and training tours for tenants and frontline staff are currently underway as a critical activation milestone as well as operational trials, including:
Carousels and baggage handling system
Building readiness for HVAC, waste management, restrooms, and other amenities
Security and emergency response drills
"The Big Flush" to verify that the water system keeps pace with heavy use
One of the most complex trials is the passenger flow simulation. Hundreds of volunteers will act as passengers to test the facility before it opens to the public. Participants will evaluate the parts of their passenger journey like elevators and escalators, wayfinding and signage, baggage claim, inspection, and re-check. These are the imperative final steps to greet travelers with a welcome worthy of the Pacific Northwest. The public is invited to sign-up and volunteer for the passenger flow simulation on April 9 to experience a sneak peek into this state-of-the-art addition to the airport!
International Service at SEA
Overall, 37 international services are in operation at SEA, providing nonstop flights to 23 unique international destinations. Seven new international services to SEA have been announced since 2020, such as Qatar-Doha, WestJet-Calgary, and Alaska-Belize City that began service in 2021. Turkish Airlines-Istanbul, Air Canada-Montreal and Finnair-Helsinki will begin service in summer 2022 and Air Tahiti Nui launches in October 2022.
Welcome Here, Welcome Home
SEA is newly certified as only the second large hub U.S. airport to earn the travel industry's prestigious Skytrax 4-Star Airport Rating. This achievement follows a suite of improvements that make the airport experience better, including beautifully modernized spaces such as the International Arrivals Facility.
More predictable and less stressful arrival and customs processing:
Nearly doubling the international gates from 12 to 20
Increasing passenger capacity by more than double to 2,600 passengers per hour
"Bags First" reunites passengers with their bags before going through security. SEA is the first large hub airports in the country with this program!
Adding additional amenities that passengers need such as nursing rooms, pet relief areas, and restrooms throughout the customs journey
Incorporating enhanced technologies for faster passport check clearance
Increasing size and number of bag claim carousels from four to seven
Reducing minimum passenger connection time from 90 to 75 minutes
The IAF is as smart and efficient as it is sustainable and designed with Pacific Northwest values.
To fulfill the Port's mission of environmental stewardship and sustainability, this facility has important green building elements:
Low-flow restroom fixtures to reduce indoor water use
Energy-saving features like LED lighting, energy-efficient escalator motors and variable speed motors on baggage handling devices
Two-thirds of building has daylighting to connect travelers to outdoors, reinforce circadian rhythms, and reduce energy consumption
Conscientious construction with 7,163 tons of contaminated soil and 62,405 gallons of impacted stormwater removed from the project site, many materials sourced within 100 miles, low-emitting adhesives, materials, and coatings, and most of the construction waste was diverted from landfills
The architecture of the IAF mirrors the beauty of the Pacific Northwest, and even the artwork evokes the natural beauty of this region through colors, shapes, and movement. The color choices, architectural elements, and artwork will welcome travelers to the natural beauty of our region:
Sunrise, mountain views, and natural light fill the floor to ceiling windows
Materials feature the blues of the sea and sky, and the greens and organic textures of the mountains and forests
More than 100,000 square feet of terrazzo floor sourced from local stone forms a rock pattern that evokes the colors and textures of a rocky Pacific Ocean beach
Wood accents bring warmth and nature into the space
A courtyard with plants and trees will give a flash of our namesake Emerald green as you exit to the rest of the airport
Chalchiutlicue, a five-piece sculpture by artist Marela Zacarías, over the bag claim carousels were inspired by the colors of the waterways and sunsets in the San Juan Islands
Magnetic Anomaly, three kinetic artworks created by Ned Kahn, consists of spinning suspended metallic mobiles that are inspired by the wind and ever-changing Pacific Northwest weather
And Indigenous art is coming soon to the IAF with works by six Native American artists, including renowned glass artist Preston Singletary and the interdisciplinary artists Marie Watt 
While regional beauty and sustainability are center stage, the IAF meets the needs of our global and diverse community. The Port of Seattle is a leading contributor to the region's economic recovery, and that depends on a thriving international airport that is welcoming and inclusive to all.
Contact
Perry Cooper | SEA Airport Media Officer
(206) 787-4923 | cooper.p@portseattle.org