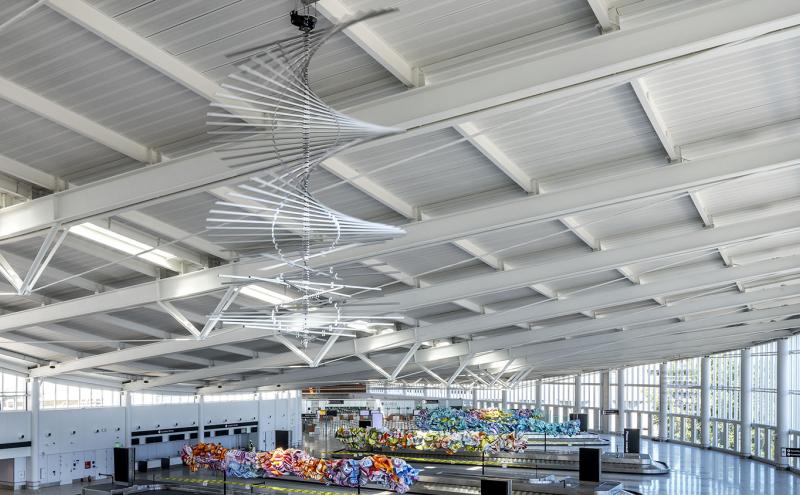 Indigenous youth proposal leads to greater representation at SEA Airport and Port of Seattle
August 24, 2021
The Port of Seattle Commission recently approved a $475,000 effort to acquire Indigenous Art of the Pacific Northwest region to display in the new International Arrivals Facility (IAF) at Seattle-Tacoma International Airport (SEA). The idea, initially proposed by a set of high school interns, represents ongoing efforts in the Port's goal to diversify and grow its art collection.
"This will be one of the most significant efforts in advancing Northwest Indigenous culture and art to be more inclusive than just a Land Acknowledgement," said Port of Seattle Commissioner Peter Steinbrueck. "The 2019 restoration of the 1% for Art program provides us a tremendous opportunity to share native histories and show the contemporary art of indigenous cultures to millions of visitors who will be arriving through the IAF from around the world."
The goal is to build a Portable Works Collection adding Indigenous art throughout the Port, with these specific funds dedicated to inviting Native artwork that will be exhibited in time for the opening of the IAF. An invitational call will be conducted to focus on Pacific Northwest American Indians/Alaska Natives, exploring contemporary ideas within the realm of history, craft, landscape, and the future of Tribes.
"Our vision is to return the Port of Seattle to its position as a national leader among its peers, an internationally acclaimed regional public arts center," said Tommy Gregory, SEA Airport Art Manager. "This will also provide artist's opportunities and can be a job generator supporting local and regional artists potentially impacted by the pandemic."
A group of 10 Port high school interns from the Fall 2020 class presented the concept of incorporating Indigenous art and culture. 
"I was shocked at first when I heard it was going to happen, I thought 'they actually want to hear our voices, we are being acknowledged,'" said Alana Chiefstick, student intern from Chief Kitsap Academy and member of Chippewa Cree, Suquamish. "It made me really emotional when I heard about it in our meeting because it made me realize this is what our ancestors wanted, they wanted to keep our culture alive and these are just the first steps in that direction! This new installation is how we can represent our people and be a part of the work the Port is doing. I hope people coming through SEA will acknowledge us and learn a bit about our culture. Sometimes people don't know that we still exist. Our voices are being heard."
The group of Port interns involved in the project are Alana Chiefstick, Ah-Nika-Leesh Chiquiti, Kailyn Choy, Charlotte Paddock, and Teresa Paddock from Chief Kitsap Academy, plus Jasmine Dorman, Mackenzie Lobehan, Armando Luna-Salgado, Kalani Thompson, and Katelyn Forde from Muckleshoot Tribal School.
Art invitations are expected to go out toward the end of the summer, with installations into several potential locations in the Grand Hall of the IAF.
Indigenous art at the Port
The Port has these indigenous art pieces at various locations, including SEA, Pier 69, and Centennial Park:
Thunderbird by John Hagen, Ed Kasko, and cliff Thomas. Located in Centennial Park
Welcome figures by Andrea Wilbur Sigo. Located at Pier 91
Eagle Spirit Man by John Hagen, Ed Kasko, and cliff Thomas. Located at Pier 69
Modern Mask by James Schoppert. Located at SEA Airport, Concourse C
Flying Fish by Marvin Oliver. Located at SEA Airport, Concourse B
Bella Colla Moon Mask by Tom Patterson. Located at Pier 69
Bear Transforming into Man by Terry Starr. Located at Pier 69
Mourning Mask by Jay Brabant. Located at Pier 69
Eyes of the Orca by Dennis Allen. Located at SEA Airport, Airport Office Building
Owl Moon by Jason Hunt. Located at SEA Airport, Airport Office Building
Items located at Marine Maintenance facility:
Bear by John Hagen, Ed Kasko, and Cliff Thomas
Raven by John Hagen, Ed Kasko, and Cliff Thomas
Beaver by John Hagen, Ed Kasko, and Cliff Thomas
Eagle by John Hagen, Ed Kasko, and Cliff Thomas
Eagle Spirit Man by John Hagen, Ed Kasko, and Cliff Thomas
Frog by John Hagen, Ed Kasko, and Cliff Thomas
Killer Whale by John Hagen, Ed Kasko, and Cliff Thomas
Contact
Perry Cooper | SEA Airport
(206) 787-4923 | cooper.p@portseattle.org