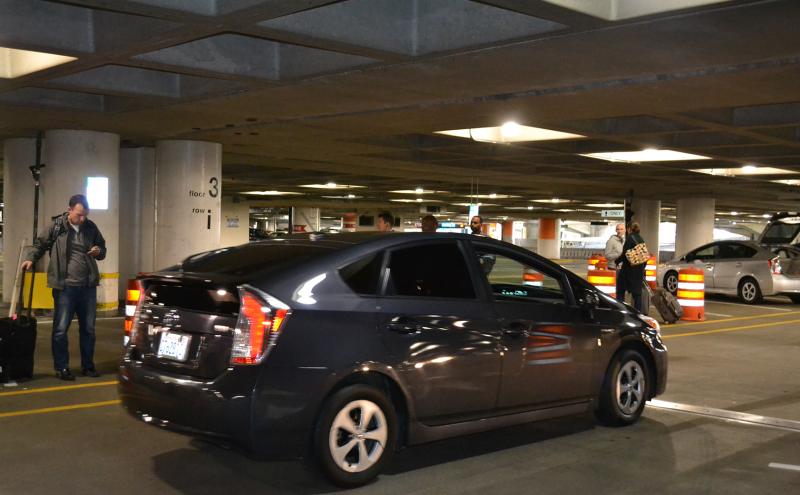 Activation Ready to Start March 31 with Signed Agreements
March 22, 2016
The Port of Seattle will begin a one-year pilot program for Transportation Network Companies (TNC's) at Seattle-Tacoma International Airport starting March 31, 2016, that will add choices for travelers while maintaining carbon emission reduction priorities. This innovative program will be a first for a U.S. airport, requiring either a green vehicle-only fleet or a Port-initiated green standard that companies must meet through a combination of high MPG vehicles, deadhead reduction, and/or ridesharing.
TNC's (also known as app-based ride-sharing services) are being encouraged to sign agreements with the port, who will have operation logistics ready and available on March 31.
"Sea-Tac Airport was the first airport in North America to achieve a 100% green taxi fleet in 2003 and the first airport in the country to do a comprehensive greenhouse gas inventory in 2008," said Port of Seattle Commission President John Creighton. "Our agreement with the ground transportation providers requiring them to meet specific environmental standards is also the first of its kind in the country and continues our efforts to make Sea-Tac Airport one of the greenest airports in the country."
The operating agreement has been part of a transparent, year-long effort by the port to bring together all stakeholders in the ground transportation industry to determine the best way to introduce the new ride-sharing option that has become popular with consumers. Currently, on-demand taxi services are required to meet green fleet requirements of each vehicle meeting 45 MPG or higher and reducing deadheading (or empty vehicle miles) The pilot with TNC's will require them to demonstrate an equivalency to these green fleet requirements through a combination of high MPG vehicles, deadhead reduction, and/or ridesharing.
The pilot program agreement details the operating parameters for ride-sharing companies including trip fees, pickup location, technology requirements, green fleet and other details. With the one-year pilot program, the port hopes to gain an understanding of the impact of ride-sharing companies in the airport's ground transportation system.
The new pilot program for TNC's include these major contract provisions:
A one-year term with a 30-day cancellation clause. The term of the pilot program will not exceed one year commencing March 31, 2016, and ending March 31, 2017, regardless of the start of operations for any individual TNC.
$5 fee for each pick-up trip.
Operations for pickup will be on the third floor of the airport parking garage. No pickups will be allowed on the airport drives (this is the same restriction as on-demand taxi and limo services).
Using their software, each operator will be required to report whenever their vehicles enter the virtual perimeters, or "geo-fences" around the airport drives and holding areas to ensure enforcement of pickup procedures, and provide port oversight.
Each operator will be required to send monthly information on vehicles to track trips, pick-up and drop-off information and other activity information.
TNC's will be required to adhere to an innovative Port-initiated Environmental Key Performance Indicator (E-KPI) green standard which establishes a threshold for emissions based on fleet weighted average MPG, deadheading, and pooling or ridesharing for unrelated passengers. If TNC's do not meet the environmental performance standards after six months and nine month periods, additional $5 per trip fee will be incurred until standards are reached.
Sea-Tac Airport provides a wide range of ground transportation options including on-demand taxies/limos, scheduled airporter services, shared ride vans, courtesy buses for area hotels, rental cars, and public transit including Link Light Rail. For more information, click here.