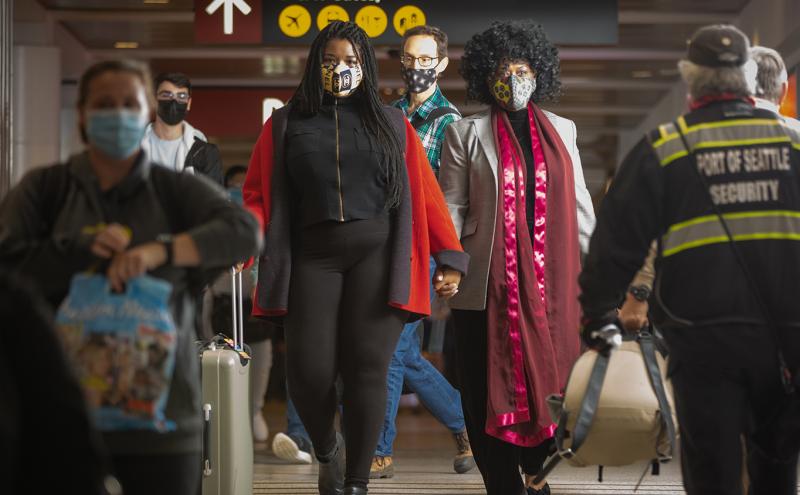 Port of Seattle priorities to close economic inequities and advance sustainability and environmental equity were included in the Washington State legislature's approval of operating, capital, and transportation budgets for the 2021-2023 biennium.
April 25, 2021
Port of Seattle legislative priorities to close economic inequities and advance sustainability and environmental justice were adopted as the Washington State legislature adjourned its 2021 legislative session on April 25th, 2021.
"We greatly appreciate the legislative leadership to address economic equity and the climate crisis, this year," said Port of Seattle Commission President Fred Felleman. "From legislation creating a low carbon fuel standard, to provisions addressing wage inequities for airline catering workers, and protections for Southern Resident Killer Whales, are but some of the significant accomplishments of our elected officials in Olympia this session. These Port priorities are changing the way we can address the equity crisis, civil rights crisis, and climate crisis in our communities thereby enabling us to meet both our economic and environmental responsibilities."
Port priority issues:
1)    Low carbon fuel standard: A low carbon fuel standard (LCFS) or clean fuel standard (CFS) has been the Port of Seattle's priority legislation since the 2018 legislative session. This policy will make cleaner transportation fuel available across all Port operations and support our efforts to meet aggressive emissions reduction goals.  The Port is working towards meeting a goal of fueling all flights at Seattle-Tacoma International Airport (SEA) with at least a 10 percent blend of sustainable aviation fuels, and earlier this month announced a strategy to phase out all maritime emissions by 2050.  A low carbon fuel standard provides critical incentives to help the Port achieve these goals.
"We need policy incentives to reduce pollution for communities and reach our goal to reduce carbon emissions," explained Commissioner Ryan Calkins.
2)    Tourism promotion funding: Lawmakers approved $12 million in state funding to support a tourism recovery campaign, an initiative backed by the Port as a key equitable recovery initiative. Last year the Port recognized the need to support tourism businesses and pledged to support $1.5 million for a tourism recovery campaign.
"Small businesses are the backbone of the statewide tourism economy and they need our help to recover from the sacrifices they made to help slow the spread of COVID-19," said Commissioner Bowman.
3)    Airline catering workers: Last session, Sen. Keiser put forward legislation to give airport operators of a certain size the authority to set minimum labor standards for a specific set of workers at that facility. The Port of Seattle supported that legislation and plan to take advantage of the new authority to help some SEA Airport workers receive the compensation they deserve. After the pandemic suppressed air travel numbers, it was no longer clear that SEA Airport was large enough to qualify for the authority. This session, the Port worked with Sen. Keiser and Unite HERE—the union representing airline catering workers – to pass legislation clarifying which airport operators have this authority and confirming that the Port Commission can help catering workers at SEA.
"Airport kitchen workers have been under-paid for too long. They are essential to our economy, and must have fair, equitable pay." said Commissioner Peter Steinbrueck. "Now we have the authority, thanks to Senator Keiser's leadership, to make it right for these essential workers."
4)    Juneteenth: Legislation brought forward by Representative Melanie Morgan, establishes "Juneteenth" as a state holiday. Based on a recommendation of our Employee Resource Group, Blacks in Government (BIG), the Port of Seattle formally designated Juneteenth a holiday by a vote of the commission in 2020 and Commissioner Sam Cho testified in favor of the state taking the same action.
"The struggle for racial equity and freedom continues today," said Commissioner Sam Cho. "We need Juneteenth to reflect upon how we can create a better, more equitable future for all members of our community, one where Black Americans everywhere can realize the freedom and equality first promised over 150 years ago."
5)  Quiet Sound funding partnership: In response to Gov. Inslee's 2018 orca task force recommendation 22, the Ports of Seattle, Tacoma, and the Northwest Seaport Alliance agreed to convene key stakeholders to explore the development of a program modeled after the Port of Vancouver's Echo Program designed to reduce ship noise.  This voluntary program notifies vessel operators to slow their ships in the presence of Southern Resident Killer Whales to reduce noise to improve the whales' ability to detect salmon without impacting port competitiveness.  The participants agreed to seek support from the state this session in partnership with the Ports which committed $100,000 in matching funds to initiate the program. The State generously provided $250,000 per year to the newly formed Quiet Sound program for the next two years, which will enable Maritime Blue to stand up the program this fiscal year.
"I'm proud to have helped develop the recommendation of the Governor's Orca Task Force to initiate the Quiet Sound Program in effort to help killer whales and commerce to coexist," said Commission President Fred Felleman. "I'm grateful to have the state join in supporting the Port, maritime stakeholders and environmental leaders to get this program underway."
Additional issues the Port supported:
HEAL Act: As part of the Legislature's focus on climate action this session, SB 5141 was introduced by Sen. Saldaña to address the disproportionate impacts of carbon pollution and climate change on communities of color and low-income communities. The legislation, commonly known as the HEAL Act, builds on work done by the Governor's Environmental Justice Task Force over the past eighteen months. The Port was glad to lend its support to this important proposal, which will ensure that environmental justice is a consideration in major state projects going forward.
Environmental cleanup grants along the waterfront: The Governor's budget request to the legislature this year featured five different Port of Seattle cleanup projects, including the Lower Duwamish Waterway, the East Waterway, and the Terminal 91 Uplands. The Capital Budget that the House and Senate eventually agreed to fully funded each project, solidifying state partnership in cleanups that typically include port, city, and private funding support as well.
Streamlines Sales Tax mitigation payments to Kent-Auburn valley: Our partners in the Kent-Auburn valley host warehouses that serve the global gateways at the Ports of Seattle and Tacoma. We have long advocated for policies that acknowledge the importance of these partner communities and the fiscal challenge presented to them by passage of the Streamline Sales Tax in 2008. This year, HB 1521 passed with Port of Seattle support
Reauthorization of the Capital Projects Advisory Review Board: Alternative public works contracting allows the port and other public governments greater flexibility to engage small, minority-owned, and women-owned business enterprises in their public works projects. The Capital Projects Advisory Review Board recommends many of these alternative public works methods, and was reauthorized by SB 5032, which the Port partnered with the Washington Public Ports Association and other public entities to support through the 2021 session. The reauthorization included a greater focus on equity and engaging disadvantaged businesses.
Broadband authority for ports and public utility districts: The Washington Public Ports Association has been working for several years to ensure that port districts could help provide broadband service to underserved communities across Washington. Legislation enacted this year, HB 1336, will give ports the chance to access federal funding to build out broadband to promote economic development.
Contact
Peter McGraw | Port of Seattle Media Officer
(206) 787-3446 | mcgraw.p@portseattle.org