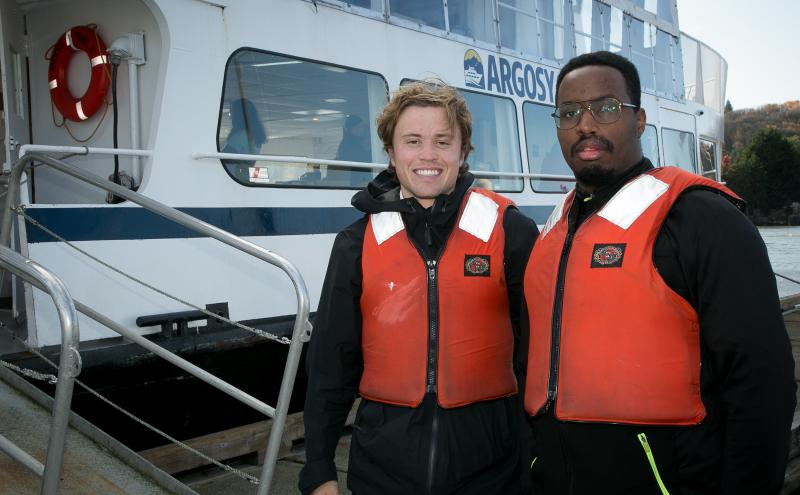 COVID-19 regional recovery strategy funds opportunities for 220 underserved youth
June 25, 2020
The Port of Seattle announced a partnership with five local non-profit organizations as part of its effort to save youth jobs for the summer and beyond.  The Port's Opportunity Initiative aims to provide summer jobs for 220 youth, ages 16 to 24, who have been adversely affected by the COVID-19 pandemic.  Youth unemployment tripled during the pandemic, from a typical range around 8 percent, to 27 and 25 percent in April and May, respectively.  
The $1.5 million program will provide funding and support to five local non-profit organizations: Seattle Goodwill, Seattle Parks Foundation, Partners in Employment (PIE), The Aerospace Joint Apprenticeship Committee (AJAC), and Urban League of Metropolitan Seattle.  
"Our COVID-19 regional recovery strategy connects the most vulnerable and impacted communities to job opportunities available in Port-related industries. Underserved youth need jobs more than ever now, not just to begin developing their own careers but to support their families," said Commissioner Stephanie Bowman.  "At the same time employers face unprecedented economic and operational challenges, this Port initiative and our partners can help lower those barriers for 220 youth eager to work in Port-related industries."
While workers in nearly every sector of Washington's economy have been adversely affected by the COVID-19 pandemic, low-skilled workers between 16 to 24 years of age have been hit the hardest, according to the Washington State Employment Security Department.  In particular, workers with a high school degree or equivalent education, between the ages of 16 and 24, living in south Seattle and the south King County area, and workers of color have the highest number of unemployment claims per capita.  Through these community partnerships, the Port of Seattle is working to combat the systemic racism that is exacerbating the effects of this crisis for youth and communities of color. 
The Urban League of Metropolitan Seattle will educate and mentor youth in a classroom setting to receive hands-on construction readiness training.  This project will oversee three groups of 10 youth, and, as one of the region's largest public sector builders, the Port supports multiple workforce development programs for construction and trades. 
"The Urban League of Seattle is excited to bring Black, indigenous, and other youth of color into this program and show them the skills necessary for building a community with both classroom and hands on learning.  With this experience, they can develop the skills and expertise to find living wages jobs and economic security." 
With Seattle Goodwill, applicants will be placed in the Youth Maritime Program (YMP), Youth Aerospace Program (YAP), or Youth at Work (YAW) programs.  This is in combination of career connected learning and workforce development training with their internship.
"We need to support our young people, especially youth of color and low-income youth who have experienced devastating economic loss due to this pandemic.  These youth are the future of King County, and it's up to organizations like Seattle Goodwill and our partners to ensure the next generation is setup for success." 
As one of the Seattle Parks Foundation funded programs this summer, Mid Sound Fisheries is a nonprofit organization that works with communities to restore salmon habitat on local rivers and streams.  The group has partnered for the last year with the City of Auburn Parks Department to help restore native forests along the Green River on park lands. Mid Sound will employ a restoration crew of 9 youth to take care of native trees and shrubs that were planted last winter and to prepare new sites for more planting this fall.
"Mid Sound Fisheries recognizes the value of connecting our local communities with stewardship of the river, forests, and salmon to ensure a healthy environment for future generations," said Jeanette Dorner, Executive Director of Mid Sound Fisheries.  "We also have been looking for ways to engage and train more youth from diverse backgrounds to become the next generation of environmental restoration professionals.  We really appreciate this opportunity to partner with the Port to support the youth of South King County and get some important restoration work done simultaneously."
In addition to the Opportunity Initiative, the Port will maintain 80 percent of the youth employment jobs it planned for 2020 by embracing three key strategies:
Moving to a year-round youth employment program versus a "summer-only" approach, which allows for more physical distancing and puts less pressure to staff up for the summer.
Embracing virtual work for youth hires. 
Streamlining the application and onboarding process by working with community programs that directly refer students to the Port. 
Like many companies, organizations, and local governments, the Port is being forced to make cuts, reduce budgets, and delay programs in response to the COVID-19 pandemic. However, the Port is committed to and prioritizing programs that advance racial equity and economic wellbeing. The direct youth employment program and the Opportunity Initiative are two examples of this commitment, as the Port intends to support approximately 300 youth jobs in 2020, which includes 80 paid youth jobs at the Port of Seattle.
The Urban League of Metropolitan Seattle was established in 1930 to become one of approximately 90 affiliates of the National Urban League (NUL). Today, ULMS implements its mission within our Seattle/King County service area through advocacy, direct programming, community outreach, and coalition building in five major pillars of focus: housing, education, workforce development, health and policy.
Seattle Goodwill is a non-profit organization founded in 1923. They currently operate five Job Training Centers, 24 retail stores, and over 40 donation sites in King, Snohomish, Skagit, Whatcom, and Kitsap County. They employ over 2,000 people in our region.
Mid Sound Fisheries Enhancement Group is a nonprofit organization that works with communities to restore local rivers, streams, and Puget Sound shorelines so salmon and people can thrive. 
Photo credit: Don Wilson, taken at a multilingual boat tour before COVID-19.
Contact
Peter McGraw | Media Officer
(206) 787-3446 | mcgraw.p@portseattle.org