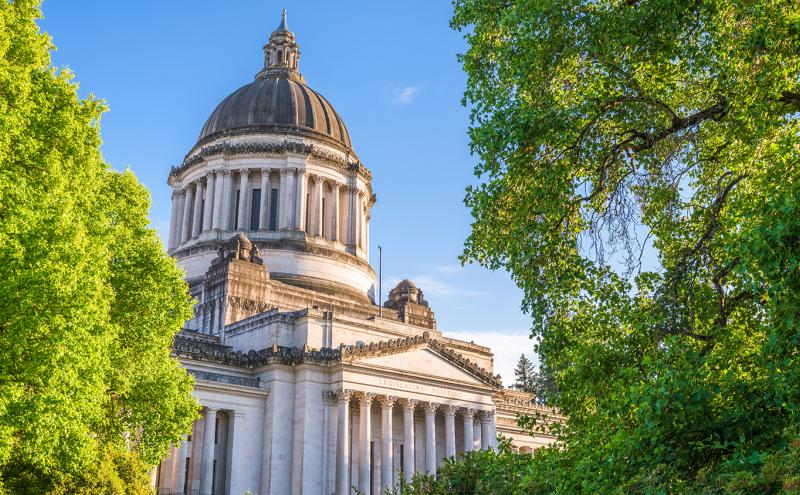 March 11, 2022
Port of Seattle priorities around carbon emissions reduction, workforce training and education, and freight mobility took major steps forward during this year's Washington state legislative session.
A number of priorities advanced, including the unexpected adoption of the greenest transportation package in the state's history, funding for the Port's Pier 66 Shore Power Project, and a critical investment in Maritime High School. The Port also supported additional proposals that will further apprenticeships and pre-apprenticeships in the state,
"We appreciate how the Washington state legislature recognized the need for immediate action on policies that expand opportunity, reduce pollution, and make our region more competitive," said Port of Seattle Commission President Ryan Calkins. "From a transportation package that invests in critical freight routes and in decarbonizing our transportation sector, to a state investment in the future success of Maritime High School and its student body, to continued state partnership in maritime decarbonization on the waterfront, the Port and the state find common cause in areas that we know are important at our jobs and in our neighborhoods."
Port priority issues:
Move Ahead Washington: The final day of session saw the passage of the Move Ahead Washington transportation package, a $16.9b, sixteen-year transportation investment. The package includes Port priorities, including: full funding for the Puget Sound Gateway program and other freight routes; electrification funding that can support the decarbonization of port operations; and $3b investment in transit is a historic boon for regional mobility. The package also maintains the $150m for high-speed rail that was of interest to the Port, and a Sustainable Aviation Fuel grant program that can support deployment of alternative fuels for aviation. We will continue working with legislators to understand better how this package can help fund our clean energy investments, keeping cargo rolling while reducing our emissions and community impact.
"Funding to electrify the transportation sector is directly aligned with the Port's commitment to eliminate seaport emissions by 2050. And at the airport, workers, travelers and residents see the benefit of these investments across our operations — from the cargo equipment on the airfield to the buses circling airport drive. This package will promote productivity, reduce pollution and improve the quality of life for workers and residents alike," said Port Commissioner Toshiko Hasegawa, who also serves on the Puget Sound Regional Council's Transportation Policy Board.
Pier 66 Shore Power funding: The 2022 Supplemental Capital Budget included $2m for the Pier 66 Shore Power Project, part of the Port's Seattle Waterfront Clean Energy Strategy. This had been proposed as one element of a two-part Ports Infrastructure budget item that as included in the Governor's budget proposal in December. The final package included funding for a number of ports, with investments intended to address supply chain issues but also to reduce emissions from the transportation sector.
"The Port and the Northwest Seaport Alliance are both making aggressive investments in carbon reduction. Pier 66 shore power is only one example, and we are glad to see the State confirm its importance by partnering in the funding of this new infrastructure. This is the kind of partnership that will accelerate carbon reduction up and down the waterfront, and we are grateful to the Governor and the Legislature for helping move it forward," said Port of Seattle Commissioner Sam Cho.
Maritime High School funding: The 2022 Supplemental Operating Budget include $1m in funding for Maritime High School. The Port helped lead a group of maritime advocates in advocating for this robust investment in recruitment and outreach for the school, under the fundraising leadership of the Northwest Maritime Center. Funds will support out-of-classroom activities, such as boat tours with middle school students, classroom and community visits by MHS teachers and partners, and development of the school's internship and mentorship programs. One focus of the outreach effort is ensuring that the school's student body reflects the diversity of Highline School District where it is located. Sen. Nguyen sponsored the request in the Senate, while Rep. Tharinger was our champion in the House, two key proponents that are due credit for elevating this priority and with whom we will partner in the future.
"Maritime High School is already a success, with students experiencing the breadth of maritime opportunity we see in our region. But true success will be measured by full enrollment, getting us to four hundred students across four grade levels, and by ensuring the school reflects the diversity of the communities it intends to serve. State partnership on outreach and recruitment is essential to demonstrating the statewide importance of this work and to promote long-term success of the school," said Port Commissioner Hamdi Mohamed, who also sits on the board of Maritime High School.
Kelp conservation and restoration: On March 8th, 2022, the House agreed to amendments in SB 5619, including one provided by the Port. It was then sent on to the Governor for his signature. This bill was brought forward at the request of the Department of Natural Resources (DNR) to promote conservation and restoration of kelp forests and eelgrass meadows.
The Port's proposed amendment directs the DNR to include in their recovery plan for native kelp forests and eelgrass meadows in Puget Sound and along the Washington coast an evaluation of the: "Awareness, action, and engagement tools being used by public and private entities in the Puget Sound region to raise awareness of the importance of conserving and restoring native kelp forests and eelgrass meadows and reducing stressors related to their decline."

"I greatly appreciated working with the Department of Natural Resources, Senator Lovelett and Representative Shewmake for passing this legislation and their willingness to include the Port's amendment," said Port of Seattle Commissioner Fred Felleman, who also represents the Washington Public Ports Association on Puget Sound Partnership's Ecosystem Coordination Board.

"It's critical that the public gain a greater appreciation of the role kelp and eelgrass play in providing critical habitat for marine species, as well as reducing the impacts of climate change on ocean acidification, if we are to restore the Salish Sea and all those dependent on it."
Apprenticeship and pre-apprenticeship: The Port was glad to support Sen. Keiser's omnibus apprenticeship legislation, which is aligned with the Port's focus on promoting work opportunities in port-related industries. We proposed an amendment to include funding to provide wrap-around services for pre-apprenticeships, which Senator Keiser agreed to include in the final bill. That means key Port partners like ANEW are eligible for this funding source, which will reduce a hurdle for people entering pre-apprenticeship programs.
Police reform updates: The Port supported HB 1719 and HB 1735 and both passed into law with minimal opposition, reaching the Governor's desk fully a week before session ended. HB 1719 clarifies that police can use less-lethal force such as bean bag launchers, while HB 1735 amends the "use of force" statute to allow offers to assist in some non-criminal instances, such as involuntary mental health commitment. Governor Inslee signed both bills on March 4 and they contained "emergency clauses" which render them effective immediately.
Additional issues the Port supported:
Contact
Peter McGraw | Port of Seattle Media Officer
(206) 787-3446 | mcgraw.p@portseattle.org